SEO and Building Links | SEO ac Adeiladu Cysylltiadau
About this Event
THIS SESSION WILL BE DELIVERED IN ENGLISH ONLINE. Welsh documents are available upon request.
MI FYDD Y SESIWN HON YN CAEL EI GYNNAL YN SAESNEG AR-LEIN. Mae yna ddogfennau Gymraeg ar gael os oes angen.
(Please scroll down for English)
----------------------------------------
Covid-19 a'ch Busnes - Optimeiddio Peiriannau Chwilio (SEO) ac Adeiladu Cysylltiadau
Mae creu cysylltiad yn fwy rhwydd nag y tybiwch. Dysgwch am y 3 ffordd fwyaf poblogaidd o greu cysylltiadau dros amser a gwella eich safle ar Google.
Beth fydd cynnwys y cwrs?
Byddwn yn ymdrin â'r pethau sylfaenol o Optimeiddio Peiriannau Chwilio: Beth mae'n ei olygu a sut mae'n gweithio. Yna, byddwn yn plymio'n ddwfn i fyd adeiladu dolenni mewnol ac allanol. Bydd y gweithdy'n darparu arweiniad syml i wella chwiliad Google eich gwefan gan ddefnyddio dolenni.
Ar gyfer pwy mae'r digwyddiad?
Mae'r gweithdy hwn ar gyfer unrhyw un sydd eisiau defnyddio ffordd syml hir-dymor at ddenu mwy o ymwelwyr ar-lein. Os yw eich busnes ar-lein, mae'n werth taro golwg ar hwn.
Cefndir y Siaradwr
Cafodd Aled Nelmes ei eni yn y Fenni a'i fagu yng Nghaerdydd. Mae'n hyfforddwr Marchnata Digidol ac yn sylfaenwr Asiantaeth SEO ei hun. Mae swydd Aled yn cynnwys annog busnesau bach a chanolig, a'u caniatáu nhw i gystadlu gyda brandiau mwy drwy chwilio.
_________________________________________________________________________________________
Covid-19 and Your Business - SEO & Link Building
Gaining links is easier than you think. Find out the 3 most popular ways to gain links over time and improve your Google ranking.
What will the event cover?
We will cover the basics of Search Engine Optimisation: What it means and how it works. We will then follow by deep diving into the world of internal and external link building. This workshop will give a simple roadmap to improving your websites Google search hits by using links.
Who is this workshop for?
This workshop is for anyone looking for a simple long-term way of gaining more website visitors. If your business exists online, this is worth your time.
About the speaker
Born in Abergavenny and grown in Cardiff, Aled Nelmes is a Digital Marketing coach and founder of his own SEO Agency. Aled's purpose is to empower small and medium businesses, allowing them to compete with bigger brands through search.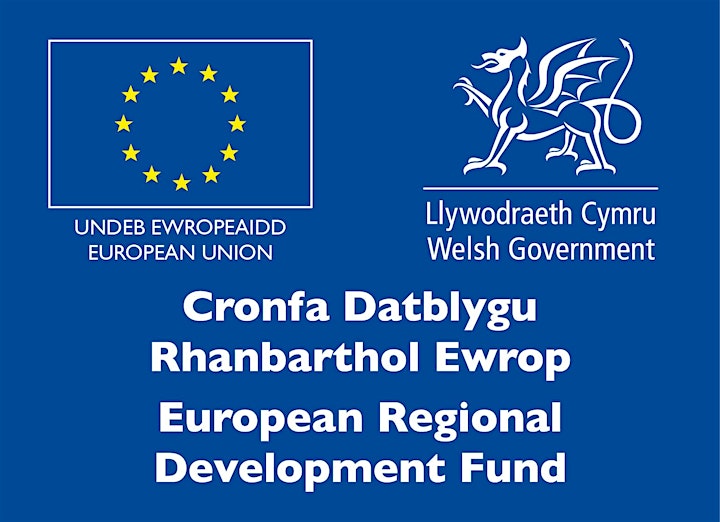 Mae Hybiau Menter Ffocws yn darparu gofod arloesol i ddeori a sbarduno busnesau newydd a'r rhai sy'n ehangu. Mae Hwb Menter Ffocws y Drenewydd a Hwb Menter Ffocws Caerfyrddin yn cael eu hariannu'n rhannol gan Gronfa Datblygu Rhanbarthol Ewrop trwy Lywodraeth Cymru
Mae'r digwyddiadau a ddarperir neu a gynhelir gan raglen Hybiau Menter Ffocws Llywodraeth Cymru am ddim ac yn agored i bobl o bob oedran, ond rhaid archebu lle ymlaen llaw. Mae'r niferoedd yn brin a disgwyliwn alw mawr am lefydd, felly archebwch yn gynnar i ddiogelu'ch lle.
Focus Enterprise Hubs are an innovative space to incubate and accelerate new, and growing businesses. Focus Newtown and Focus Carmarthen Enterprise Hubs are part funded by the European Regional Development Fund through the Welsh Government
Events delivered or hosted by the Focus Enterprise Hubs programme for the Welsh Government are free and open to all ages but must be booked in advance. Please be advised that numbers are limited and we expect high demand for places, so book early to secure your place.