Description
SEO London's Monthly "Third Tuesdays" Speaker/Panel series
Date: Tuesday, January 16, 2018
Time: 7:00 - 8:30 PM (plus pre- and post-networking 6:30-7pm, and 8:30-9:30pm)
Location: SEO London Headquarters, The Circle - Unit 19, Queen Elizabeth Street, London SE1 2JE
Topic: Fundraising for Early Stage Ventures
So you've got a great idea to start a hot new company that will change the world. But are you ready to pitch? Is your business actually ready to take on investors? The reality is that most are not.
Join us from 6:30-9:30pm on Tuesday, January 16 at SEO London's new HQ offices in SE1 for a conversation with Amit Bansal, Venture Capital professional and SEO London supporter and Rakesh Patel, Independent Software Developer & Business Consultant.
This event is limited to 25 participants, and is open exclusively to SEO London alumni who have finished their undergraduate degree anytime from 2000 to 2017. If you are a current undergraduate you are ineligible to attend. A nominal donation request of £10 is requested at registration. Light refreshments will be served.
About Amit Bansal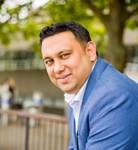 With over 11 years experience within Finance and Venture Capital investments Amit is an experienced investment manager at the largest Venture Capital firm in UK. He is also an angel investor and he enjoys building networks with early-and growth-stage companies with a focus on fintech and healthcare.
Amit's academic background is a Masters in Finance and Economics from the London School of Economics and qualified as Chartered Accountant from the Big 4 accounting firms. In his spare time, he is a self-development coach with the Champion Academy.
About Rakesh Patel
Rakesh is a skilled, self-employed software solutions architect, project manager and business analyst with experience gained over 25 years. He has consulted across a number of industries predominantly investment banking, retail and government. Clients include British Airways, BNP Paribas, Santander, Bank of China, RBS, NatWest, Bank of America, IBM, Fujitsu, Domino's Pizza Inc and Metropolitan Police. His expertise incorporates programming languages, database technologies, cloud computing, front end development, and reporting.
Rakesh has been self-employed ever since 18. He has run a number of successful SME businesses, and has a wealth of practical experience running a SME from statutory accounting through to share vesting schedules, raising capital and tax mitigating exit strategies.