Samsara Retreat and Yoga invite you to join their full moon weekend retreat in September 2021.
About this Event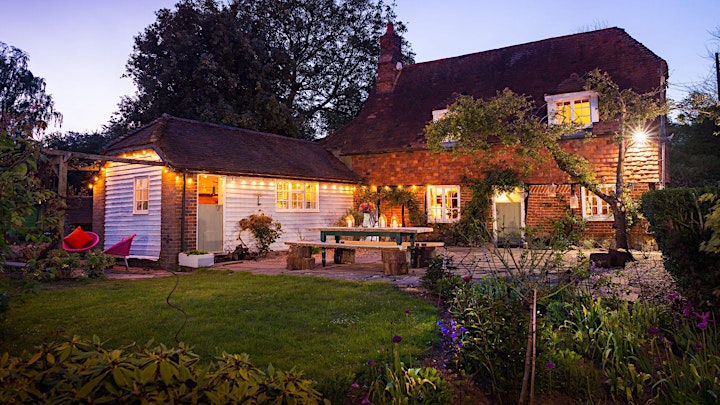 We would be delighted for you to join us for a soul nourishing weekend of yoga, meditation, treatments, delicious food, a healing gong bath and a two night stay at our unique luxury location.
Our monthly retreats are held when the moon is at its fullest, to correspond with the point in the lunar cycle when people most desire some much-needed calm in their busy lives.
This two night retreat experience will leave you feeling transformed both physically and mentally.
Timetable
Friday
5.30pm   Arrival - chill out with a cup of herbal tea, snuggle down in your inviting room, and meet the group (collection from the station can be arranged if required)
7pm        Sumptuous Supper 
8.30pm   Intention setting/opening ceremony 
10pm      Take time to wind down around our inglenook fire in your cosy dressing gowns before heading off to your Tempur mattress for some sleep
Saturday
7.30am   Delicious juice, tea, coffee and nibbles
8.30am   Breathwork and Yoga
10.30am Nourishing Brunch
12.30pm Yoga
2pm        Calming tea and cake break
3pm        Yoga
5pm        Sumptuous Supper 
7pm        Healing gong bath
Sunday
7.30am   Delicious juice, tea, coffee and nibbles
8.30am   Yoga workshop (Double class)
11am      Blissfull Brunch
12pm      Yoga workshop (Double class)
2.15pm        Calming tea and cake break
3pm       Closing ceremony (Arathi)
4pm       Guests depart feeling relaxed and refreshed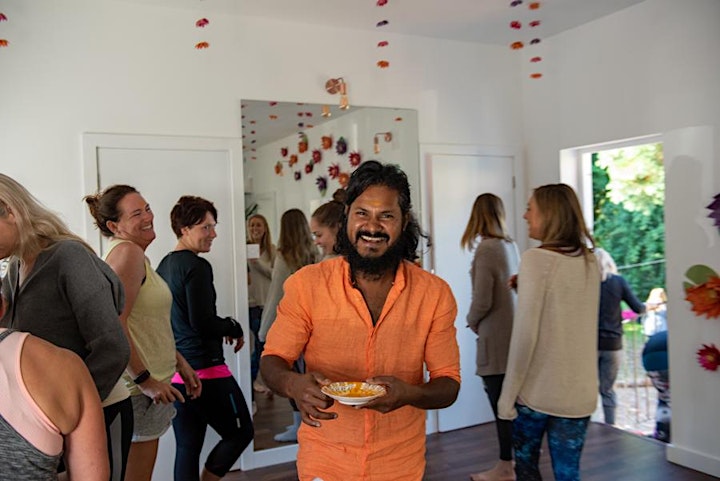 Yoga
This retreat timetable contains nine hours of Yoga. Classes will be in various styles including Hatha, Vinyasa and Ashtanga.
We teach our Yoga classes outdoors whenever we can. Amongst the flowers, on The Cloud (our beautiful platform overlooking the countryside) or in our glorious Bedouin Tent to protect from all weathers.
Co-founder, Dipu Das, studied Yoga in a Gurukula system and developed a strong foundation deeply rooted in the Vedic tradition. He delivers classes authentically with the confidence of two decades of knowledge. Dipu's special quality is that he makes you feel as though you are the only student in his class. You learn a little nugget of wisdom every time you are taught by Dipu.
Accommodation
Guests have the choice of slumbering in our tranquil shepherds hut, staying in one of the bedrooms in our charming 14th Century cottage or if you would prefer a glamping option guests can sleep on camp beds in our beautiful converted Oast house studio. Bedding, cosy dressing gowns and fluffy towels are all supplied.
During your free time you can make use of the facilities in the cottage, wander around the stunning garden and relax with friends around the firepit while enjoying calming countryside views.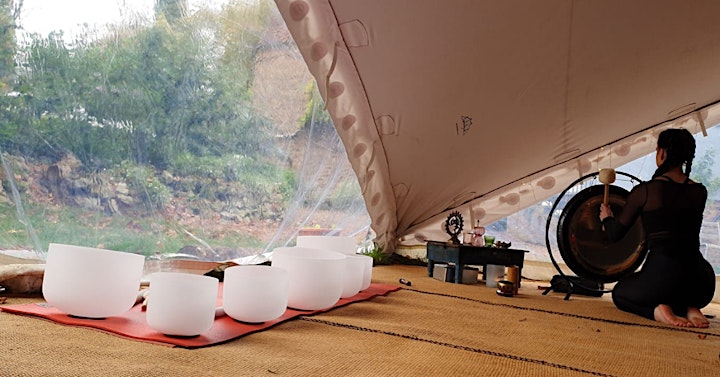 Sound Bath
A healing sound bath with Nicola from Actively Alive UK. Relax under the shelter of our Bedouin Tent as an arrangement of traditional gong and crystal sound bowls envelope you in peace and stillness.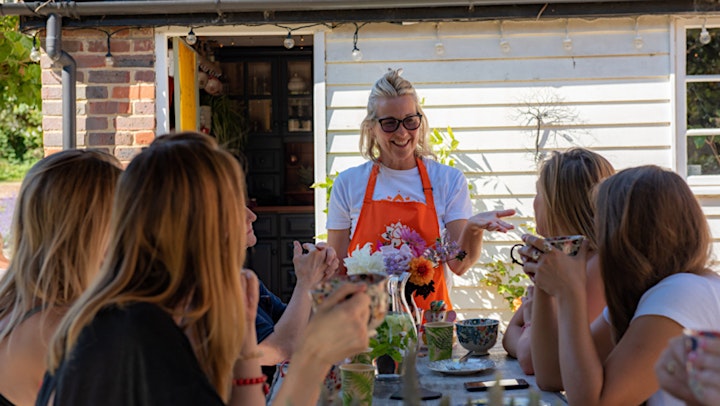 Soul-Nourishing Food at Samsara Retreat
Here at Samsara, we believe in serving food with love. Flavours and ingredients that are made to fuel the soul, mind and body. Sumptuous juices, scrumptious curries and indulgent nibbles. All prepared with organic and locally sourced ingredients.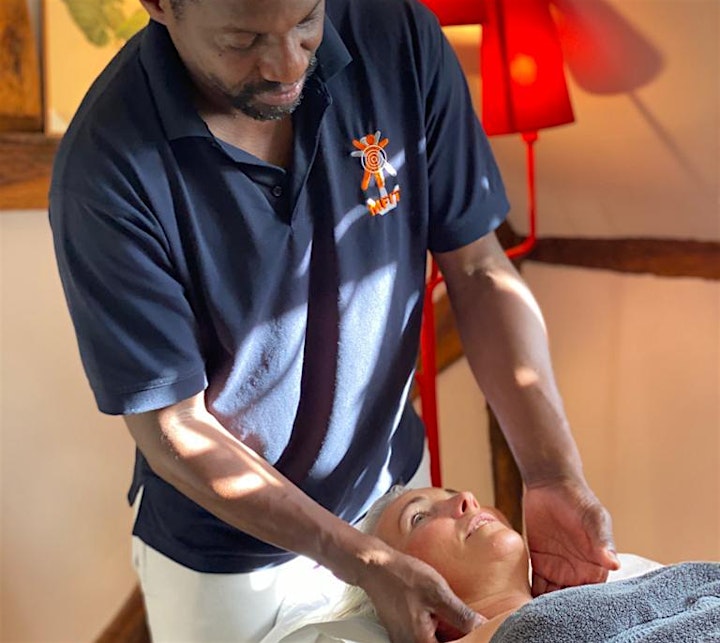 Treatments by Masto Sterling
Guests will be treated to a full body healing massage lasting over an hour.
Masto deals with the centre outwards. The abdomen is the centre of movement, it's where we absorb our energy and where most of our vital organs are located. The number of problems caused by tension in this area is quite astonishing.
Pricing
Full Retreat Experience:
Shepherds Hut (sleeps up to 2) - £590 per person
Garden Room (sleeps up to 2) - £620 per person
Sanctuary Suite (sleeps up to 2) - £750 per person
The Oast (sleeps up to 4 - 2 double beds in split level Accommodation) - £420 per person
Tipi (sleeps 6 in single bed Accommodation) - £390
If you would prefer a bedroom to of your own there is a £100 single room supplement add-on.
Day passes:
Saturday
Fully Immersive Day Guest - Arrive at 7.30am to immerse yourself in the whole day and evening - £199 per person
Travelling Day guest (for those who aren't early birds) Attend from 10.30 to 4.30 (treatment at additional cost) - £95 per person
Afternoon Guest 1(will be released 3 weeks befor the event) - Cake, Yoga, supper and gong bath - £62
Afternoon Guest(will be released 3 weeks befor the event) - 3pm Yoga class, supper and healing gong bath - £55 per person
Evening guest (will be released 3 weeks befor the event)- 5pm -10pm includes supper, a healing gong bath  - £40 per person
Sunday
Fully Immersive Day Guest - £85 person
Yoga Workshops
Should you wish to join us for a just a class or gong bath tickets are available for this too:
Saturday 8.30 - 10.30am - Yoga Workshop £30
Saturday 12.30 - 2pm - Yoga Workshop £25
Saturday 3pm - 5pm - Yoga Workshop £30
Saturday Night 7 - 8.30pm - Gong only £25
Sunday 8.30 - 10.30 am - Yoga Workshop £30
Sunday 8.30 - 10.30 am - Yoga Workshop £30
Sunday 12 - 2pm - Yoga Workshop £30
Full body healing massage treatment - £65
Bookings can be made online or by contacting info@samsararetreatyoga.co.uk