Description
Everyone has ideas for a business or venture they would like to start. But turning those ideas into actions is hard. Making sure those actions will deliver success is even tougher.
Join us on 28th March when James Eder, founder of Student Beans & Causr.co, will talk through his story and get us thinking deeply about tangible actions we can take to get going and succeed.
Helping bring a different perspective, James will leave you with examples of what you can do to make a difference and how a bit of innovation can go a long way.
Timings

6:30pm Arrivals
7:00pm Welcome from Series Q
7:05pm Speaker
7:45pm Connecting
9:00pm Move to local pub
Speaker: James Eder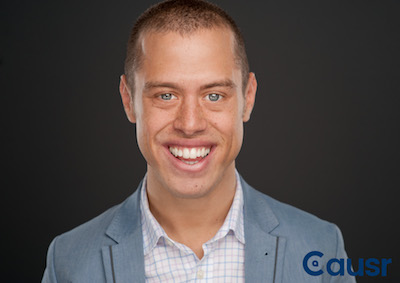 In 2005, James Eder founded website Student Beans aged 22, alongside his brother Michael. 12 years later Student Beans has gone from an idea to a brand recognised globally for its student offers and discounts. Known today as The Beans Group, the business now also encompasses Voxburner, a youth events & insights consultancy. The company employs a team of over 50 people and continues to recruit and grow. James is also the founder of Kentish Cluster alongside Camden Cluster an initiative to bring local businesses and people together in London. James is a passionate helping people realise their potential and is a regular speaker at conferences, schools and universities on subjects including marketing, entrepreneurship and building a brand.
Building on his experiences, James's latest venture Causr.co is all about connecting professionals on the go. Now live on both the Apple & Google Play store - being hailed as a game changer in social, an innovative way to connect with people and maximise opportunities that surround us every day.
Food and drink
We'll only be serving light snacks on the evening, so please do eat something in advance if you're hungry! We have a limited number of free drinks on arrival, after which a cash bar will be open.
About Series Q

Series Q is group of LGBT+ entrepreneurs and their colleagues across the startup ecosystem. This includes entrepreneurs, investors, wannabe founders, those who work in high-growth startups, entrepreneurs who have had a successful exit, and new founders who have recently taken the plunge.
Bringing us together is a desire to learn, build new connections and get inspiration from like-minded individuals.
We enable startups, many of which are too small to sustain internal LGBT+ affinity groups, to provide a forum for their LGBT+ people to connect.
Learn more or sign up at seriesq.com.
About IoD 99
Our venue partner for this event is the Institute of Directors at 116 Pall Mall. We'll be in the downstairs cafe space. There is no dress code.
Find out more about how IoD 99 can help your startup at www.iod.com/99.
Free tickets vs. Donation tickets

As a team of entrepreneurs, we are deeply familar with the challenge of making ends meet when you are setting up a new venture. That's why we hope to always offer free admission to our event programme.

As entrepreneurs we also bootstrap. We keep our costs to an absolute minimum, hustling sponsored food, drink and venues wherever we can. That said, incidental expenses still crop up from time to time, so we are opening a Series Q account to help us manage these costs as we scale.
This event, we are offering both 'free tickets' and 'donation tickets'. There is no practical difference between these ticket types, other than the ability to make a contribution of your choosing. There is no pressure to contribute, but if you find Series Q to be valuable, we encourage you to contribute whatever you feel is appropriate.