Description
Series Q is back, pitches! Beat the post-Summer blues and join us for an exciting evening of everything pitch-related: presenting an idea, general public speaking know-hows, tales of horror and lessons learned, tailoring the message to your audience, fundraising (eek) and general 'become-better-at-communicating' insights.
When the stakes are high and the pressure is on, how do you equip yourself with the best tools to succeed? Learn from those who have walked the talk and get the chance to pitch your own idea/business too and win a prize!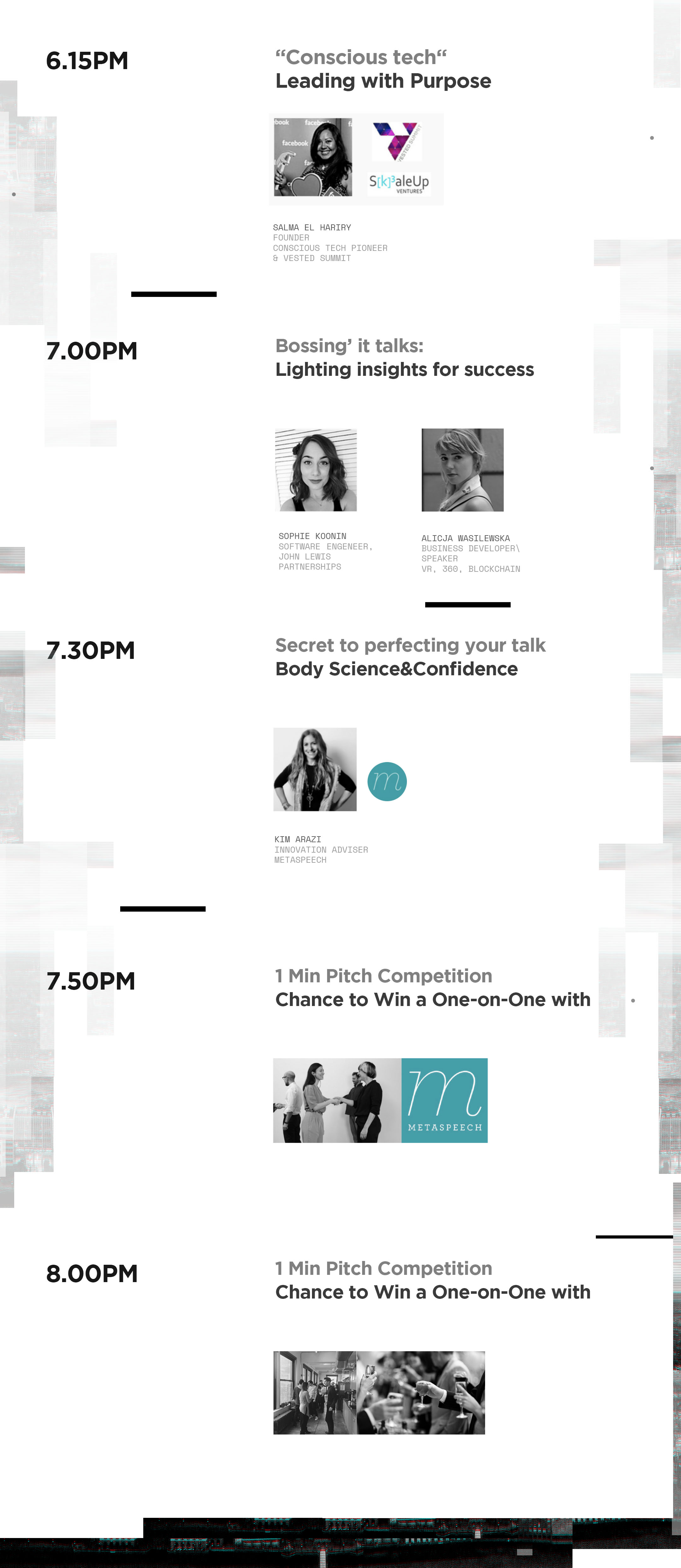 FULL EVENT AGENDA
6:00-6:15pm: Registration & Introduction to Series Q & Beyond
6:15-6:45pm: Fireside chat on 'Conscious Tech and Leading with Purpose' with Vested Summit Founder Salma El Hariry, Skale Up Ventures
6:45-7:00pm: Drinks Networking
7:00-7:30pm: Bossin' It with... (10mins power talks + Q&A)
Sophie Koonin 'A-Z of Giving Conference Talks', Software Engineer, John Lewis

Alicja Wasilewska 'Proven Hacks to Rock the Stage', Business Developer/Speaker, VR Diversity Initiative
7:30 - 7:50pm: Expert Keynote 'Secrets to Perfecting Your Talk by Entrepreneur and Body Science Specialist Kim Arazi, Innovation Advisor at Metaspeech & Founder IN3
7:50 - 8:00pm: #JustDoIt 1min Lightning Pitch Competition. 3 spots available. Now it's your chance to shine in front of a Special Judging Panel and win a one-on-one coaching session with Metaspeech!!
8:00 - 9:00pm: Yums, Drinks & Networking
---
Thank you to Beyond London for kindly sponsoring & hosting us!
Beyond is a design and technology ideas company. We help ambitious companies create market value with design- and technology-based products and strategies, and establish the methods and mindsets that move companies forward.
LDN / NYC / SFO / MTV / ATX

---
What's up with the different ticket types?
As a team of entrepreneurs, we are deeply familar with the challenge of making ends meet when you are setting up a new venture. That's why we hope to always offer free admission to our event programme.
As entrepreneurs we also bootstrap. We keep our costs to an absolute minimum, hustling sponsored food, drink and venues wherever we can. That said, incidental expenses still crop up from time to time, so we have opened a Series Q account to help us manage these costs as we scale.
This event, we are offering both 'free tickets' and 'donation tickets'. There is no practical difference between these ticket types, other than the ability to make a contribution of your choosing. There is no pressure to contribute, but if you find Series Q to be valuable, we encourage you to contribute whatever you feel is appropriate.
/// Interesting in sponsoring or partnering with us? Contact hello@seriesq.com for more details.