Sales Have Ended
Ticket sales have ended
Thank you for registering. We are delighted that you will be joining us on May 20th at 7pm!
Sales Have Ended
Ticket sales have ended
Thank you for registering. We are delighted that you will be joining us on May 20th at 7pm!
CELEBRATING EXPLORATION with talks by Mark Beaumont and Levison Wood.
About this event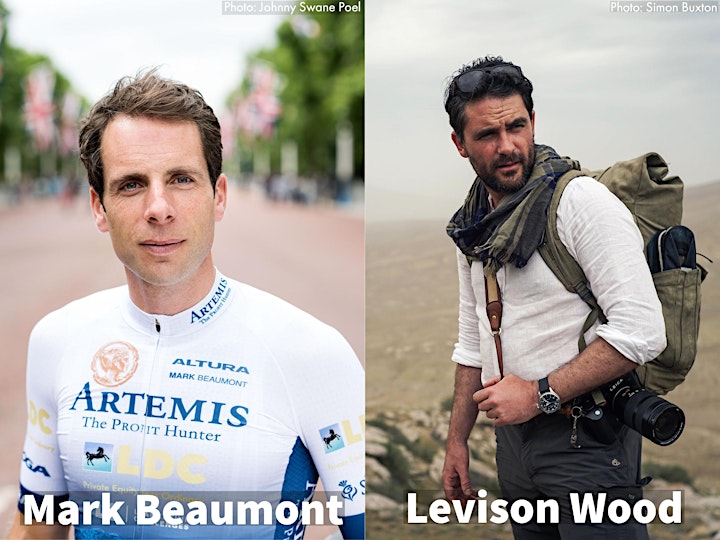 Join us for our 2021 CELEBRATING EXPLORATION day!
We will be celebrating adventure and exploration with talks from SES Honorary Advisory Board members Mark Beaumont and Levison Wood. Both have worked tirelessly to achieve their goals and are keen to share the knowledge they have gained through many years of experience.
Find out how to realise your adventure-led and exploration dreams, the highs and the lows, what to do...and how to do it.
"These inspirational talks are a blueprint for getting you started or helping you to continue your journey in the exciting world of adventure and exploration!"
5:30pm MARK BEAUMONT - THE 'ART OF ADVENTURE'
Are you interested in learning how to build a fulfilling and exciting career in adventure?
In this candid and fascinating talk, Mark discusses what you need to do. Encompassing subjects such as calling a bad day bad, being honest about the way you feel, the psychological roller coaster of any major project, and having the creativity and courage to step out and do things differently.
6:30pm LEVISON WOOD - THE 'ART OF EXPLORATION'
Would you like to pursue a career in exploration?
In this riveting talk, Levison opens up to explorer, film producer and good friend Reza Pakravan about his journeys into the unknown, experiencing risk, making things up as he goes along, realising his childhood dreams and what it means to be an explorer.
Our talks will be followed at 7:30pm by the OSCARS OF EXPLORATION, our Explorer Awards Presentation Evening, sponsored by RSK.
Celebrate with our six Explorer Award and four Honorary Award winners as they receive their prestigious awards.
Our presenters for the evening are SES Chair Neil Laughton and SES Explorer Eleanor Drinkwater.
We will also PREMIERE an exclusive interview with SES Founder and Honorary President COLONEL JOHN BLASHFORD-SNELL talking about the 'ART OF SCIENTIFIC EXPLORATION'.
Select your events using the tickets options available and the links you will need to join them will be emailed to you. We look forward to welcoming you.
2021 Explorer Award Winners
SIR CHARLES BLOIS EXPLORER AWARD FOR SCIENCE & ADVENTURE
Jody Bragger - Sir Charles Blois Explorer
ELODIE SANDFORD EXPLORER AWARD FOR AMATEUR PHOTOGRAPHY
Charlie Walker - Elodie Sandford Explorer
GOUGH EXPLORER AWARD FOR MEDICAL AID & RESEARCH
David Birrell - Gough Explorer
JUDITH HEATH EXPLORER AWARD FOR BOTANY & RESEARCH
Juniper Kiss - Judith Heath Explorer
NEVILLE SHULMAN EXPLORER AWARD FOR EXPEDITION FILMMAKING
Beki Henderson - Neville Shulman Explorer
SES EXPLORER AWARD FOR INSPIRATIONAL & SCIENTIFIC TRAILBLAZING
Bethan John - SES Explorer
2021 Honorary Award Winners
SES YOUNG SCIENTIFIC EXPLORER
Aneeshwar Kunchala
SES PIONEER WITH PURPOSE
Erik Weihenmayer
SES EXPLORER OF THE YEAR
Chaz Powell
SES LIFETIME ACHIEVEMENT
Shane Winser
We look forward to celebrating with you!
Team SES
Our Explorer Awards are supported by Neville Shulman CBE, Rivers Foundation, Judith Heath, Friends & Family of Elodie Sandford, Sir Charles Blois Bt, Viscount Gough, The O'Hea Charitable Trust, The Rowan Bentall Charitable Trust, Avocet Insurance Consultants, Pam Coleridge, Kate Coleridge, Vanessa Coleridge, Egerton Sykes and the Trustees of SES.
The 2021 SES Honorary Awards are proudly sponsored by SES Honorary Advisory Board member Christopher Wright FRGS.
Thank you to RSK for sponsoring the OSCARS OF EXPLORATION.
Date and time
Location
Refund policy
Organiser of SES CELEBRATING EXPLORATION
Scientific Exploration Society (SES) is a UK-based charity (No 267410) that was founded in 1969 by Colonel John Blashford-Snell and colleagues. It is the longest-running scientific exploration organisation in the world.
Echoing SES's long and impressive history of worldwide exploration and pioneering leadership, it is the Society's quest to enable the next generation of scientific trailblazers and pioneers with purpose through the Explorer Awards programme. Each year, SES aims to encourage and enhance chosen careers by providing high-profile awards for scientific exploration at the frontiers of human discovery and projects that will also leave a lasting legacy and benefit. SES seeks rising stars, whose passion for environmental sustainability, health and conservation, set them out to become major influencers for future generations. SES Explorers need to be prepared to take on monumental physical, logistical, and global challenges and share the values of grit, curiosity, integrity and leadership that pioneers like SES Founder and Honorary President John Blashford-Snell exemplify. Each winner receives a grant to support an expedition that they will lead, and that will focus on scientific discovery, research, and conservation in remote parts of the world offering knowledge, education and community aid. Expedition reports detailing the scientific research undertaken are produced by the winners and disseminated to relevant organisations, and via SES channels, raising awareness of the issues.
As well as the Explorer Awards programme, members and friends enjoy charity events and regular Explorer Talks and are also given opportunities to go on exciting SES Endorsed scientific expeditions.
SES has an excellent Honorary Advisory Board consisting of famous explorers and naturalists including Sir Ranulph Fiennes, Dr Jane Goodall, Rosie Stancer, Pen Hadow, Bear Grylls, Mark Beaumont, Tim Peake, Steve Backshall, Vanessa O'Brien, and Levison Wood. Without its support, and that of its generous benefactors, members, trustees, volunteers, and part-time staff, SES would not achieve all that it does.
#discover #research #conserve