SES Explorer Talk: Andrew Harper - Simpson Desert Survey Programme
Join us for SES Explorer Talk with Andrew Harper - Simpson Desert Survey Programme...EVERYONE WELCOME!
About this event
Andrew Harper is an Australian expedition leader, SES member, and friend. He is the Founder of Australian Desert Expeditions (ADE), a company that conducts scientific and ecological surveys in the Simpson Desert (Northern Territories, Australia), assisted by a team of pack camels.
In 2019, Andrew launched his Simpson Desert Survey Programme (Songlines and Shared Journeys – Knowledge Mapping the Simpson Desert), which was a series of 13 surveys carried out by ADE to document the flora and fauna, indigenous occupation, and invasive species across the southern, central and eastern Simpson Desert.
SES was delighted to approve this expedition as a SES Endorsed expedition and was excited to share the scientific research findings via SES channels.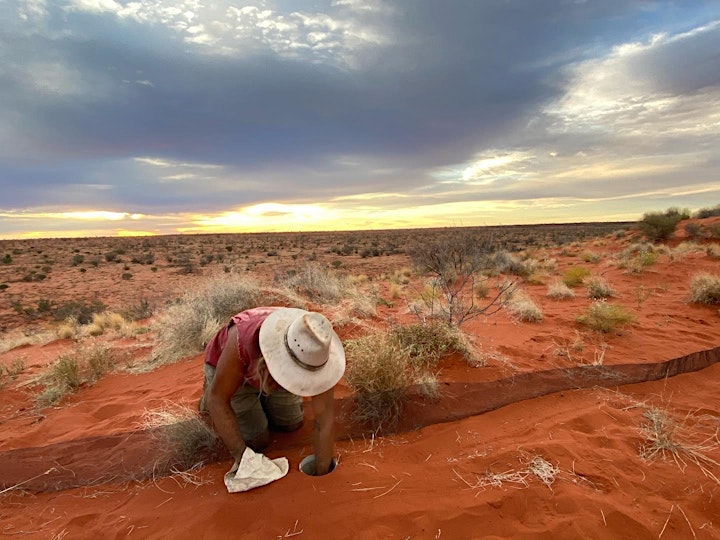 Andrew's 2021 Survey Programme was also endorsed by SES. The expedition was progressing well until COVID-19 travel restrictions forced them to abandon two-thirds of the way through the trekking programme. Andrew hopes to re-start the Survey Programme in 2023.
In his talk, Andrew will talk about leading desert expeditions supported by camels and also share his scientific research findings from his Simpson Desert Survey Programme.
To find out more about ADE and its expeditions by visiting the website and social media channels (YouTube, Facebook and Instagram).
EVENT DETAILS
Time and Date: 7pm on Tuesday 29th November 2022
ONLINE: Zoom webinar (joining details will be emailed before the event)
SES 2022 Explorer Talks proudly sponsored by Merck.

Date and time
Location
Refund policy
Organiser of SES Explorer Talk: Andrew Harper - Simpson Desert Survey Programme
Scientific Exploration Society (SES) is a UK-based charity (No 267410) that was founded in 1969 by Colonel John Blashford-Snell and colleagues. It is the longest-running scientific exploration organisation in the world.
Echoing SES's long and impressive history of worldwide exploration and pioneering leadership, it is the Society's quest to enable the next generation of scientific trailblazers and pioneers with purpose through the Explorer Awards programme. Each year, SES aims to encourage and enhance chosen careers by providing high-profile awards for scientific exploration at the frontiers of human discovery and projects that will also leave a lasting legacy and benefit. SES seeks rising stars, whose passion for environmental sustainability, health and conservation, set them out to become major influencers for future generations. SES Explorers need to be prepared to take on monumental physical, logistical, and global challenges and share the values of grit, curiosity, integrity and leadership that pioneers like SES Founder and Honorary President John Blashford-Snell exemplify. Each winner receives a grant to support an expedition that they will lead, and that will focus on scientific discovery, research, and conservation in remote parts of the world offering knowledge, education and community aid. Expedition reports detailing the scientific research undertaken are produced by the winners and disseminated to relevant organisations, and via SES channels, raising awareness of the issues.
As well as the Explorer Awards programme, members and friends enjoy charity events and regular Explorer Talks and are also given opportunities to go on exciting SES Endorsed scientific expeditions.
SES has an excellent Honorary Advisory Board consisting of famous explorers and naturalists including Sir Ranulph Fiennes, Dr Jane Goodall, Rosie Stancer, Pen Hadow, Bear Grylls, Mark Beaumont, Tim Peake, Steve Backshall, Vanessa O'Brien, and Levison Wood. Without its support, and that of its generous benefactors, members, trustees, volunteers, and part-time staff, SES would not achieve all that it does.
#discover #research #conserve