Description
Joshua Powell is a Conservation Biologist and is the Society's 2019 SES Explorer, having been awarded the Explorer Award for Inspiration & Scientific Trailblazing. A National Geographic Explorer, Josh founded Rangers Without Borders in 2017 with Peter Coals, from the University of Oxford's Wildlife Conservation Research Unit (WildCRU), with the aim to better understand the work of wildlife rangers and their training needs outside of the tropics. He is currently completing a PhD at UCL and is one of the faces of WWF's #WWFVoices campaign, where he discusses threats to global biodiversity and the conservation science that is being used to try to address them.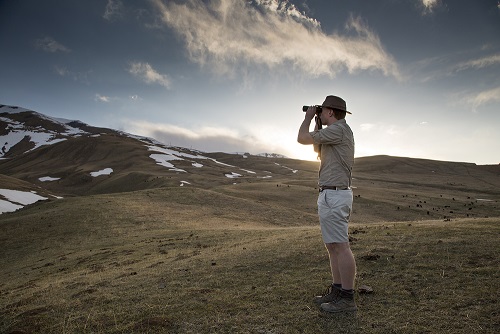 Josh will discuss the conservation challenges faced by wildlife rangers around the world, with a focus on remote and little-studied locations across Central Asia and Eastern Europe. He will look at the anti-poaching work of rangers in the region – from temperate forests on the Azerbaijan-Iran border, which are home to a rare European leopard, to snow-capped mountain reserves in Kyrgyzstan, where former big cat poachers now work to protect snow leopards. He will consider both the livelihoods of individuals working in the 'world's most dangerous job' and nascent efforts to develop trans-boundary cooperation programmes, sometimes in literal conflict zones.
After the talk, Josh will give a brief insight into his expedition to the Bering Sea in search of a tiny endangered shrew!
To find out more about Josh, take a look at his website and you can follow him on Facebook and Instagram.

DATE & TIME
Tuesday 27th October 2020 at 7pm (drinks from 6.30pm)
VENUE
Albert Room, Coopers Arms, 87 Flood Street, Chelsea, London SW3 5TB
- Drinks in the bar from 6.30pm
- Talk in the Albert Room upstairs at 7pm (followed by Q&A)
- More drinks in the bar afterwards, if wanted!
#discover #research #conserve #sesexplorerawards #expeditions #rangerswithoutborders #animalconservation #adventures #conflictzones #conservationchallenges #centralasia #easterneurope #WWF #nationalgeographicexplorer #sesexplorer