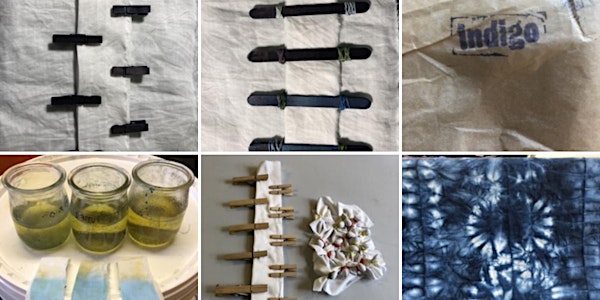 Set up your Indigo Fructose vat and learn Shibori online zoom workshop
Refund policy
Contact the organiser to request a refund.
Eventbrite's fee is nonrefundable.
Spend two sessions online with zoom learning how to set up a Fructose Indigo Vat, learn how to maintain it and how to dye Shibori with it
About this event
You will spend two sessions learning how to set up an Indigo Fructose vat using the 123 method from scratch and how to maintain it. On session two, we will use the vat to dye some Shibori pieces using "easy to find at home" resists.
IF YOU ORDER THE UK STARTER PACK PLEASE SEND YOUR POSTAL ADDRESS BY EMAIL SO TO ALLOW US TO POST IT IN TIME BEFORE THE WORKSHOP to bettysbeautifullife@gmail.com
This workshop is perfect for beginners who want to get their head around setting up a fructose vat and how to use it to dye small simple and Shibori pieces.
Elisabeth is a French textile artist based in Scotland and she works with Natural dyes, Eco Printing and Indigo for the past several years. She has built up an expertise with natural vats over the past two years both in the UK and with artists dyers in South East Asia.
She will share her knowledge demonstrating the setting up of a vat. You will be given some instruction on PDF format and get a chance to work along her if you would like or to apply the information after the workshop on day 1, On day 2 we will survey the vat, talk about vat maintenance and learn how to dye and finish pieces... this is including using some Shibori resists on the basis of what you have available at home.
You will be given a shopping list ahead of the workshop and/or a possibility for a starter pack if you live in the UK for a small vat.
One week later we will run a "show and tell" online to give you the opportunity to share the pieces you have dyed with other participants.
To be able to access this workshop you must have internet access and a lap top or a tablet as it will be done streaming. Please test your internet before hand as no refunds will be operated.