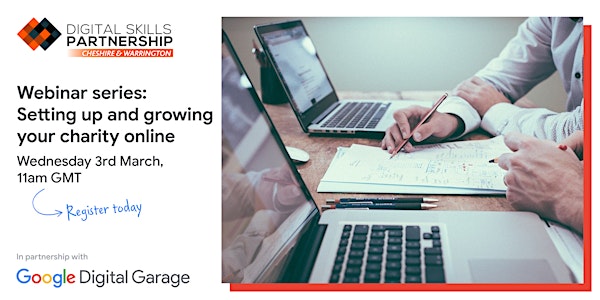 Setting up and growing your charity online - Google Digital Garage
The first of a series of online sessions, brought to you by Regional Digital Skills Partnerships, in partnership with Google Digital Garage
About this event
Charities across the seven Digital Skills Partnership regions are invited to come along and hear from the Google Digital Garage team, about how to set themselves up online, and grow their digital reach and capability.
During this session, you'll discover the range of Google for Nonprofits resources available and how you can set up your free account. You'll also learn how to use Ad Grants to achieve your nonprofit's goals and helpful tips for creating effective Ad campaigns to achieve real results.
This is the first in a weekly series, brought to you by Local Digital Skills Partnerships, in partnership with Google Digital Garage.
Digital Skills Partnerships (DSPs) were established by the Department for Digital, Culture, Media and Sport (DCMS), to connect national and regional stakeholders in order to tackle local digital skills challenges. The seven DSPs are as follows: Cheshire and Warrington, Cornwall and the Isles of Scilly, Heart of the South West, Lancashire and Greater Manchester, South East, West Midlands and West Yorkshire.