Event Information
Location
Archive Bar & Bottle
2 Mellor Street
Cheadle Hulme
Cheadle
SK8 5AU
United Kingdom
Come & create your very own unique embroidered journal, with demonstrations & tutorials from local embroidery artist.
About this event
The Sew Unique Thread Journal Day course is an inspiring workshop where I will be sharing tips and techniques that will help you to create your very own thread journal. We will be learning the skills and techniques you need to add to your own project. This includes your Complete Kit and Course worth £45 as well as a pizza lunch (to be selected upon arrival).
Don't be put off by the commitment of creating a stitch a day, because this journal could be a weekly, monthly or even the occasional stitch. The beauty is, it's yours and therefore, so are the rules! There will be plenty of time for questions on the day with our expert led workshop and hands on course.
This meet up will be suitable for brand spanking new or experienced stitchers. Just think of it as a creative, self care hour to yourself that help you to create miniature stitched memories to treasure for years to come.⠀
Thread Journal starter kits are included in your ticket price, containing everything you need to create your very own thread journal hoop:
- 100% cotton fabric
- 8" embroidery hoop
- Embroidery floss
- Two embroidery needles
- Embroidery scissors
- Hand stamped 100% cotton tote bag to keep your project and supplies together
- 2+ years of focus sheets, instructions, diagrams and ideas collated into a 48 page course.
Techniques covered in the 48 page course includes...
Animals & insects
- Fluffy bumble bee
- Woolly textured sheep
- Detailed bird
- Butterfly with wings that stand off your project
Celebration & birthday
- Super dimensional heart
- Explosive fireworks
- Striped birthday candles
Food related
- Woven picnic blanket
- Ice cream with a waffle cone
- Super dimensional croissant
- Shaded pumpkin
Flowers & foliage
- Sunny sunflower
- Colour variegated Rhododendron
- Beautiful Rose
- Dainty daisy
- Fluffy dandelion
- Furry dandelion clock
- Creeping vines
- Multiple techniques for leaves
Festive favourites
- Frosty snowflakes
- Embellished and twinkly Christmas tree
Additional miniatures
- Family portrait
- Clouds
- Long flowing hair
- Plaited hair
I will be offering hands on & one-to-one demonstrations every step of the way, to ensure you feel happy & confident to continue hand embroidering beyond the workshop.
We will be aiming to complete a number of stitch techniques during the session, however, there is no rush! Embroidery is a great way to relax & unwind, so it is more important for you to take your time and enjoy.
You will also receive online instructions with hyperlinks to my series of fully narrated video tutorials (just in case you need a little reminder when you get home).
Archive Bar & Bottle is situated right next to Cheadle Hulme train station (which is only an 18 minute train journey from Manchester Piccadilly). Limited parking is available right outside the bar and there is addition parking available at the train station for those of you driving to the event.
I am a big advocate of supporting small, local, indie businesses so Archive was a clear choice for me. Offering a plethora craft beer & gin whilst themselves supporting small distilleries & breweries.
I can't wait to meet you!
Check me out on Instagram: @evanssentcreations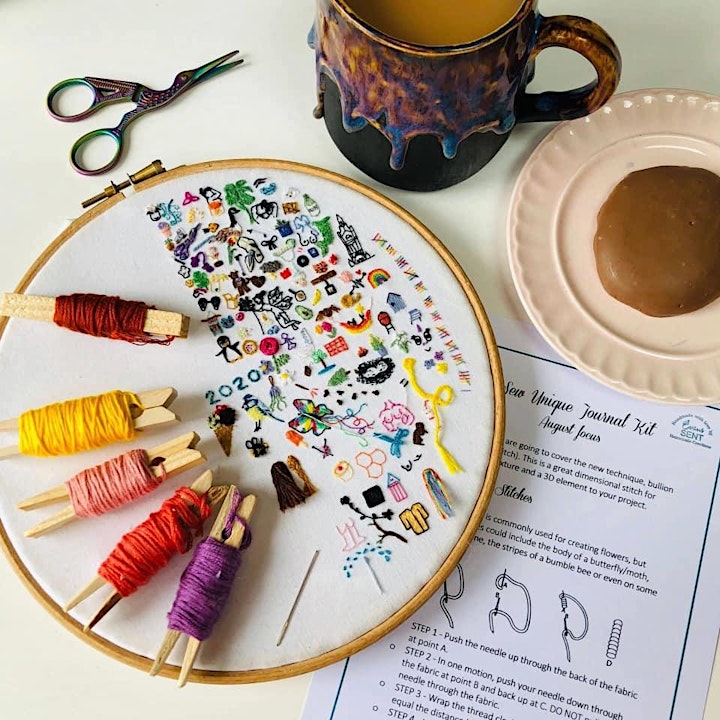 Date and time
Location
Archive Bar & Bottle
2 Mellor Street
Cheadle Hulme
Cheadle
SK8 5AU
United Kingdom
Refund policy