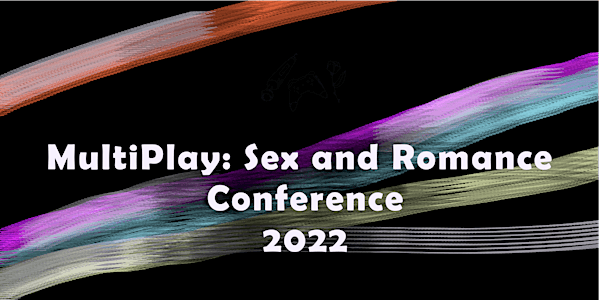 Sex and Romance in Video Games Conference
Researchers will present their work examining the themes of sex and romance in video games.
About this event
If anyone is having problems joining the session, please follow this link
https://teams.microsoft.com/l/meetup-join/19%3ameeting_YzNhOWQ3NjUtYmQyMS00NzRjLTgwNzUtNTBhYTQzMWU4NDNi%40thread.v2/0?context=%7b%22Tid%22%3a%2216a0d960-ee74-4f56-a22a-19ae057918b2%22%2c%22Oid%22%3a%22a8ee6eba-9cdb-452a-865e-82e756902f49%22%7d
The conference will be two hours, and researchers will present their work in 20 minutes with 10 minutes of Q&A from the audience at the end. The conference will explore the depiction of romance and sex in video games, shifting technology to deliver relationship experiences, and how audiences react to these themes.
Keynote Speaker: Matthew Wysocki is an Associate Professor at Flagler College where he is the Coordinator of Media Studies. His research interests frequently focus on textual analysis of video games, professional wrestling, and neo noir. Specifically in video games, he is interested in the nature of "control" and the roles that players create as producers of their own vehicles of consumption. He is the co-editor of Rated M for Mature: Sex and Sexuality in Video Games and editor of CTRL-ALT-PLAY: Essays on Control in Video Games. He is a co-chair for the Game Studies area of the Popular Culture Association/American Culture Association and president of the Popular Culture/American Culture Association in the South.
Sessions:
'Do Video Games Have "Nice Guy Syndrome"? Reshaping the Gamification of Sex'
Viviana Susanna is a PhD student in Game Studies in the School of Arts and Creative Industries at Edinburgh Napier University. Her research interests include queer identities and sex representation in video games as well as live streaming and the evolution of play.
'Real Virtual Submission: BDSM practices and VR in Dominatrix Simulator'
Agata Waszkiewicz (they/them) is a doctoral candidate at Maria-Curie Skłodowska University in Lublin, Poland. They research ways in which cozy games create meaningful, inclusive, and diverse narratives, as well as the role of formal devices in experimental games in the construction of the player-character relationship. They are the author of a book Delicious Pixels: Food in Video Games (forthcoming DeGruyter 2022).
Víctor Navarro-Remesal is a media scholar specialized in games. He teaches History of Videogames and Interactive Narrative at Tecnocampus, Universitat Pompeu Fabra. He's the author of 'Libertad dirigida: Una gramática del análisis y diseño de videojuegos' (Shangrila, 2016) and 'Cine Ludens: 50 diálogos entre el juego y el cine' (Editorial UOC, 2019), in addition to many chapters and papers on games. He has written before on BDSM in games and VR.
Roundtable discussion: How Cyberpunk 2077 depicts a disembodied futurism of sex and romance
Panelists:
Greg McGuinness is a Maths teacher in North London and a PhD candidate at the Institute of Education, UCL. His focus is Educational Philosophy, where his general research interests lie in conceptions of the self in digital gaming spaces, and the implications this has for pedagogical activity. He is particularly interested in phenomenological and posthuman subjectivities, and on conceptualisations of meaning-making.
Steph Farnsworth is a PhD candidate at the University of Sunderland, researching mutants in science fiction and biotechnology in media. Inspired by Haraway's A Cyborg Manifesto, Farnsworth is creating mutant theory, a form of fictive theory speculating on the influence of biotechnology over our biological forms. She is also a co-founder of MultiPlay.
Schedule:
5pm Introduction
5:05pm Keynote speaker - Matthew Wysocki
5:35pm 'Do Video Games Have "Nice Guy Syndrome"? Reshaping the Gamification of Sex' - Viviana Susanna
6:05pm 'Real Virtual Submission: BDSM practices and VR in Dominatrix Simulator' - Agata Waszkiewic and Víctor Navarro-Remesal
6:35pm Roundtable discussion: How Cyberpunk 2077 depicts a disembodied futurism of sex and romance - Greg McGuinness and Steph Farnsworth
7:00pm Closing Remarks