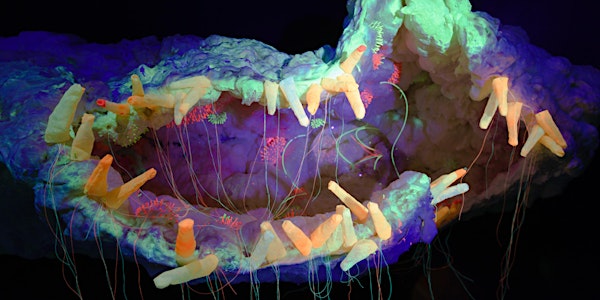 Sex Ecologies Book Launch: conversation and film screening
Location
Ambika P3
35 Marylebone Road
London
NW1 5LS
United Kingdom
Join artist Anne Duk Hee Jordan and curator Stefanie Hessler for a conversation and film screening to celebrate the launch of Sex Ecologies.
About this event
Join artist Anne Duk Hee Jordan and curator Stefanie Hessler for a conversation and film screening of Jordan's video Ziggy and the Starfish to celebrate the book launch of Sex Ecologies. The publication is the result of a collaborative project between Kunsthall Trondheim and The Seed Box, co-published with The MIT Press. Accompanying an eponymous exhibition and public programs, and with contributions by 36 artists and scholars, the book explores the power of the erotic in human and more-than-human worlds. It presents newly commissioned texts and artworks alongside selected visionary essays exploring the intersections of queer theory and ecology. Spanning diverse geographies and disciplines including art, environmental humanities, gender studies, science and technology studies, and Indigenous studies, the contributors deconstruct Eurocentric erotophobia and heterosexist and speciesist notions of nature, proposing nothing short of a reconceptualization of human relationships with nature. Sex Ecologies invokes ecological erotics for greater social and environmental justice.
With new contributions by, among others, Katja Aglert, adrienne maree brown, Mel Y. Chen, Léuli Eshrāghi, Jack Halberstam, Stefanie Hessler, Jessie Kleemann, Astrida Neimanis, Marie Helene Pereira, Filipa Ramos, Catriona Sandilands, and Serubiri Moses.
The book will be available for sale during the launch.
Biographies
Stefanie Hessler is a curator, writer, and editor focusing on ecologies and its various social intersections. She has curated biennales and been an independent curator for exhibitions across the world, from Athens to Recife, and Kochi to Berlin. She is the director of Kunsthall Trondheim in Norway where she co-led the large-scale research-based exhibition Sex Ecologies together with The Seed Box environmental humanities collaboratory, and edited the accompanying compendium on queer ecologies, sexuality, and care in more-than-human worlds (published with the MIT Press, 2021). Hessler is currently a visiting research scholar at the Centre for Research and Education in Arts and Media at Westminster University.
Anne Duk Hee Jordan is a visual artist concerned with transience and transformation in organic and inorganic ecologies. She pushes the anthropocentric gaze through sensual and playful videos and sculptures. Together with curator and writer Pauline Doutreluingne, she is working on a long-term project titled "Changing Sex in Ecology", looking at nature's many fantastic queer facets. She has exhibited widely and internationally at Kunsthall Trondheim, Norway (2021); Gropius Bau, Berlin, Germany (2020); Savvy Contemporary, Berlin (2019); and Moderna Museet Malmö, Sweden (2019), among others.
This event will be held in-person at Ambika P3. Ticket holders who would like to attend remotely (via livestreaming) should contact info@cream.ac.uk in advance.