About this Event
Sexpression:UK presents....
CELEBRATING SEXPRESSION SUCCESS - Turning 20 with a birthday weekend of celebration, reflection and planning for a brighter and better future in RSHE.
Join us on 14th-15th March 2020 at Osler House, Headington, Oxford.
We are very excited to be celebrating 20 years since the start of Sexpression this year and what better way than a weekend long birthday party style conference. So get ready to head on down to the famous city of Oxford and join us for two full days of fun with informative, inspiring talks, workshops, and a birthday bash you won't forget!
The Saturday evening social will include a dinner and a throwback old school birthday party, complete with games (think pi``ñatas and pass the parcel) and a 1920's fancy dress theme in classic Sexpression style!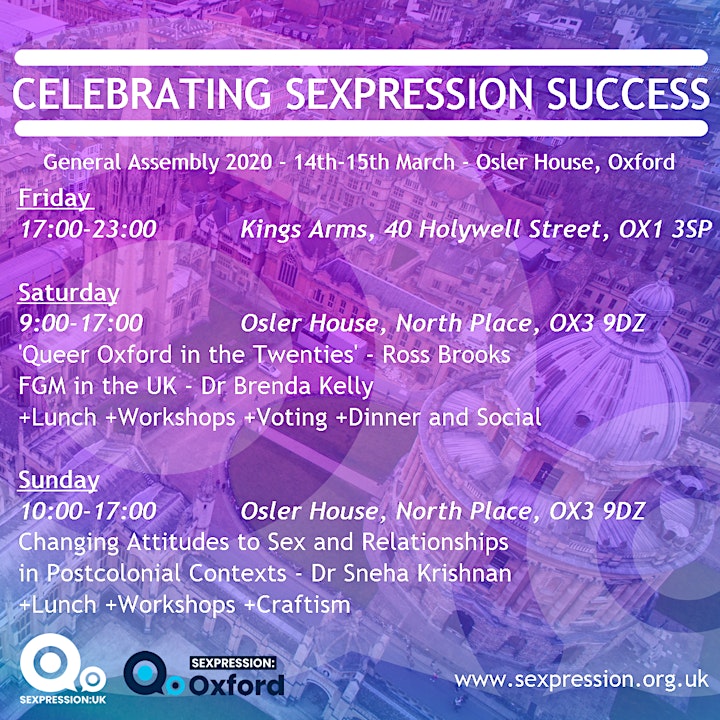 General Assembly is Sexpression:UK's 2nd largest event of the year! It brings members from all branches together for a whole weekend of networking, opportunities for method exchange, workshops and speakers that will inspire you to look at RSE from a different angle.
General Assembly also includes a branches voting session and a famously great Saturday night social.
For more information about Sexpression:UK click HERE.