Sexual Violence and Health Research Network Annual Research Day #SVAHRN
About this event
About the Sexual Violence and Health Research Network
Since 2017 the Sexual Violence and Health Research Network has brought together survivors, clinicians, advocates, researchers, students and others working in the field of sexual assault and abuse. The network provides a supportive and multi-disciplinary forum to discuss health-related research on sexual violence. The SVaHRN meets annually to share innovative research, introduce works in progress and participate in active discussions on the intersection of health and sexual violence.
This year's research day will be hosted virtually by the University of Wolverhampton with organising support from the Havens SARC (King's College Hospital NHS Foundation Trust), University of Bristol, St Mary's Centre and King's College London.
Who should attend: Researchers, faculty, students, clinicians, practitioners, advocates/community organisers, voluntary sector professionals working in the area of sexual or gender-based violence, survivors and patients with an interest in research.
Sexual Violence and Health Research Network Annual Research Day #SVaHRN
13:45-14:00 Welcome – Sylvia McKelvie & Dr Elaine Arnull
14:00-15:20 Parallel sessions 1 and 2 (see below for details of the sessions)
Session 1: Supporting young people and underrepresented groups
Chaired by Dr Susan Bewley
Session 2: Health systems and interventions
Chaired by Dr Gemma Halliwell
15:20-15:40 Break
15:40-16:40 Parallel sessions 3 and 4 (see below for details of the sessions)
Session 3: Global perspectives on gender-based violence
Chaired by Dr Elaine Arnull
Session 4: Well-being and working in the SV sector
Chaired by Dr Rabiya Majeed-Ariss
16:40-16:55 Feedback: discussion and via form
16:55-17:00 Closing words – Dr Elaine Arnull
For any further details about the annual research day, please contact sylvia.mckelvie@nhs.net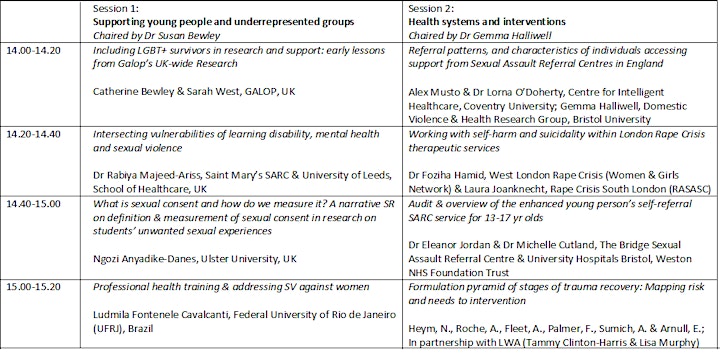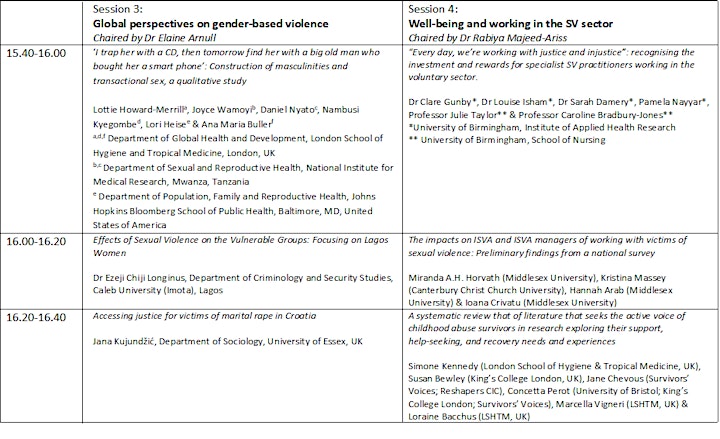 Organiser of Sexual Violence and Health Research Network - Annual Research Day
We have been providing students with the opportunities presented by a first class education for over 180 years.
With over 500 courses to choose from delivered across our 18 Schools and Institutes, the University of Wolverhampton's attractive offering to students from around the world includes 96% graduate employability (Destination of Leavers of Higher Education survey 2015), teaching informed by world-leading research, strong business links, and state-of-the-art facilities.