Sgwrs am archif Gelf y Llyfrgell Genedlaethol | Chat about the Art archive in the National Library of Wales
About this event
Ymunwch gyda ni ar brynhawn ddydd Mercher yr 8fed o Dachwedd i wrando ar sgwrs am archif Gelf y Llyfrgell Genedlaethol. Lona Mason fydd yn siarad am rhai o'r paentiadau olew, paentiadau dyfrlliw a phrintiau sydd yn yr archif. Bydd hon yn sgwrs ddiddorol dros ben. Mi fydd y sesiwn yn cael ei gynnal dros zoom.
Join us on Wednesday the 8th of October to hear about the Art archive of the National Library of Wales. Lona Mason will be talking to us about the collection of oil paintings, watercolour paintings and prints that belong in the archive. This will be a fascinating session held over zoom.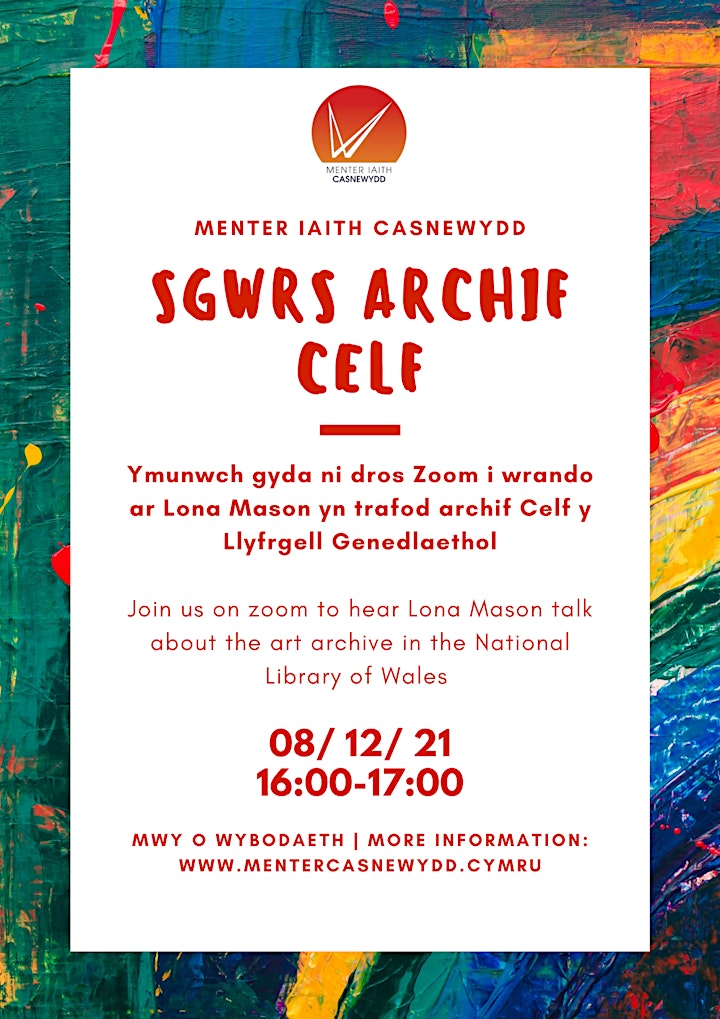 Organiser of Sgwrs Archif Celf | Art Archive Chat
Nod Menter Iaith Casnewydd yw cynyddu defnydd y Gymraeg gan blant ac oedolion Casnewydd a'i gwneud yn iaith sy'n rhan o wead naturiol y ddinas gan alluogi pobl Casnewydd i fyw a gweithio yn y Gymraeg.
Menter Iaith Casnewydd's aim is to increase the use of Welsh in Newport by children and adults and make it a language that is part of the city's social fabric by enabling people to live and work in Welsh.