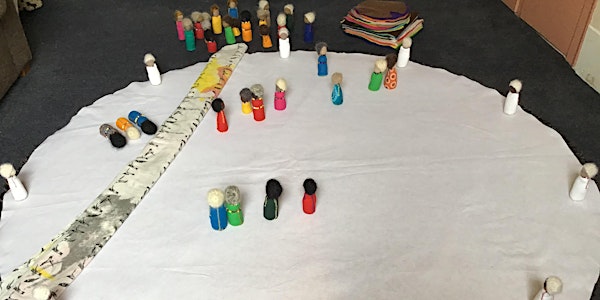 SHADES of Life - Colour Constellations
Event Information
Refund policy
Contact the organiser to request a refund.
Eventbrite's fee is nonrefundable.
These circles will explore the many different SHADES of Life, with a focus on colour dynamics in personal and professional contexts
About this event
Sat 26th June 2021
2pm - 5pm GMT
SHADES of Life - Colour Constellations
Overview
In 2021, Sonya Welch-Moring and Beatrice Millar will be hosting a series of bi-monthly circles on the theme of SHADES of Life. These sessions build on the Community and Social constellations workshops held in 2020 and with a continuing emergent feel to the work.
Each workshop stands alone. You can attend one or more as you wish.
The Offer: Colour-full Conversation - Online Via Zoom
The learning circles will explore SHADES as a systemic practice with a focus on colour dynamics. They look at colour entanglements in families and communities and explore how these issues can impact us in our personal and professional lives.
These issues can create conflict between family members and affect a person's sense of worth and well-being. Although these issues are found across diverse cultures around the world, they are not often talked about openly, lets change that!
Seeing and Sensing Beyond Colour Dynamics
We will be holding the workshops online using the systemic constellations method. Figurines or 'dollies', sourced and made in South Africa by Zimbabwean women will be 'representatives' for family members enabling us to 'see' and 'sense' the impact of colour dynamics on a family or community.
We will draw on the resources and the energy of the group to create an embodied, visual, narrative - illustrations of the conversations taking place, asking questions like……..
• How do we examine colour dynamics in different communities, are there similarities and differences?
• What is the impact on siblings and other family members of 'colour favouritism?'
• How do we explore colour dynamics in our own family of birth when parenting bi-racial children?
A Focused Holding Space
There are only 8 spaces available for each workshop, in order to create a space of safety and containment, so that everyone can feel free to express themselves. There will be time for several 30-minute consultations during the workshop and we will map constellations focused on the issues that participants bring from their professional and personal life.
The Black Lives Matter movement has helped to raise public awareness of SHADISM as an issue affecting Communities worldwide. Facilitated by Sonya and supported by Bea, we are encouraging participants to move beyond just looking and fully engage in what it will take to examine some of these issues at a deeper level. In this way, together we help to make a change for current and future generations.
Agreements and Disclaimer
We are standing at the crossroads of an extraordinary time and it requires those who attend to show up and be willing to self-reveal. As an online workshop, we will ask for people to be willing to be seen, to have their video on.
Please note that this is not a therapy group, it is a personal and professional learning circle, open to people from all ethnic and cultural backgrounds. However, you may experience strong emotions connected to emotional wounds from the past, or feelings of guilt, shame or anger.
We ask you to think about your emotional health before coming to the workshop. Think about whether you are in a good enough frame of mind personally and professionally to benefit from the day.
Who is the Workshop For?
A range of people from different backgrounds are attending and learning for the circle.  They are all a collaboration between Ancestral Constellations (www.ancestralconstellations.com) and PCSR (Psychotherapists and Counsellors for Social Responsibility) and are open to people of all backgrounds, colours and ethnicities.
For more information contact sonya@sonyawelchmoring.com
https://ancestralconstellations.com/
Location
Refund policy
Contact the organiser to request a refund.
Eventbrite's fee is nonrefundable.