A line-up of hilarious comedians with their best material based around the cheeky subject of sex on Valentine's Day
About this event
For your Valentine's pleasure, we are bringing the Shaggers comedy show to the Ruby Pub & Hotel in Coldean, Brighton.
Ever since 2008, this show has played to sell-out crowds worldwide at comedy festivals and venues all over the world.
Starting at the Edinburgh Fringe and continuing onto the Melbourne International Comedy Festival, Adelaide and Brighton Fringes and many others.
The Valentine's shows have also been a huge success all over the UK, Europe, Southeast Asia and Australia, playing in places like Glasgow, Inverness, Berlin, Frankfurt, Kuala Lumpur, Singapore and Darwin to name but a few.
If love and laughter is what you're looking for at that most romantic times of the year, this is the show for you.
So don't run the risk of leaving it late and having to buy your partner a cheap card and rotten, wilting flowers from the petrol garage for Valentine's, but rather book tickets early for this romantic and cheeky comedy show instead.
"The perfect way to close a night at the festival" ★★★★★ - The Funny Tonne, Melbourne International Comedy Festival
"Mischievous and unburdened comedy" ★★★★★ - Voicemag.uk, Brighton Fringe
"A tour de force of laughter-filled mischievous comedy" ★★★★★ - Arts In Leicestershire.co.uk
"Excellent" ★★★★★ - Audience review, EdFringe.com
"Utterly hilarious" ★★★★1/2 - The West Australian, Fringe World, Perth
"Cannot recommend it enough" ★★★★ - Herald Sun, Melbourne
"One of best value comedies I've seen at this year's Fringe" ★★★★ – Broadway Baby, Brighton Fringe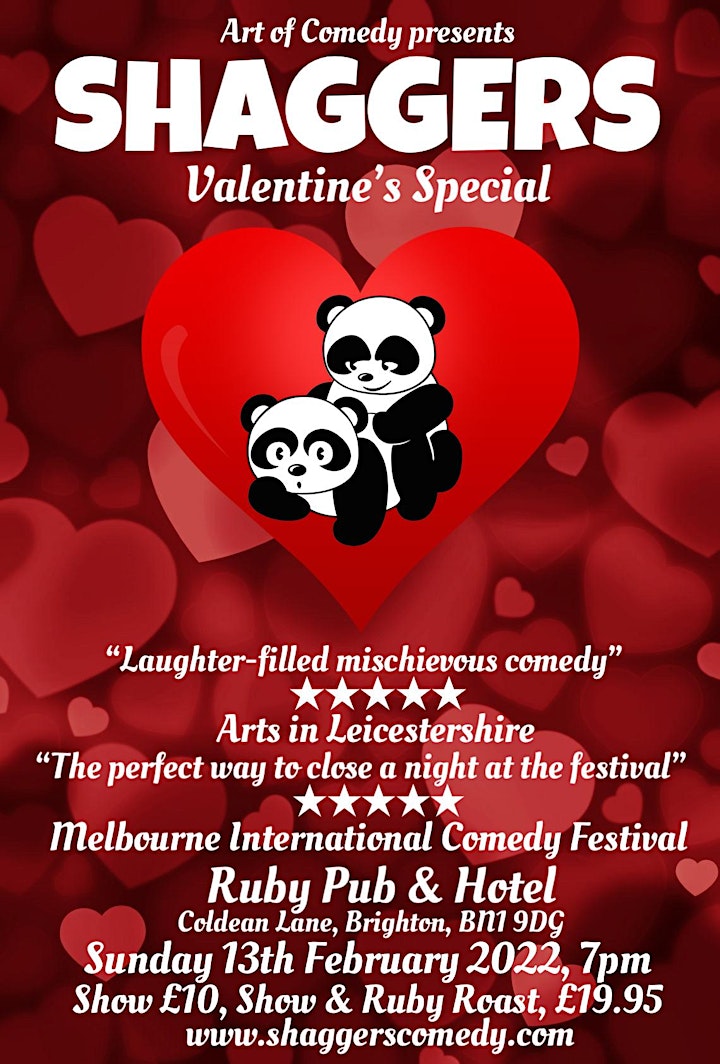 Organiser of Shaggers: Valentine's Special @ The Ruby