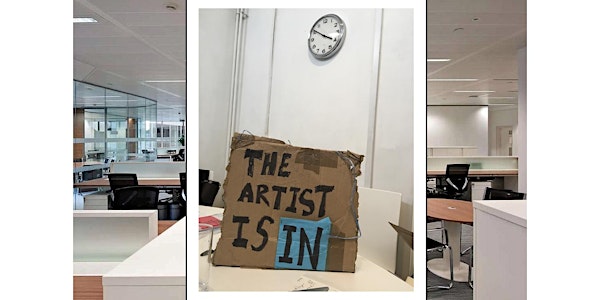 Shaking it all about: Art Projects Within Cultural Organisations
Location
Queen Margaret University - Room 3170 and ONLINE (Zoom - link to follow in confirmation email)
Queen Margaret University Way
Musselburgh
EH21 6UU
United Kingdom
The final Practice Research Cluster semniar for this year asks: How-and why-might artistic practices operate within cultural organisations?
About this event
The final of three seminar series the Practice Research Cluster will hold this year, it aims to explore how, why, and in what form, creative acts might operate within cultural organisations? Rather than assuming cultural actions are the 'product' to delivered externally by cultural organisations, how much such activities be utilised to provide insight how such places operate? Or how they might be understood differently? Or provide new ways of operating?
This hybrid event will present projects that specifically look at these issues by Dr Anthony Schrag, PhD Candidate Kyla Tully, and Prof Doc Candidate Brian Beattie, and will allow questions and discussion after each session
Schedule:
14:00 - 14:20 - While not directly related to the theme, the event will begin with a short presentation by Dr Victoria Bianchi and Dr Andy Henry on their recent conference presentation focusing on an ongoing practice-research project exploring the interconnected narratives associated with Glasgow Green, the oldest urban park in Scotland and, arguably, the UK. The Green has a complex, rich history, having been the site of weddings, protests, executions, Jacobite gatherings, disasters, and festivals, all the while providing respite from the heavily industrial landscape for the city's residents. This paper reflects on the findings from early community consultations and performance experiments carried out by the research team. It explores the methods used to reimagine place-based artistic research in urban green spaces in ways that will encourage the emergence of new frameworks and enable us to create more sustainable futures, while simultaneously celebrating the under-represented heritage of a historically working class site. (20 min)
14:30 - 15:00 - Since November 2019 Dr Anthony Schrag has been 'in residence' at the Perth Museum and Art Gallery exploring the 'publicness' of a museum collection. Titled "Kill Your Darlings" the initial concept for this project was a provocation that the public would be invited to choose a single item that should be destroyed. How this single item would be chosen was up for negotiation; and how this item might be destroyed was similarly up for discussion, but the provocation of destruction was essential to elicit discussions and debate that may reflect the nuanced complexities of how - and if - an entire public could be represented by a single Museum Collection. The project's aim was to explore how museum infrastructures limit the 'publicness' of a museum and how such spaces might be be democratised, and subsequently, the problematics of that "democracy"? How, then, can museums ensure public collections are truly public and reflective of such 'conflict, division, and instability'? Additionally, democracy is a wonderful notion, but what if people have terrible ideas? This presentation will discuss this project and reflect on how creative practice research within institutional spaces not only complicates management processes, but can also 'fail' if not cognisant of the sensitivities required to negotiate such infrastructures.
15:00 - 15:30 - Bryan Beattie's presentation will focus on his Prof Doc research as it enters its DEPP phase, testing his theories around how to change the cultural policy paradigm, with a particular interest in the notion of cultural rights. His contention is that cultural policy is constrained by neo-institutionalism of government and its agencies' working practice, creating endemic institutionalised limitations that resist radical change and often favour what seems the right thing to do rather than what actually works. His TCCP research posited that, from his experience of public institutions, trauma was a more common catalyst for change than policy, suggesting that policy is not a smooth process, but event-led punctuated equilibrium. To test this, he is revisiting three previous 'failed attempts' to make cultural policy change on a city, regional, and national scale - reconvening those that were involved at the time to see if there's a shared view of the experience, to reflect on what changed (if anything) as a consequence, and consider whether it could have been approached differently. The examples include Dundee's bid to become UK City of Culture, Fife's Citizen's Jury on Culture, and Scottish Government's Cultural Commission 2004-05
15:30 - 16:30 - PhD Candidate Kyla Tully will complete the session, presenting some of her doctoral research. This, she writes: "is concerned with notions of professionalism within rural arts and cultural management within Scotland, with an understanding of professionalism as a social construct indicative of dominating cultural practices and values. My current focus within this research combines creative practice with ethnographic fieldwork to explore notions of care within organisational and management cultures. For this assessed seminar I will be speaking about some of my initial findings related to organisational management adjustments made for a rural arts organisation in the Scottish Borders as a result of the Covid-19 pandemic, and how these adjustments might contribute to a redefinition of professionalism within arts management practice. Presenting observations from a year of virtual and in-person fieldwork of care-giving as an ethic, a practice, and a role, my presentation asks: can the incorporation of care within professional practice be encouraged and shift – or if not reinvent - our collective understanding of professionalism within arts and cultural management to include practices of care?"