Shaking Medicine London *Free* - Ecstatic Shaking Practice
Description

Join us for a free evening class of Shaking Medicine - Ecstatic Shaking Practice with Live Music.
Wake up the body - Unwind Stress & Tension - Relax - Feel Great
Thursday October 20th, 7-8:30 @ The Skylight Centre 49 Corsica Street London N5 1JT (Highbury & Islington tube)
This session is *Free*! Please book your free ticket on eventbrite, places limited.
Shaking Medicine is a wonderful way to let the body really move, shake up and release stress & tension, and bring in new fresh energy - revitalising yourself Body Heart & Soul.
Shaking Medicine is both 1) a contemporary somatic therapy practice for grounding and mobilising the Body-Mind. And 2) an ancient Shamanic technique for achieving non-ordinary states of consciousness - optional blindfolds available!
We are inspired by teachers such as Peter Levine, Bradford Keeney, Osho, Wilhelm Reich, Alexander Lowen, John Peirakkos, David Bercelli.
The Live music will support the experience. We end with a relaxation stage where you are invited to lay down, relax and let your whole Body-Mind system rest.
(We will be shaking for about 1 hour and, of course, whenever you feel you've had enough you are welcome to simply lay down and relax!)
After the Shaking Medicine session you are invited to stay on for our Aerial Relaxation Pods with Live Ambient Music.
More details about Aerial Relaxation Pods here: 8:30-10pm book here: https://www.eventbrite.co.uk/e/830-10pm-aerial-relaxation-pods-with-live-ambient-music-tickets-24535229532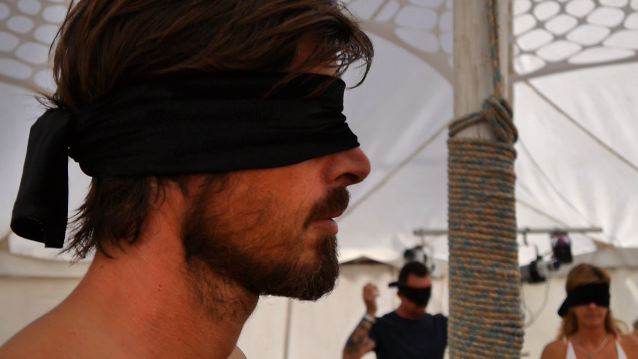 The Health Benefits of Shaking
One of the easiest ways to help the body release tension & stress is to shake. The simple act of shaking your body can produce a multitude of health benefits.
The main purpose of our Shaking Medicine classes is to relax the body and release tension. When we shake the body, we are relaxing all our joints, muscles, tendons and ligaments, helping us to loosen up and feel relaxed. Shaking gently bounces our organs and stimulates the lymphatic system. Our lymphatic system is like our bodies draining system and is responsible for the removal of waste material from every cell in the body, as well as, regulating the immune system. Maintaining a healthy lymphatic system is critical if we want to be radiant and healthy.
Most of us hold on to a lot of tension in the body, (muscular armouring) especially around the neck, shoulders and back area. Poor posture, sitting on chairs and sofas for extended periods of time, stress and even negative thought patterns and emotional blockages can all contribute to the build up stress and tension in the body. We spend our days hunched over computers, our heads locked on to our iphone screens, then we go home and slouch on the sofa to watch TV for hours. Our fast paced stress filled lifestyles leave us feeling 'up tight' and most of us can never fully relax.
These Thursday evening classes in conjuntion with our Relaxation Pods are an opportunity to re-energise, relax and rejevenate the BodyMind, the Shaking Medicine class is 7-8:30 and then you are invited to stay on for our Aerial Relaxation Pods 8:30-10pm. A treat for your body, heart & soul!
Please book for the Aerial Relaxation Pods here: https://www.eventbrite.co.uk/e/830-10pm-aerial-relaxation-pods-with-live-ambient-music-tickets-24535229532