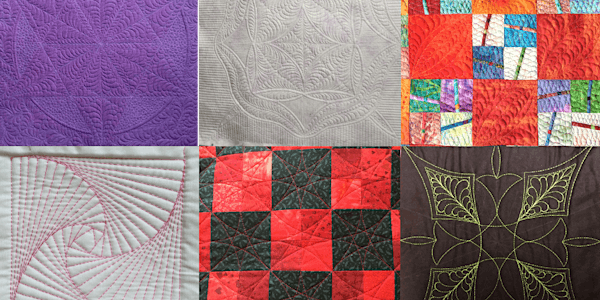 Shambellie House Quilt Fling, Ruler Quilting with Carol Munro
Location
Shambellie House
New Abbey
Dumfries
DG2 8HQ
United Kingdom
Learn to set up your sewing machine for ruler quilting to create multiple quilting designs.
About this event
You will learn how to set up your machine for ruler quilting to enable safe use of rulers. You will learn how to use the printed lines on the ruler to accurately position the ruler for stitching. Using one ruler with a straight side and an arc side you will discover how to create multiple designs suitable for blocks, sashings, and borders, as well as stand alone patterns. During the class you will receive a set of illustrated instructions and create a series of sample designs for future reference.
You will need:
Sewing machine with feed dogs down. Sewing machine extension table. If your sewing machine has a stop/start function, please bring your foot pedal.
Appropriate ruler foot for your machine, make sure to have the correct foot, do not attempt to use a normal foot. Ruler with one straight side and an arc side (Westalee do a starter set which includes both the foot and ruler)
A spacing guide if available.
Two or three fat quarters, plain coloured fabric is best. Mark a 2" grid on two of the fabrics, use a watersoluble or frixion pen, then layer with backing and wadding. Layer the third fabric with the wadding. Do not use safety pins, use either microstitch gun or baste around the outer edges.
Thread to contrast with the fabric, you want to be able to see the stitching. Glide thread is great for ruler quilting, but don't buy specifically. (You might want to bring a selection of thread).
Marking pen/pencil 6" square ruler or small ruler.
Normal sewing kit, scissors etc.
Quilting gloves - machingers are my go to gloves.
If you have a slider sheet for your machine please bring that too.
If you have any queries about the equipment please get in touch as we can forward them to Carol for her expert recommendations.
Course fees include refreshments throughout the day, including fresh coffees, teas and a light lunch.
There is a flight of stairs and no lift access. If you have any access issues, please get in touch to discuss alternative arrangements.