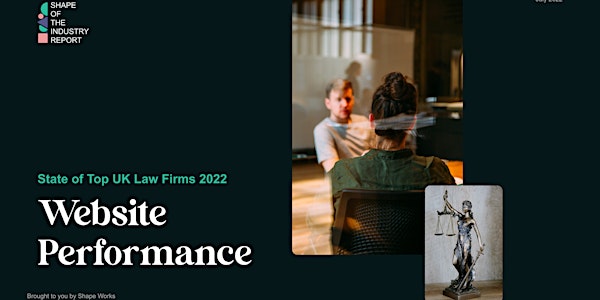 Shape of the Industry: UK Law Firms Website Performance Report Launch Party
Location
The Botanist Broadgate Circle
35 Broadgate
London
EC2M 2QS
United Kingdom
We are delighted to invite you to the launch of our Shape of the Industry: UK Law Firms Website Performance Report.
About this event
Our report not only gives firms a detailed insight into the website performance of the top 100 UK law firms but also allows them to benchmark their performance against their competitors across a number of metrics, including Core Web Vitals, security and design effectiveness. In conjunction with our partners, the report offers industry-first advice and knowledge to help firms identify a wide range of actionable performance advantages. The report will be released in full on the 23rd June, the day after the launch party.
Expect an evening of free drinks and nibbles, Q&A, insight into how law firms can maximise the power of digital and the opportunity to network with other like-minded individuals in the legal and tech space. Free tickets are incredibly limited and can be booked here.
P.s. We know not everyone likes socialising on their own, so feel free to share the registration page with your collegues.
Find out more about the creators of this report, Shape Works here.