SHAPING POSTDOC CULTURE: generating solutions to current postdoc career challenges & opportunities for networking/career development
About this event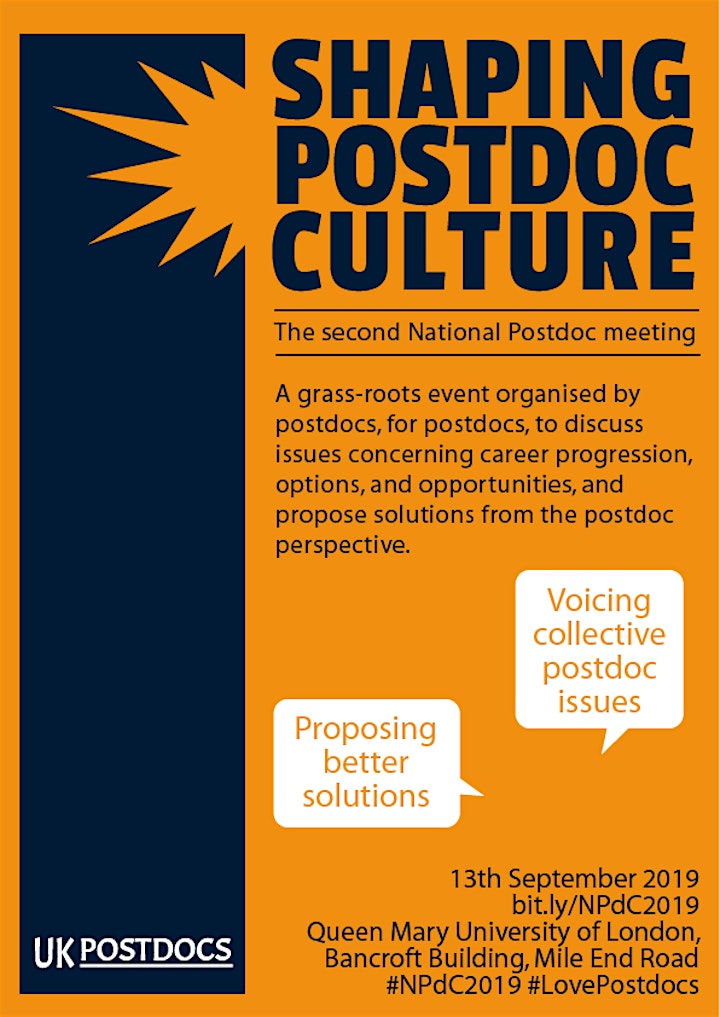 By engaging each other, we aim to create an empowered, cohesive and connected group, to drive change and positively shape postdoctoral careers.
We will be hosting influential members within the sectors below, gaining their perspectives on the current environment and to initiate constructive discussion on ways to tackle the current challenges.
The event shall provide an excellent opportunity for networking and information gathering.
Industry
Funding agencies
Policy makers/influencers
Journal editors
Researcher developers and Careers consultants
Postdoctoral peers from various research backgrounds
The themes discussed during the event will highlight primary topics wanting attention, with an aim to generate tangible solutions for improving career progression and regard for postdocs, that may be implemented by all parties concerned.
Example discussion topics include:
Postdoctoral Career progression, and postdoctoral talent retention
Opportunities for postdocs in non-academic sectors: how can we dispel the perceived notion of an 'institutionalised researcher'?
Equality, diversity, and inclusion, from the postdoc perspective
The postdoctoral funding landscape – non-traditional funding or fellowship routes
Postdoc-specific collaboration with industry
We welcome active audience participation and there will be plenty of opportunity for involved discussion.
We appreciate that not everyone will be able to make it to London for this event, and are investigating ways to enable you to attend and interact with our conference remotely. Please indicate your interest to do so on the registration form. To enable us to make the arrangements for remote access, please book by September 1st. We will do our best to accommodate remote access requests made after this date, but cannot guarantee that it will be possible.
In order to keep this event free, we are fundraising at present. One of the major costs involved will be the catering for the event, as such we don't yet have plans to offer a free lunch. You will be asked on the registration page if you would be interested in pre-paying for your lunch in order to make it more convenient on the day. More details of this to follow.
Please note: as we live-streaming these sessions, they will have to be recorded using QMUL's lecture capture systems (Echo 360).
As with most lecture capture systems, three feeds are captured simultaneously: a video recording focused on the front (lectern) of the lecture hall or teaching room, the presenter's screen (e.g. PowerPoint slides), and the room's audio feed, which can include inputs from the front of the room as well as any remote mic or presenter mic that may be enabled in the room. Remote mics will only be used in the large lecture hall for the plenary session.
If you are attending in person , this means that unless you are up front in the presenter's space, it is unlikely that you will be captured on the video feed. Recordings that will be available after the fact of these sessions will be edited down to exclude any parts prior to the start of the session. If you ask a question captured by one of the remote microphones (in the plenary session, you will not be identified unless you use do so and you can opt to not do this.
If you are attending remotely, this will be done by viewing the live-streams, and responding via textual input only in Echo360 – we will not enable voice or video input from remote attendees. Instead each session will have a moderator who will contribute the remote inputs into the discussion. Thus, remote attendees will not be recorded as such either.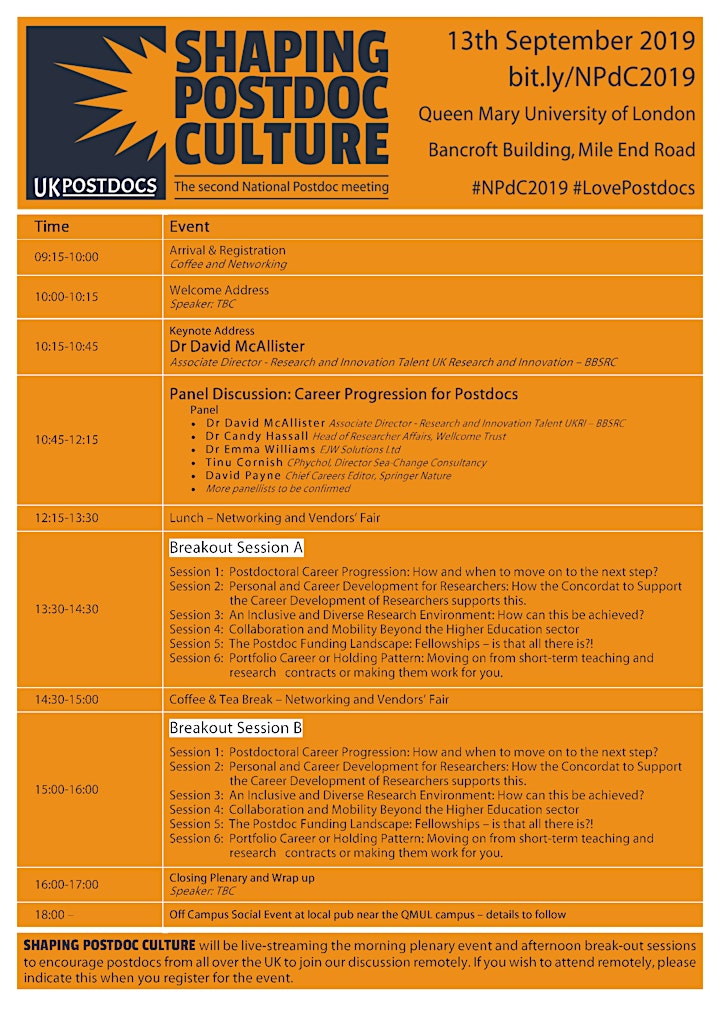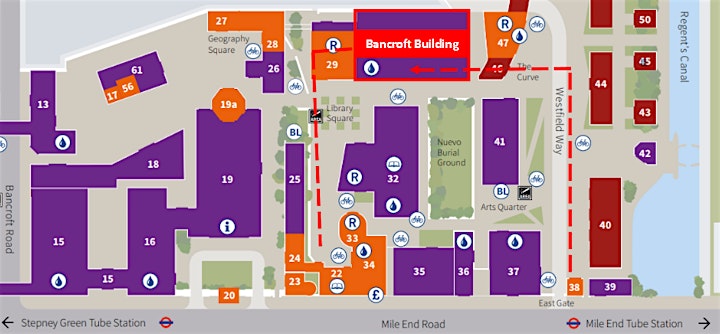 Join us at the Bancroft Building at Queen Mary University of London (QMUL) on their Mile End Campus.