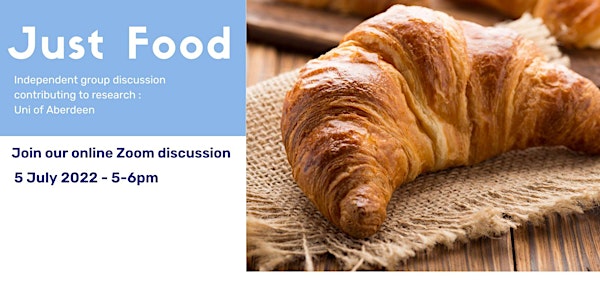 Share your views - how do we achieve a fair and sustainable food system?
Please join us for a discussion about our UK food system. There are no wrong answers - food impacts all of us and we'd love to hear from you
About this event
We are all impacted by every part of our food system - every supermarket shop, trip to a convenience store, growing food on your allotment, cooking or producing food for others to eat or working as a full time farmer or grower. Food systems mean something different to each of us and we would love to hear your opinion.
Through the levels from planting to plate, the food system comprises as layers of activities - grown, produced, harvested, gathered and slaughtered; cleaned and prepared; and usually processed in some way - through cutting, cooking, packaging and storing.
Our food is then distributed, marketed and sold to people in many different ways. This food is then eaten at home, in restaurants and as streetfood and snacks - all which then mean we deal with waste and disposal.
This is an informal, independent group discussion which will provide research material to be used by the University of Aberdeen Just Food project.
Your hosts - volunteer moderators
Muir Jankowski works with Impact Hub Kings Cross as a Senior Programmes Manager.
Roy Hill is currently studying a Masters Degree at Centre for Alternative Technology.
About Just Food: University of Aberdeen
Mutual Exchange Network on Just Food System Transitions
Project Overview: This action research project, funded from April 2021 to March 2022 by the British Academy, will establish a mutual exchange network that will examine and compare conceptions of, approaches to, and strategies for, achieving the just transition of food systems in four contexts (Brazil, Zambia, Sierra Leone, and the UK). The network will engage critical food system actors in each context in a series of participatory workshops organised by local civil society organisations (CSOs) concerned with food systems and food justice, who will then share and contrast the collected data in a series of online interregional engagement meetings with a selection of international food system advocacy organisations and the interdisciplinary research team. Outcomes from the project will include academic articles, policy briefs, an online portal presenting the multimedia data collected and all published outputs, and the new interregional network itself, which will continue to grow and connect further food system actors, national and international CSOs, and scholars beyond the period of funding.