Shared Prosperity and Inequality
Description
On 9th November, we will welcome Chief Economist and Senior Vice President of the World Bank, Professor Kaushik Basu to deliver a lecture on 'Shared Prosperity.' 
Prior to the lecture, Professor Basu will recieve an honorary degree from the University of Bath. This honour celebrates his outstanding work in the field in this, the University's 50th Anniversary year.
The ceremony and lecture will be followed by a drinks reception. 
Tickets are free and available to all.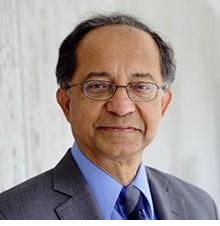 Kaushik Basu is the Chief Economist and Senior Vice President of the World Bank.
Prior to joining the World Bank, he served as Chief Economic Adviser to the Government of India and is currently on leave from Cornell University where he is Professor of Economics and the C. Marks Professor of International Studies. He is a Fellow of the Econometric Society and received the title Padma Bhushan which is one of the highest civilian awards given by the President of India.
Prof. Basu's contributions span development economics, welfare economics, industrial organization and game theory. In addition to Cornell, he has taught at the Delhi School of Economics, Harvard, Princeton and MIT. He has published widely in academic journals, and has contributed articles to many widely read magazines and newspapers.
He has written several books including 'Beyond the Invisible Hand: Groundwork for a New Economics' (Princeton University Press and Penguin); and 'An Economist in the Real World: the Art of Policymaking in India' (MIT Press). Prof. Basu holds a PhD in economics from the London School of Economics. He has received honorary doctorates from several institutes, including IIT, Mumbai, and Fordham University, New York. Prof. Basu is currently President-Elect of the International Economic Association and will take over as President from 2017.
This event is co-hosted by the Centre for Development Studies and the Department of Economics at the Univeristy of Bath as part of the University's 50th Anniversary celebrations.