Shared receptive listening: Reconnecting with people with dementia within a...
Description
Shared receptive listening: Reconnecting with people with dementia within a sonically created 'haven'
with

Dr Claire Garabedian
People with advanced dementia who are in their final phase of life can be especially marginalized due to cultural stigma and difficulties with communication. Very little research has been undertaken to explore how to reach and therefore improve the wellbeing of the increasing number of people situated within this segment of society. This presentation draws upon research exploring the relative effectiveness of individualized live and pre-recorded cello music for dyads consisting of a person with dementia who was approaching death, and someone closely connected to him/her. Specific case studies and played excerpts of music, played on solo cello by the researcher during these interventions, help illustrate the potential that music can have to create a 'haven' in which unexpected levels of interaction can occur.
12pm - 1pm Seminar followed by questions and answers
1pm - 2pm Networking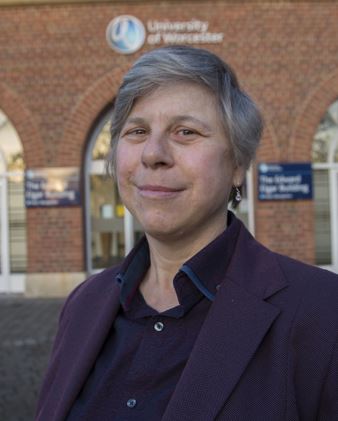 Dr Claire Garabedian PhD CMP MM (
Associate Researcher – Creative Arts and Dementia)
A professional cellist, Certified Music Practitioner, and experienced researcher, Claire completed her PhD at the University of Stirling in 2015. The focus of her thesis was the effects of individualised live and recorded music on care home residents with dementia who were nearing the end of life and their carer. Claire's unusual combination of qualifications allows a unique understanding of the rewards and challenges of working within these populations for both practitioners and researchers. Claire has been invited to present and join round-table panels throughout the UK, Europe, and the USA. She is a Creative Arts Researcher within the Association of Dementia Studies (ADS) at the University of Worcester, where she is evaluating various creative arts and dementia projects, and is a member of the supervisory team for TAnDem (The Arts and Dementia) Doctoral Training Centre shared by the University of Worcester and the University of Nottingham.