About this Event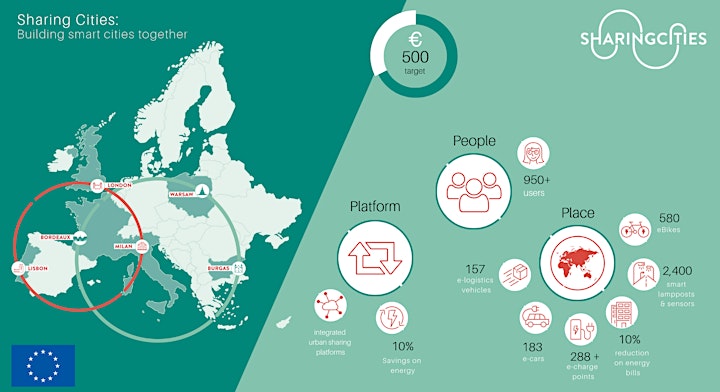 *UPDATE*
Sharing Cities Lisbon Tradeshow: Postponed
Sharing Cities have been closely watching the development of the Coronavirus (COVID-19) and the impact it will have on our Trade Show which is due to take place in Lisbon at the end of March.
After much consultation and discussions with our host city and project partners, we are very sorry to say that the decision has been taken to postpone the trade show event. This is very disappointing as this represents a lost opportunity for the Sharing Cities Project to meet at this critical stage of the programme and showcase our achievements at the trade show. However, with the situation rapidly evolving across Europe, we believe this is the correct decision. As the situation is rapidly changing, we needed to make a decision now before too many people book further travel.
Sharing Cities will continue to work with the Lisbon team to find a suitable alternative date for the event.
This is a major disappointment but, given the situation, I am sure you will all understand why this decision has been taken and we will continue to explore the viability of holding the event at a later date.
____________________________________________________
Over the last 4 years, Sharing Cities has demonstrated a suite of innovative technologies in the 'lighthouse' cities of Lisbon, London, and Milan, with the objective of developing common approaches to making smart cities a reality. As the programme enters its final year we are excited to showcase our tested solutions. We invite you to join us in shaping the market to accelerate the take-up of these smart city solutions that will help make cities more sustainable and liveable.
Join us at the Sharing Cities Tradeshow in Lisbon on Wednesday, April 1 for a chance to meet the Sharing Cities partners to find out more, and think about the ways in which we can work together to integrate these sustainable, smart city solutions into our cities.
Funded by the European Horizon 2020 programme, Sharing Cities is a consortium of 34 European partners from across the private, public and academic sectors who are working together to deliver near-to-market solutions, including:
Smart Lampposts – integrated smart lighting with other smart service infrastructures (eV charge; smart parking; traffic sensing; flow data; WiFi);
Shared eMobility – a portfolio of interconnected initiatives supporting the shift to low carbon shared mobility solutions, specifically: eV Car-Sharing; e-Bikes; eV Charging; Smart Parking; eLogistics.
Integrated Energy Management Systems – a system that integrates and optimises energy from all sources in districts (and interface with city-wide system); including demand response measures.
Urban Sharing Platform (USP) – manages data from a wide range of sources including sensors as well as traditional statistics; built using common principles, open technologies and standards.
Digital Social Market (DSM) – an approach to incentivise citizen engagement and uptake of sustainably oriented smart city services. The approach aims to shift perceptions and behaviours towards city sustainability goals by providing reward mechanisms in exchange for continued and enhanced citizen engagement.
Building Retrofit – Retrofit existing public, social, and private building stock to improve energy efficiency, integrated with solutions such as the integrated energy management system to maintain optimal energy performance to meet sustainability goals.
The Trade Show will take place from 9:00-13:00 on Wednesday April 1. In the afternoon there is an opportunity for a limited number of guests to take a tour to see the Sharing Cities technologies implemented in Lisbon. Advanced registration will be required.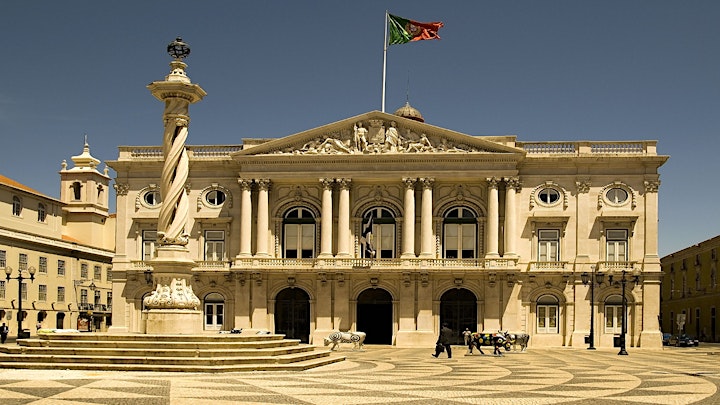 No Sharing Cities Trade Show apresentaremos soluções inovadoras para cidades inteligentes que já foram testadas em Lisboa, Londres e Milão. Junte-se a nós, inscreva-se!
Sobre o evento
Com o objetivo de tornar as cidades inteligentes uma realidade, o programa Sharing Cities tem vindo a demonstrar um conjunto de abordagens e soluções inovadoras nas cidades "farol" de Lisboa, Londres e Milão. À medida que o programa entra no seu último ano, queremos dar a conhecer publicamente todas as soluções testadas, numa sessão que pretende ser de partilha, interação e discussão sobre as diferentes oportunidades de mercado e de negócio existentes, com vista a tornar as nossas cidades mais sustentáveis e agradáveis para viver.
No Sharing Cities Trade Show, terá oportunidade de conhecer e conversar com os diversos parceiros do programa, que trabalharam diretamente no desenvolvimento destas soluções em cada uma das cidades envolvidas.
Financiado pelo programa Europeu Horizonte 2020, o Sharing Cities é composto por um consórcio de 34 parceiros, dos setores privado, público e académico que têm vindo a trabalhar no desenvolvimento de soluções para cidades inteligentes próximas do mercado. Estas soluções incluem:
Candeeiros inteligentes – integrando a iluminação inteligente com outras infraestruturas de serviços inteligentes, tais como, o carregamento de veículos elétricos; estacionamento inteligente; sensorização; monitorização de tráfego; fluxo de dados; Wi-Fi, etc.
Mobilidade elétrica partilhada – compreendendo um portfólio de iniciativas integradas de suporte à eletrificação da mobilidade e a soluções de mobilidade partilhada e de baixo carbono, especificamente: car-sharing, bike-sharing, estacionamento inteligente, logística urbana e carregamento de veículos.
Sistema Integrados de Gestão de Energia – integrando e otimizando o consumo e produção de energia a nível local (mas com uma interface holística ao nível da cidade), incluindo mecanismos de resposta à procura.
Plataforma de partilha de dados urbanos – construída com base em princípios comuns, tecnologias e padrões abertos, visando a gestão de dados provenientes de uma ampla variedade de fontes, incluindo sensores e métodos estatísticos tradicionais.
Mercado Social Digital – uma abordagem inovadora para incentivar o envolvimento dos cidadãos na definição e adoção dos serviços da cidade. A abordagem visa mudar perceções e comportamentos com vista ao cumprimento das metas de sustentabilidade, fornecendo mecanismos de recompensa em troca de um envolvimento contínuo.
Reabilitação de edifícios – aplicada em edifícios de serviços e de habitação municipal e privada, visa melhorar a sua eficiência energética integrando soluções que permitam otimizar o desempenho energético e atender às metas de sustentabilidade definidas pela cidade.
O Sharing Cities Trade Show realiza-se no dia 1 de abril, das 9:00h às 13:00h. Durante a tarde, está previsto um tour pela cidade, para visita às s soluções implementadas na cidade de Lisboa no âmbito deste programa.
O número de participantes na sessão e no tour é limitado, pelo que o registo antecipado é necessário e obrigatório.