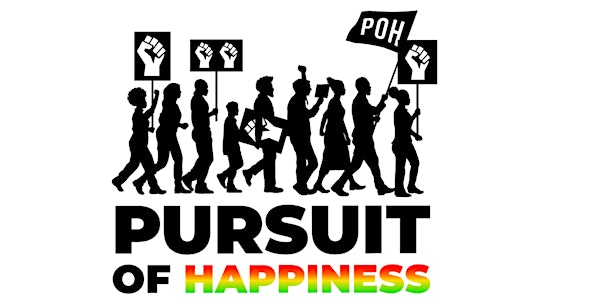 Sharing Dreams and Struggles Within our Black African Caribbean Community
We are here to make a difference for our black community. Equality, diversity and inclusion should be for all and not just the privileged.
About this event
Blessings Sisters & Brothers
Welcome to Pursuit of Happiness CIC
If you require any further information or details, please do not hesitate to email us at: admin@pursuitofhappiness.org.uk or visit our website at: www.pursuitofhappiness.org.u
SPECIAL GUEST APPEARANCE - CHRIS AMOO from THE REAL THING
This week are pleased to announce a very special guest, Chris Amoo from the 70's & 80's massive hit group, The Real Thing!
Chris has kindly agreed to come along and talk to our community, he is happy to answer any questions you may have and we would advise that you watch the BBC documentary, Everything - The Real Thing. The documentary is a real look inside the journey of this amazing group which took the UK and abroad by storm! We all know their tunes and we all can shake a leg or two too when their tunes buss!
Chris Amoo & Dave Smith, who are the last remaining members of the original group are releasing their latest album on 28th January 2022, so do get yourself a copy!
After 3 million selling Top 10 singles in both the 70's & 80's 'You To Me Are Everything' 'Can't Get By Without You' & 'Feel The Force' they now return with a new album 'A Brand New Day'
+A DOUBLE A SIDE SINGLE 'HANG ON NEVER LET GO' this will appeal to all the lovers who grew up on their classics
Regarding 'Children of the ghetto' this is the first time that a recording of this track has been made featuring lead vocals by Chris Amoo.
We look forward to you joining us for our special event, it is indeed special for us and we hope for you too....see you all there!
Blessings
Sharing Dreams and Struggles Within our Black African Caribbean Community
We are looking forward to meeting our black African Caribbean community and others from anywhere within the UK and abroad. Being able to converse and share things with others who share the same heritage and ideals is indeed a good way of coming together in unity, solidarity and strength.
We are encouraging our community to strive towards the changes that need to happen along with offering support in any way possible. Lets engage in some quality time and enjoy sharing anything we feel to discuss together, during our regular online sessions.
Systemic and institutional racism along with oppression is and has always been prevalent in the UK regarding our black/brown African Caribbean community residents, this must and has to change now.