She is Royal, focuses on enabling women to see their invisible crowns and to feel empowered to achieve and accomplish anything.
About this event
She is Royal, focuses on enabling women to see their invisible crowns and to feel empowered to achieve and accomplish anything that they set their mind to. It was started to help women to be the best that they can be and to be comfortable in their own skin. Not emulating masculinity but finding strength in their femininity. Our symbol is that of a lioness her. A lioness symbolizes greatness, leadership and boldness. In her kingdom she is not only in charge of nurturing her loved ones but she and her friends are in charge of hunting and feeding their pride. They work together to fulfil their purpose.​
The women that are part of the She Is Royal movement do exactly that. They work together and support each other to be greater human beings. We provide a platform for women from many different backgrounds. Through our workshops, courses and events, women are encouraged to have a voice, remove their masks (the pretentiousness that society forces on them) and to gain new life skills that enable them to take on the world and whatever role it throws at them be at a mother, wife, sister, daughter, CEO, nurse, doctor and the list goes on.
Join us for our 5th Annual Conference where we will be celebrating womanhood and unleashing crowns.
This year we will have 4 amazing guest speakers as follows;
IB PM-Jaiyesimi - Renowned Godfidence Coach
Minister Shammah Gara - Author and Founder of Girls on The Frontline
Michael Tabirade - Author, High Performance Coach and CEO of the Masteri Group
Mr Free Your Mind - National Motivation Speaker, Mentor and Coach, Founder of The Free Your Mind Academy
Our theme this year is Unleashing Crowns as we will be covering the following sub-topics;
* Living a life of freedom
* Becoming a High Performing Individual
* Taking back your crown and living large with God-fidence
* Dealing with fear and launching out
and much more...
We will also have games, Q&As, opportunities to promote your businesses, an award ceremony and to top it all up a special performance from the amazing Sandra Peters, Georgette Toworfe and our founder Nashe.
Calling all women across the world, please come along and celebrate womanhood with your fellow sisters.
Please note as this is a free event, the spaces are limited and tickets are going 1st come 1st serve. Don't miss out!
Looking forward to seeing you there,
Much love,
World Lanterns Team
xoxoxo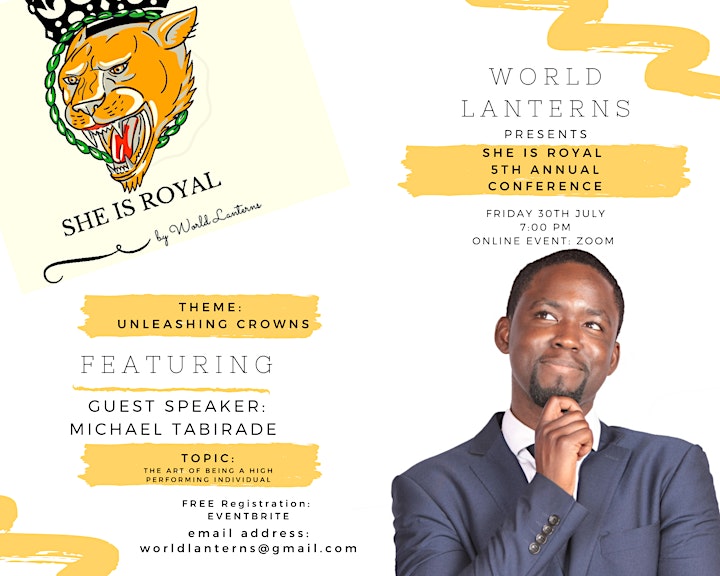 Michael is an empowering, educational and entertaining trainer, and CEO of the Masteri Group. Over the past 11 years his career has led him to manage NHS Health Services across the country, and now is currently self-employed as an Independent Consultant working on National Transformation Programmes. He is a trained ILM, EMCC & ICF Coach practitioner, as well as an Author of 4 books. He helps professionals improve their productivity, realise their priorities, enhance their performance, and live their life on purpose. Additionally, he is an NHS graduate action learning set facilitator, helping future leaders manage themselves effectively.
IB PM-Jaiyesimi is a lover of Jesus, Certified Life Coach, Founder of IB JAIYE Coaching Limited, Life Coach and Mentor at The Life Coach School and inspirational Speaker. She empowers millennial women who know they're made for more but feel unfulfilled and uncertain to create the confidence to awaken and pursue their purpose and do meaningful work they love.
Through coaching and speaking, she offers transformational yet practical coaching tools combined with biblical truth to help clients overcome any challenge in a completely new way.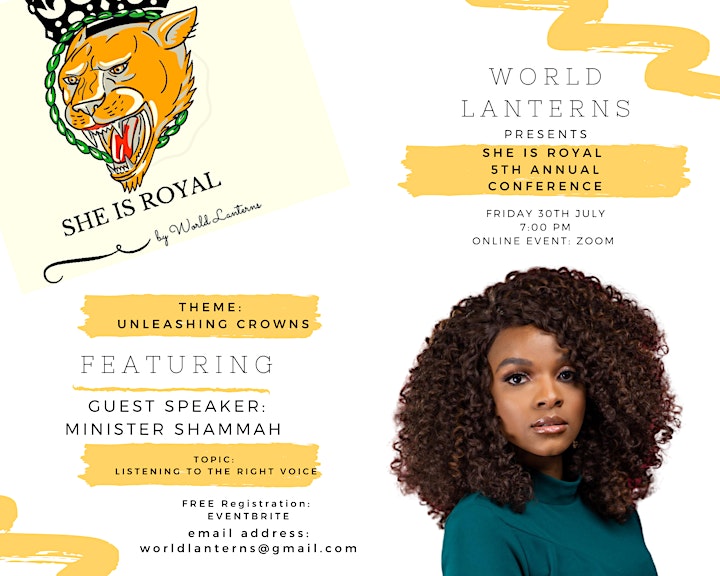 Shammah Gara is a mother, international minister, the authour of 2 books, a girls mentor as well as a businesswoman. Originally from Zimbabwe, she lives in the UK with her 2 children who she proudly calls her 'first ministry.'
She has a strong call and desire to see God's daughters delivered from the chains of the past, walking in wholeness as well as boldly living out their God-given assignments. Min. Shammah primarily fulfils this God given mandate through her 8-week mentorship programme called: 'Becoming A Girl Of Purpose' for women aged 18-35 every quarter.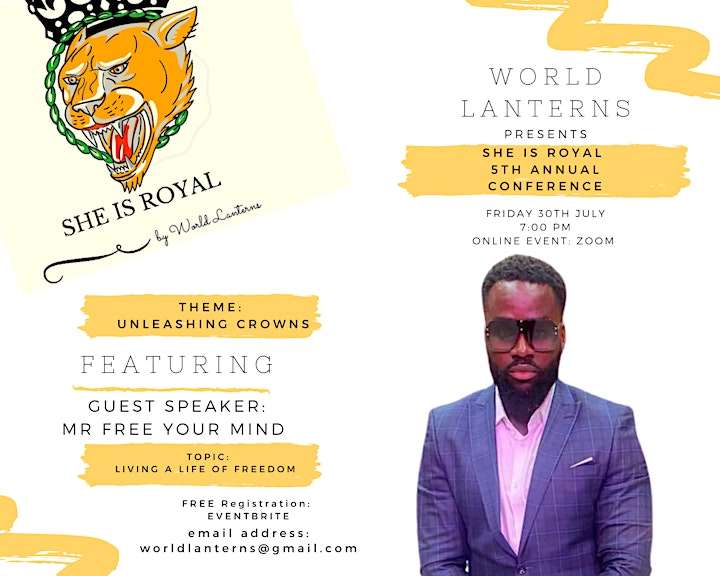 Prince, also known as Mr3yourmind is the founder of "Free Your Mind and Be3" He is a Transformational leader who aims to be the force which supports prisoners, Millennials and people who struggle with becoming the best versions of themselves. Using his his story "The Power Of Pain" He wants his audience to understand the importance to trust their own struggles in order to appreciate their journey through Life.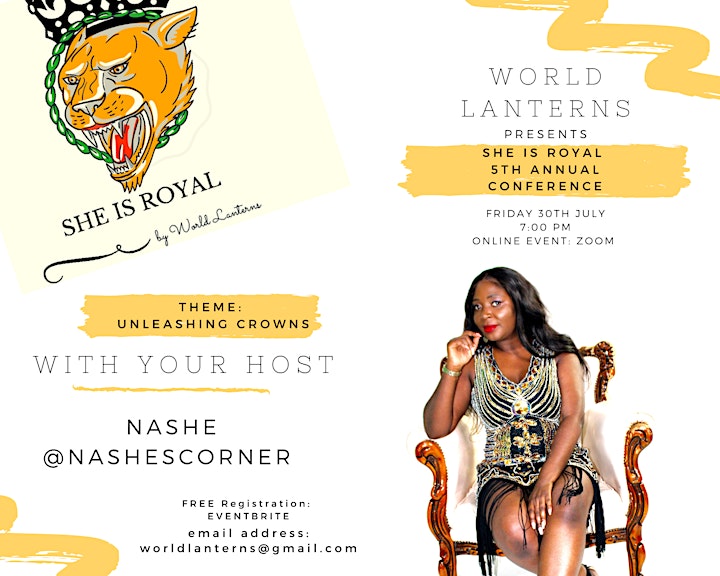 Nashe is a business, purpose and life coach who is passionate about purpose living. She is the author of best selling book Life After Death, an international speaker, social media personality and serial social entrepreneur. Nashe holds an honorary degree in Business Management and Technology and has as a Master of Science degree in International Management from the University of Sheffield.
​Nashe is the founder of World Lanterns, an organization which focuses on spreading hope and light. She is also the proud Founder and CEO of Nashe's Consultancy Company an organisation which works with start ups, small and medium enterprises.
People and community are at the center of Nashe's heart. Drawing from her life experiences, Nashe is keen to help others around her to develop and to find their voices and their identity so if you need some encouragement then you have come to the right place with Nashe. Her motto is
#FromPain2Purpose.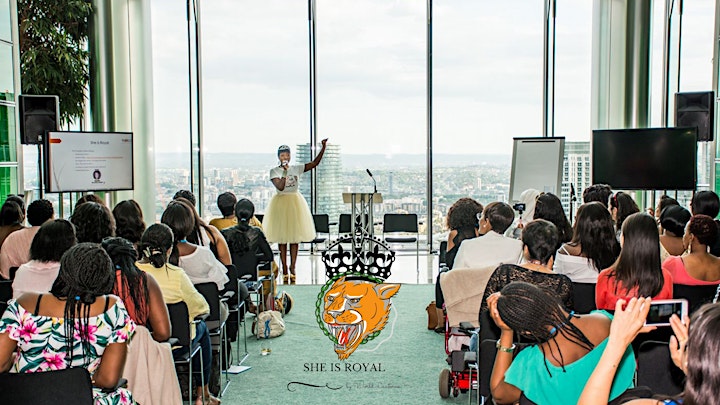 Organiser of She is Royal 5th Annual Conference
World Lanterns' core value is to influence individuals to be the light of the world. Having seen the darkness and the need in the world we live in, World Lanterns was initiated to spread hope, truth and light. The organisation aims to eradicate societal and community based issues through hosting events and projects. We also seek to empower people to be the best that they can be in life through our mentorship programs.