Sheffield Autism Partnership Network (SAPN) are launching our Network, and we are inviting you be a part of it!
About this event
Our aims are to:
1. Reduce the crisis facing Autistic adults, and their families in communities across Sheffield.
2. Build an infrastructure which increases the capacity to deliver low-level preventative support through co-operative funding streams, where appropriate.
3. Develop a collective strength in Sheffield's Autism VCSE sectors, by being proactive in implanting, growing and reinforcing the links, resilience and specialisms which exist within the Autism VCSE sector.
4. Provide a platform which improves the knowledge and understanding of decision makers, leading to improved decisions which will have a positive impact on Autistic individuals in Sheffield.
5. Reduce the stigma Autistic people face by supporting public awareness campaigns and promoting the use of inclusive language and terminology which has a direct impact on addressing ableism/disablism .
6. Create safe places for Autistic people, and the people that care for them, to use their voice to effect changes to services and support.
7. Have a platform which disseminates awareness to organisations of: opportunities for them to increase their knowledge and capacity; to access funding and opportunities for collaborative and collective work, and build relationships within the VCSE community.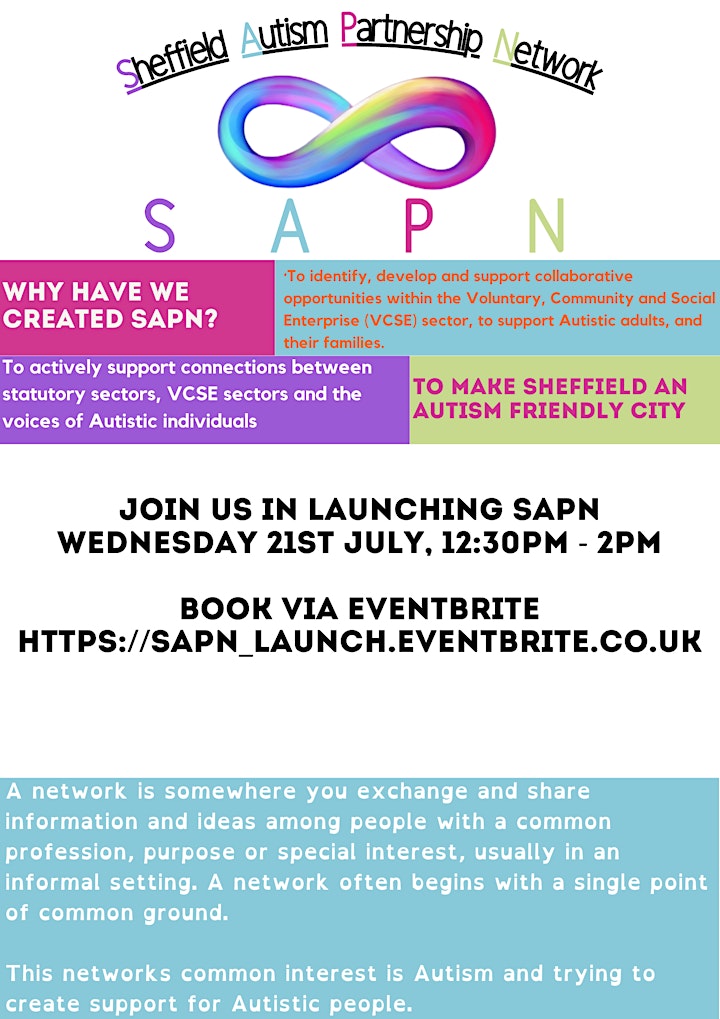 Organiser of Sheffield Autism Partnership Network (SAPN) Launch