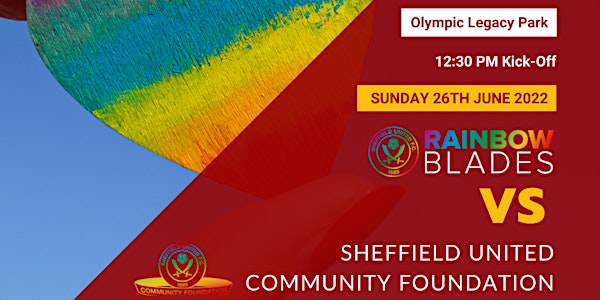 Sheffield Rainbow Laces Charity Cup 2022
Location
Sheffield Olympic Legacy Park Community Stadium
Worksop Road
Sheffield
S9 3TL
United Kingdom
The Sheffield Rainbow Laces Charity Cup is back for the first time since 2019 and this time it's all change!
About this event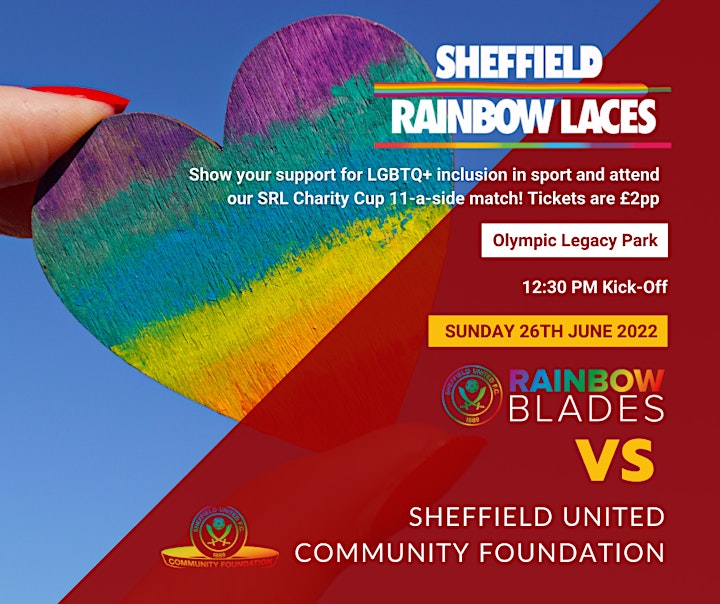 Since 2019, Sheffield Rainbow Laces & Rainbow Blades have come along way and we are revamping how the Charity Cup runs and making it better then ever!
The Sheffield Rainbow Laces Charity Cup is jointly supported by Sheffield Rainbow Laces, Rainbow Blades & Sheffield United Community Foundation.
This event is a mixed gendered 11 a side football match held at Olympic Legacy Park. The Olympic Legacy Park has undergone a multimillion pound transformation and is a great location to get this event back up and going.
In collaboration with Sheffield United Community Foundation this event will have a full matchday feel. All spectators welcome there will be food & drink kiosk, music, trophy presentation & the match it's self. This event is about LGBTQ+ inclusion in football but also we want it to be fun for everyone involved.
Running order (subject to change)
Sunday 26th June 2022
9am-5pm
Organiser & volunteer arrival and set up - 9am
Players arrive/players entrance & dressing rooms open/pitch open for warmups - 10.30am
Countdown to kick off (Music) - 11.15am
Spectators arrive/turnstiles open - 11.30am
Players return to dressing room - 12pm
Welcome address - 12.15pm
Players & mascots make champions league entrance to flag guard of honour. Team & pre-match photos (Play Champions League theme) - 12.25pm
Kick off/first half - 12.30pm
First half ends/music/announcements - 1.15pm
Second half - 1.30pm
Second half ends - 2.15pm
Speeches from organisers & sponsors - 2.20pm
Trophy presentation (Play We are the champions from 0.3secs) - 2.40pm
End - 3pm
As well as raising awareness for LGBTQ+ inclusion in football we are also raising funds for our charity partner, SAYiT.
We would love as many spectators to come down as possible so please come and support this fantastic community football match.
We'll also be going over the The Library Lounge (opposite the stadium) for drinks after the match.