Event Information
Location
St Mary's Church - Conference and Exhibition Centre
Bramall Lane
(Inside the Church Building on Bramall Lane Roundabout))
Sheffield, South Yorkshire S2 4QZ
Description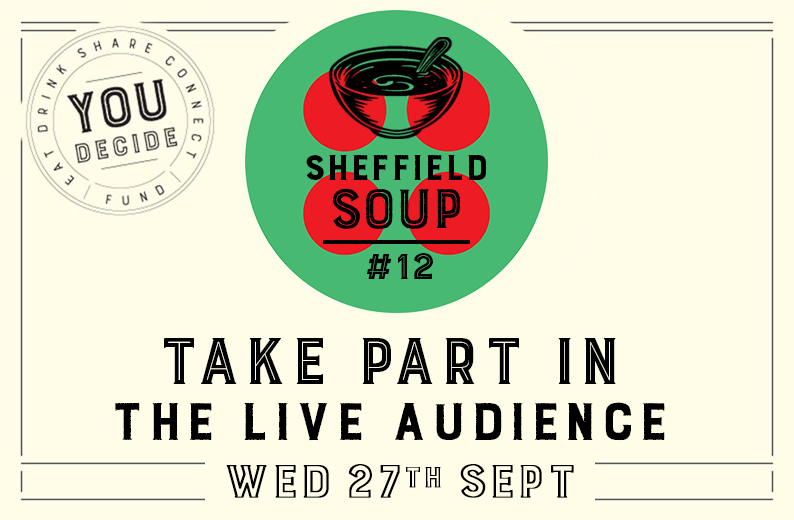 Eat / Drink / Share / Connect / Fund


Sociably crowdfunding local peoples ideas
Fancy doing something really good for Sheffield whilst having a great time, listening to live music and enjoying some delicious soup and bread made by Silversmiths, taking part in a pot luck feast, have a drink or two, make new friends and contacts?
As featured by the BBC in the Can Soup Change the World? documentary series, we are thrilled to announce the next Sheffield Soup is on Wednesday 27th September and applications to pitch are now open!
Come along and hear 4 pitches by Sheffield people who need your help to get an idea, project or business off the ground, or support an existing project or business to fund something they need.
In exchange for your minimum donation of £5, you get Soup, Free Raffle and a Vote - you vote for your favourite pitch, the winner is the pitch which received the most votes, and are given all the door money as an in kind grant. Reserve your guaranteed entry now.
We work hard to make a really supportive atmosphere for formulating ideas, plotting innovation, sharing, connecting, giving advice and guidance and positive encouragement. We've a strict no dragons policy - we are kind, helpful and willing to give people and ideas a chance. Register if you would like to take part in Shortlist judging before the live event (for the live pitches on the night).
Doors open at 7.00, and we take the podium at 7.30

Please do help us spread the word, with Sheffield folk all pulling together to do amazing things in a city that we love, we really can make a difference! If you fancy volunteering with us on the night, we can always do with an extra pair of hands on set up and pack down.
Here are all the links you might need for Sheffield Soup #12, and do, please, help spread the word.
Apply to pitch https://goo.gl/9tYGFL
Sign up as a Shortlist Judge https://goo.gl/9Qo9Jc
Join us as a volunteer (we are all volunteers and collaborators – it's really rewarding!) https://goo.gl/bPmV6Y
Live advertise to the audience on the night with a food bribe https://goo.gl/XZ6ZTn
We really hope you can join us,
Thanks so much for your support,
Pennie Raven
Founder
Sheffield Soup
FANCY ADVERTISING ON THE NIGHT?
There's also a pot luck feast. It's run on a simple bribe system. People are invited to bring food to bribe the audience to listen to your live advert... ha ha!)
Bring a minimum of 25 covers and 1 raffle prize, and I can give your business or event a shout out on the night

Bring a minimum of 50 covers of sweet or savory canapes or snacks, plus 4 raffle prizes, you can take the podium for 1 minute (its strictly timed, so prepare your pitch well!), plus one day before and after the event, of social media amplification of your business, cause or event.

Donate a minimum of £100 to running costs, and bring a minimum of 100 covers of sweet or savory canapes or snacks, plus 4 raffle prizes, you can take the podium for 1 minute (its strictly timed, so prepare your pitch well!) and have five days of social media amplification of your business, event or cause, before or after the event (or a combination of the two).

Book your bribe here: https://goo.gl/XZ6ZTn
Branding: The Designers Republic
Date and Time
Location
St Mary's Church - Conference and Exhibition Centre
Bramall Lane
(Inside the Church Building on Bramall Lane Roundabout))
Sheffield, South Yorkshire S2 4QZ