Description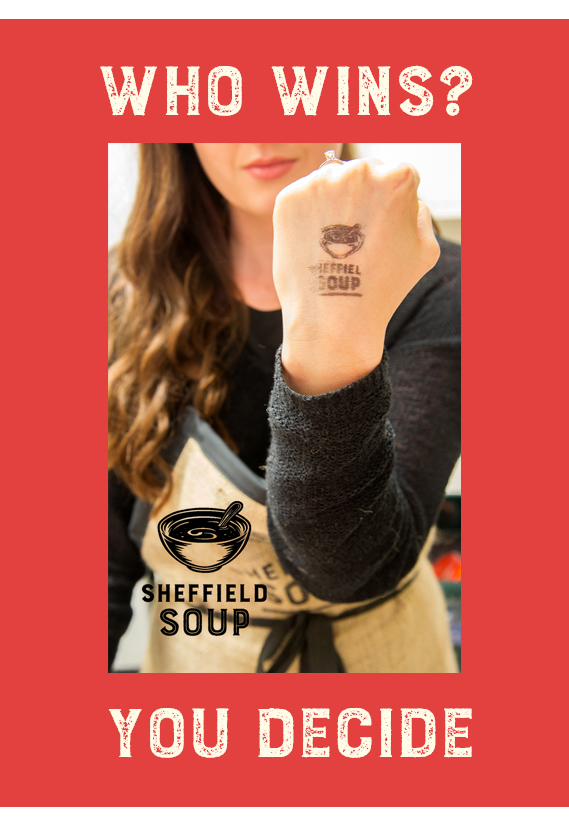 Eat / Drink / Share / Connect / Fund
Sociably crowdfunding local peoples ideas since 2015
Fancy doing something really good for Sheffield whilst having a great time?
As featured by the BBC in the Can Soup Change the World? documentary series, we are thrilled to announce the next Sheffield Soup is on Thursday 27th February 2020.
Your entrance fee (minimum donation of £5) goes into the pot for the winning pitch (which you get to vote for), you'll enjoy some delicious freshly, lovingly made soup and handmade freshly baked beer bread made by our first ever winners Food Works Sheffield, while taking part in a pot luck feast (feel free to bring some nibbles or snacks to share), have a drink or two, make new friends and contacts.
Come along and hear 4 pitches by Sheffield people who need your help to get an idea, project or business off the ground, or support an existing project or business to fund something they need.
If you book by Noon on Monday 10th February you will automatically be given the opportunity to decide who makes it to live pitch night!
In exchange for your minimum donation of £5, you get Soup, Free Raffle and a Vote - you vote for your favourite pitch, the winner is the pitch which received the most votes, and are given all the door money as an in kind grant. Reserve your guaranteed entry now.
We work hard to make a really supportive atmosphere for making new friends and connections, formulating ideas, plotting innovation, sharing, connecting, giving advice and guidance and positive encouragement. We have a strict no dragons policy - we are kind, helpful and willing to give people and ideas a chance.
Doors open at 7.00, and we take the podium at 7.30
Please do help us spread the word, with Sheffield folk all pulling together to do amazing things in a city that we love, we really can make a difference! If you fancy volunteering with us on the night, we can always do with an extra pair of hands on set up and pack down. Every aspect of Sheffield Soup is delivered by individuals, independent business and service providers giving time, knowledge, goods and services for free, so that we can ensure ALL of the door donations go directly to the project.
Here are all the links you might need for Sheffield Soup No.18, and do, please, help spread the word.
Sign up as a Shortlist Judge http://bit.ly/soupjudge
Donate to the fund http://bit.ly/donatetosoup
Apply to Pitch at Sheffield Soup #18 http://bit.ly/applysoup18
Join us as a volunteer (we are all volunteers and collaborators – it's really rewarding!) http://bit.ly/soupvolunteer
Live advertise to the audience on the night with a food bribe ; http://bit.ly/soupadverts
Mail Sign Up http://bit.ly/MySheffieldSoup
Fancy sponsoring or partnering with Sheffield Soup? http://bit.ly/supportsoup
See you on the
!,
Thanks so much for your support,
Pennie, Jonny and Team
Sheffield Soup