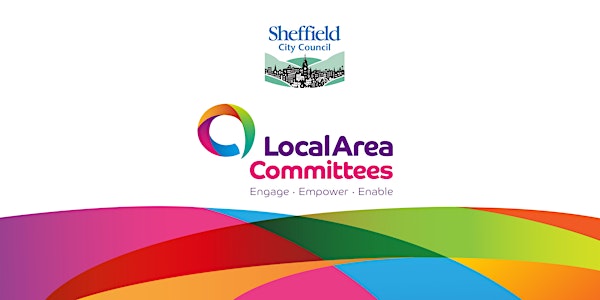 Sheffield South West Local Area Committee public meeting
Location
Wesley Hall Church
Crookes
Sheffield
S10 1UD
United Kingdom
Come to your next Local Area Committee meeting to hear about the next steps for your community plan for South West Sheffield.
About this event
Local Area Committees (LACs) were launched in May 2021 to give residents more say in the matters that affect you where you live.
Since then, we have been hearing from residents, community groups and partner organisations across all four wards and beyond. This feedback has helped shape a community plan which will focus on three local priorities:
Transport and highways
Local environment
Community and neighbourhoods
At this meeting, we will discuss what steps we will be taking to put the community plan into action and tackle local issues you identified in the community plan.
You can read the plan here.
Venue accessibility
Please let us know if you have any access needs when booking your place.
Disabled parking: there are 12 places available for disabled parking, please confirm if you will require one when you book your place.
Wheelchair access: Yes
Hearing loop: Yes
Disabled toilets: Yes
Public transport: Nearest bus stop – there is a bus stop just outside the venue which is easily accessible by the number 52 and 52A bus.
Covid information 
It is recommended you wear a face covering in crowded and enclosed spaces where you come into contact with people you don't normally meet. We also encourage washing or sanitising your hands frequently - hand sanitiser will be provided. Please do not attend if you are experiencing any Covid symptoms.
Can't make this meeting in person?
There are 2 options:-
First option - You can view a livestream of this meeting at Sheffield City Council's Democratic Services website. A recording of the meeting will also be available 24 hours after taking place.
Second option - We are trialling a hybrid meeting, which will use Zoom technology to enable remote public participation. This means that you can request to participate in a 'hybrid' meeting and are able to ask your question or present your petition remotely from your home, over the internet. If you would like to 'attend' the meeting as an online attendee, please choose this option when you register. You will need to be able to access the Zoom application at home to be able to do this.
If you indicate that you wish to participate remotely, we will be in touch with details on how to join the meeting and participate. (Remote participation can only be provided where this is requested at least 2 clear days in advance of the meeting). As this will be a trial, we may need to limit the numbers of people participating in this way.
Any questions?
Get in touch: 
SouthwestLAC@sheffield.gov.uk
0114 474 3651
You can also sign up for South West LAC updates to receive regular updates from your Local Area Committee via email.