Want a full day out for your family ? Want to try something new? Join us at Sheffield Waterfront Festival , Victoria Quays.
About this event
To celebrate our beautiful waterways the Canal & River Trust are running our yearly festival in Victoria Quays. The Quays will become a hive of activity with lots of activities for you to try, mostly free of charge.
We are delighted that this festival has received funding from the Economic Recovery Fund via Sheffield City Council to make this event bigger and better than ever.
Onsite you will find from 10am-4pm:
Paddleboard taster sessions (FREE)
Boat Trips (FREE - but with very limited availability so arrive early)
Climbing Wall (FREE)
Magic by Steve Faulkner (FREE)
Stonemasonry Taster sessions (FREE)
Theatrical Walks (FREE)
Historic Bus Tours (FREE)
Arts and Crafts (FREE)
Live Stage (FREE)
Stalls from local sellers and organisations
Reduced price entry to Curious Kids Town a miniature play village located on Lumley street on the banks of the canal (tickets are necessary for this and are available on our other eventbrite listings)
Food and drink will be served by local vendors the Dorothy Pax Pub, True Loves Restaurant and the Victoria Junction Cafe.
The Grey-Green Opening Celebration is another festival on the same day only a few steps away from Victoria Quays on Castlegate Street which is also worth a visit – for more details see https://www.sheffield.gov.uk/castlegatefestival. Their will be a carnival environment with samba, live music and Caribbean food.
Worried about finding the festival? Victoria Quays is easy to walk to from Sheffield Train Station, Ponds Forge Tram Station and there is plenty of available parking at Victoria Quays multi-story car park on North Quay Drive or alternatively Blonk Street car park.
Did you know we are also hosting a festival at a second site this year? We are also hosting the festival at Don Valley Moorings in Attercliffe from 11-3pm. There are different activities on offer at Attercliffe and it has a different atmosphere with a serene grassy landscape. The Moorings are a 30-40 minute walk from Victoria Quays depending on how fast you walk which takes you past our beautiful street art trail. Alternatively the moorings are accessible via tram, the nearest tram station to Attercliffe is Arena/Olympic Legacy Park. There site will be signposted from the Olympic Legacy Park and the tram station.
YOU DO NOT NEED A TICKET FOR THIS EVENT SO FEEL FREE TO SHOW UP ON THE DAY BUT YOU CAN RESERVE TICKETS ON HERE SO WE HAVE AN IDEA OF ATTENDEE NUMBERS
THE PICTURE BELOW IS FOR DIRECTIONS TO THE ATTERCLIFFE SITE - NOT VICTORIA QUAYS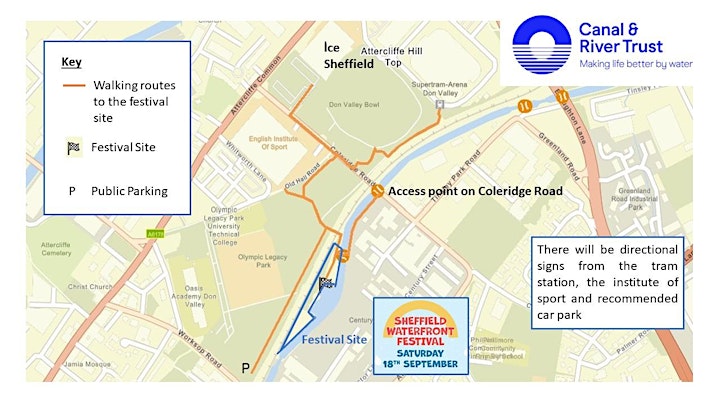 Organiser of Sheffield Waterfront Festival Victoria Quays
We're the charity who look after and bring to life 2,000 miles of waterways, because we believe that life is better by water.

Our research shows that spending time by water, whether it be your lunchbreak, daily commute or just a weekend stroll, really can make us feel happier and healthier.

With ever increasing rates of obesity, stress and declining mental health in the UK, we are uniquely placed to make a significant contribution to improving the wellbeing of millions of people. Our canals and rivers run through some of the most heavily populated communities in England and Wales, providing accessible green and blue space where it's needed the most.

That's why, here at the Trust, we're working with volunteers and communities across England and Wales to transform canals and rivers into spaces where local people want to spend time and feel better. We know this will bring wellbeing opportunities to millions.

Our work involves not only looking after our waterways, but promoting them widely to the eight million plus people who have waterways on their doorstep so that many more people benefit from our free, accessible and local source of wellbeing.

We have a range of events which you will be able to take part in around your local waterways.