Description
Migration Research at Sheffield - Politics Department Open Lecture
---


Migration Research at Sheffield and the Politics Department are pleased to welcome Mr Machiel Salomons, Principal Policy Development and Evaluation Officer of the United Nations High Commissioner for Refugees (UNHCR).
What is UNHCR's protection strategy to address the current asylum crisis in Europe and beyond? By

Machiel

Salomons
Thursday 1st December, 2016 | 18:30 | The Diamond Lecture Theatre 5
Since the Second World War, the world has not seen an equal number of forcefully displaced people. More than 65 Million are fleeing violence, oppression and human rights violations prompting states to adopt ever restrictive measures. Can UNHCR convince states to keep their borders open?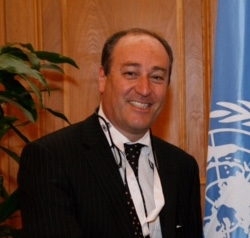 Drs. Machiel Salomons holds a Master's Degree in International Law from the University of Amsterdam and pursued post-graduate studies, International Human Rights Law at Oxford University (New College). Since 2012, Machiel is Principal Policy and Evaluation Officer in the UNHCR Executive Office. Some of the evaluation reports he co-drafted, including on South Sudan, Jordan, Lebanon, Turkey, and Kenya and refugee status determination procedures may be found on the UNHCR website.