About this Event
Following on from her previous sell-out Mental Health Theatre Shows, Sheila McMahon, Qualified Counsellor RegMBACP, Comedienne and survivor of mental ill health is bringing her NEW show live to your living room.
Originally scheduled to be at The Lichfield Garrick Theatre, the show will now be virtual, hosted over Zoom so everyone can stay safe and still enjoy the fun.
In Sheila's own unique style, she'll have you laughing whilst learning, as part of her mission to reduce the stigma about mental health and encourage more understanding.
Her new show is all about anxiety – what it is, and how to manage it. As well as talking about more general anxieties, Sheila will also share her thoughts about new anxieties related to the current Covid-19 pandemic.
Sheila will give us an insight into anxiety, teach us perspectives, coping mechanisms and tools to manage our state of minds.
Audiences have come to love the combination of humour, mental health education and a good ole sing along that 'Sheila's M.H.S' mental health shows provide!
The content of the show may at time contain adult themes and therefore it is recommended for 16 years+
Whilst Sheila is disappointed that this year's show cannot take place at The Lichfield Garrick Theatre, as she's performed a number of sell-out shows there over the last five years, she will still be supporting The Garrick, as it's a registered charity, by donating 10% of profits from this show.
About Sheila McMahon
Sheila McMahon is a Qualified Counsellor RegMBACP, Post Grad Family Therapy Practitioner, Author, Award-winning Mental Health Educator, Singer, Songwriter, Comedienne and survivor of mental ill health.
Sheila, who has battled depression and anxiety throughout her life says about depression, "Coming out was the best thing I ever did".
With her larger than life personality and wicked sense of humour, Sheila speaks from the heart and uses her personal and professional experience to entertain and educate others.
Through her counselling sessions, TV and radio appearances, mental health talks, training sessions and shows, plus her book 'The Power of Knowing You', Sheila helps people break free from self–limiting beliefs and behaviours.
Sheila lives by the motto: 'Life is too serious to be taken seriously – besides no-one gets out alive anyway'.
TO FIND OUT MORE ABOUT SHEILA MCMAHON AND RESOURCES VISIT - WWW.MINDMANAGEMENTFORYOU.COM and youtube.com/c/SheilasYouTubeChannel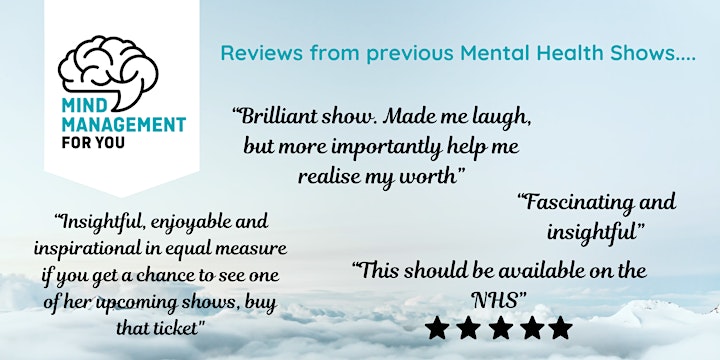 Date and Time
Location
Refund Policy