This LIVE show will explore the factors that lead to suicide and the signs and symptoms to be aware of and what we can do to help.
About this Event
In response to the second lockdown and following on from her previous successful Mental Health Shows, Sheila McMahon, Qualified Counsellor RegMBACP, FTP, Comedienne and survivor of mental ill health is performing a show on Understanding Suicide.
With the second lockdown, loneliness, underlying mental health conditions and as we head into winter along with S.A.D. can be a ticking time bomb for rising rates of suicide.
"As a survivor of mental ill health, now working as a counsellor during this pandemic, we need more than ever to talk about suicide and early interventions to prevent further deaths"
There are so many factors that lead to someone taking their own life, In the show we will explore what are these factors, the signs and symptoms to watch out for and what we can do about it.
As the nature of the topic is very emotive there will be some light heartedness in between and at the end sometime to let off some steam by having some dancing.
Sheila is also supporting The Samaritans by donating 10% of the profits from the show.
Take advantage of the Early Bird offer and book by Saturday 14th November for £12 (plus booking fee). Standard ticket price is £15 (plus booking fee)
About Sheila McMahon
Sheila McMahon is a Qualified Counsellor RegMBACP, Post Grad Family Therapy Practitioner, Author, Award-winning Mental Health Educator, Singer, Songwriter, Comedienne and survivor of mental ill health.
Sheila, who has battled depression and anxiety throughout her life says about depression, "Coming out was the best thing I ever did".
With her larger than life personality and wicked sense of humour, Sheila speaks from the heart and uses her personal and professional experience to entertain and educate others.
Through her counselling sessions, TV and radio appearances, mental health talks, training sessions and shows, plus her book 'The Power of Knowing You', Sheila helps people break free from self–limiting beliefs and behaviours.
Sheila lives by the motto: 'Life is too serious to be taken seriously – besides no-one gets out alive anyway'.
TO FIND OUT MORE ABOUT SHEILA MCMAHON AND RESOURCES VISIT - WWW.MINDMANAGEMENTFORYOU.COM and youtube.com/c/SheilasYouTubeChannel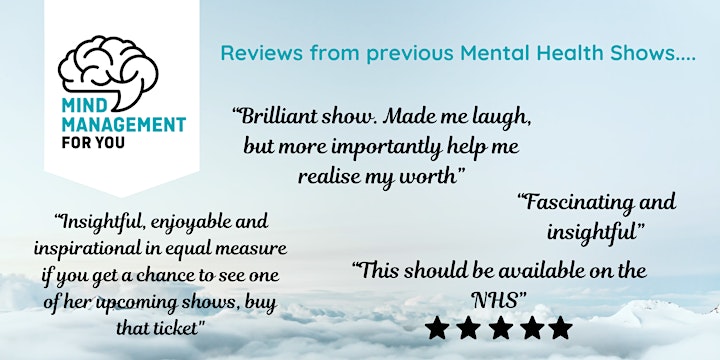 Date and Time
Location
Refund Policy