Description
Heffers is delighted to welcome storyteller and performer Robert Lloyd Parry back to Heffers, where he will give a reading of a Sherlock Holmes short story, The Adventure of the Creeping Man.
The Adventure of the Creeping Man first appeared in print in the March 1926 issue of The Strand magazine in the United Kingdom and in the March 1926 issue of Hearst's International Magazine in the United States. It would be republished in June 1927 as part of the anthology The Casebook of Sherlock Holmes. The original was set in 'the ancient university city of Camford' - we think it's fairly obvious which city Camford is based on!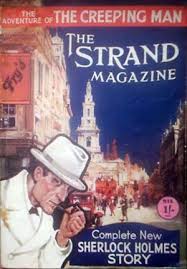 Anyone who has seen Robert perform will know what an electrifying evening this promises to be.
Tickets for the event are priced at £8 in advance (£10 on the door) and can be purchased through this page, by calling 01223 463200 or in person at Heffers bookshop. Please note that tickets are transferable but non-refundable.
Like this? See a full list of our forthcoming events by clicking here.
For more information about Robert's Nunkie Theatre, click here.