Embrace your well-being with creativity. Join us to learn how to start your own visual diary.
About this event
It is important to keep your well-being in mind while the world is going through unusual events.
Lots of people are experiencing more negative emotions than before due to isolation, loneliness, the confrontation with racism and the gender and economic inequality in our society. Some women might be trapped in an abusive home situation with no one to reach out to, others might be dealing with mental health issues, some of us are mothers and are putting their children's needs above their own.
Starting a visual diary is something that can help us focus on gratitude. Gratitude automatically shifts our focus from negative to positive. It allows us to be in the here and now. It makes sure we have a daily goal. A place where we can express our feelings and thoughts.
During this workshop facilitated by artist Allison Lee you will be able to pick your own focus out of the 3 categories (expression, gratitude or empowerment). You will learn different approaches on how to start a visual diary. You will be able to be true to your own voice and make your own choices. At the end of the workshop you will have completed the first entry of your own visual diary.
After this workshop you will know how to continue your visual diary on a daily or weekly basis at your own pace.
Materials needed:
New Sketchbook or lose sketch paper
Colored paper (optional)
Paper/supplies from the day to day life that inspire you or are visually interesting : for example: candy wrappers, pages from an old book, receipts, newspaper, magazine, coffee filter, paper towel with pattern, pressed flower, grass or leaves from your yard, etc..
Paper tape or regular tape
Glue and scissors
Pencil, eraser
Ballpoint pen, Paint or markers and/or colored pencil (whatever supplies you have available, just make sure you have at least two different ones for example : pencil and markers, paint and ballpoint pen, .... ideally one of the two supplies being color)
Inspirational pictures of your family, things that inspire you, .. (optional but recommended)
ARTIST BIO
Allison Lee is a Belgian artist that permanently resides in Arizona. Lee started painting at 14 while attending art school. Her majors in high school were fashion and textile design. She studied visual arts in college and went on to study audiovisual arts and animation. Her work often embodies this versatility. Her body of work includes paintings, mixed media illustrations and textile pieces. She fuels her artwork with both antagonistic and appeasing motives. Her work has been shown in several galleries all across the United States and she had her first museum piece, in the SJMQT in 2019. This last year she's been very active in the online "quarantine art-movement". Currently her work is more focused on fighting against racial injustice and gender inequality. She's determined to make a difference.
** The Zoom link to join the event will be sent privately prior to the event. **
This is a free workshop and places are limited - make sure you book your ticket and if you are unable to attend let us know so that your ticket can be released to someone else.
A NOTE ON ACCESSIBILITY:
In order to make our events as accessible as possible please let us know if you require BSL interpretation or have any access needs by emailing info@lon-art.org.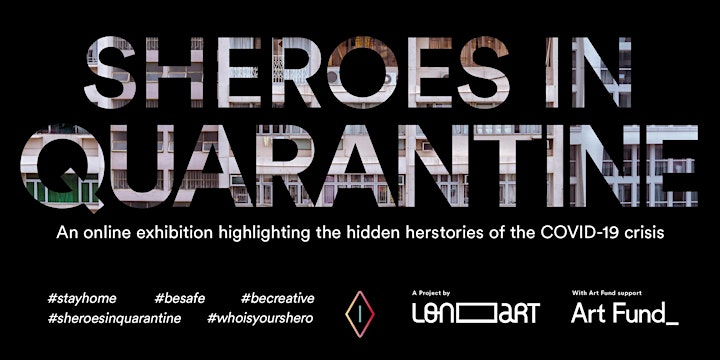 Sheroes in Quarantine is an online exhibition dedicated to highlighting women's* issues and roles during the Covid-19 crisis.
First launched in May 2020, Sheroes in Quarantine showcases 34 women artists and their respective herstories.
The project uncovers the impact that lockdown and isolation have had on artists' creativity and practice and the risks that the Covid-19 crisis has posed, and continues to do, on women's lives and their mental health.
For this edition, we wanted to talk and focus on three specific themes to give visibility to some of the women who have been affected the most by the pandemic:
Women & Mental Health, Women of Colour and Motherhood.
Join us behind closed doors to discover all the herstories by visiting the online exhibition here.
*Sheroes stands for diversity and therefore includes women, trans and gender non-conforming individuals, without them our mission wouldn't be complete.
Sheroes in Quarantine Part I was self-funded by Lon-art Creative and Sheroes in Quarantine Part II has been organised with Art Fund support. Any donations will go towards running future Sheroes events.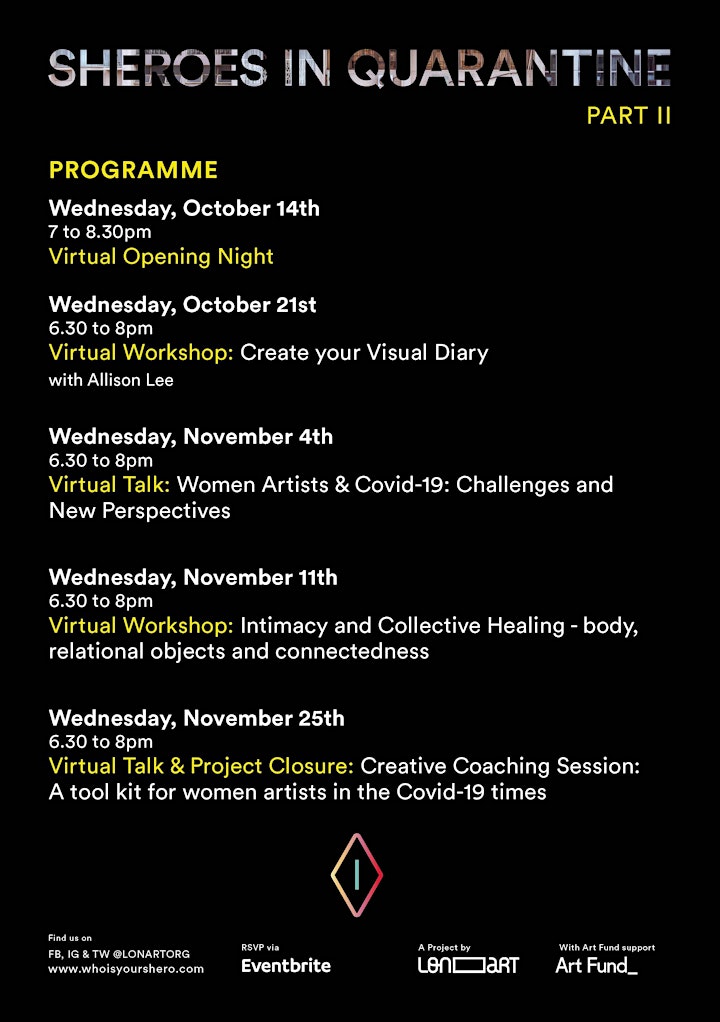 Organiser of Sheroes in Quarantine Workshop - Creating a visua
Lon-art is an organisation that aims to open a window onto art, culture and languages through education workshops and community events. 
Our vision is to improve the accessibility of creativity, culture and learning for everybody through the arts. Our mission is to provide a platform for communities, artists and educators to collaborate, reflect and create.
Our aim is to be a place where the communities of the world, who are the citizens of East London and beyond, can come together to experience and make world class art and feel that it's a place where they belong. We are committed to delivering excellent art to increasing and increasingly diverse audiences