Explore the art of collage as a tool to dissect, subvert and reconfigure the visual portrayals of gender and sexuality in arts and media
About this Event
WORKSHOP OBJECTIVES:
Colonized, commodified, and reshaped by market forces, the palimpsestic female body is a site where cultural phenomenology and social perversions have historically been inscribed. 
Images are powerful—they shape, distort, liberate. Yet images can be manipulated as much as they can manipulate. As so, assemblage can function as a form of resistance, engagement, dialog. Through the appropriation of complicit media text, this workshop takes a look at how the poetic language of collage can be used to subvert overt representations, reclaim the gaze, reverse the narrative and usher in more fluid, inclusive expressions of identity. With the maelstrom of archival material in circulation at our disposal, this workshop examines the semiotic representation of gender and sexuality within the postmodern feminist framework of fragmentation. 
Through stripping away visual forms of representation, new constructions that go beyond the objectification, exploitation and hyper-sexualization created and challenged. From this reconfiguration of media text, new meanings and readings of gender, sexuality, and identity are defined that speak to strength and power.
The workshop aspires to impress how much perception is shaped by context and how creative expression is hinged on the smart implementation and articulation of both.
ACTIVITIES INVOLVED: 
The workshop will use the art form of assemblage to explore, dissect and reconfigure how females are visually portrayed.  Beyond the examination of identity, the artificial dichotomies between abstraction/rationality and representation/reality will also be explored.  These ideas will be paired with instruction on methodology and a range of technical approaches to the medium: assemblage, digital processes, photomontage etc.
Historical and contemporary precedents will also be covered to contextualize current mixed media practices, as will the contributions of several female artists who have been influential in pushing boundaries of the medium, such as Deborah Roberts, Hannah Hoch, Martha Rosler.  The importance of research, artistic process, visual documentation, personal concepts, metaphor, and appropriation will also be discussed. 
MATERIAL NEEDED:
Please come prepared with plenty of material to work with (Scissors/razor blade, glue/decoupage, surface/object to collage on, material to collage with, ideas/inspirations/questions).
ARTIST BIO:
Sam Heydt is an American social practice and recycled media artist born/raised in New York City. After having lived, studied and worked in several countries In 2012, Heydt launched Jane Street Studio, L.L.C. in Manhattan where she provides both design and marketing consultation in addition to art direction gaining worldwide attention.
Heydt has attended artist residencies in Iceland, Australia, and New Zealand; where she has documented different forms of environmental exploitation.  A published author, producer, and lifelong activist, Heydt has undertaken a range of altruistic, non­-profit work. Her art, anchored in social advocacy, attempts to give a voice to the veiled, forgotten, exiled, and silenced.
Working across different media- film, video, installation, photography, sculpture, sound, and text, Heydt presents an abstract proposition for a world on the periphery of history, one that not only appears haunted by the ghosts of the past but built on it.  Often reinventing or trespassing the associative use of the material in use, Heydt is esteemed as one of the pioneers of the recycled media movement.  Her work has been shown in galleries, museums, art fairs, and film festivals worldwide.
-This is a free workshop and places are limited - make sure you book your ticket and if you are unable to attend let us know so that your ticket can be released to someone else -
A NOTE ON ACCESSIBILITY:
In order to make our events as accessible as possible please let us know if you require BSL interpretation or have any access needs by emailing info@lon-art.org.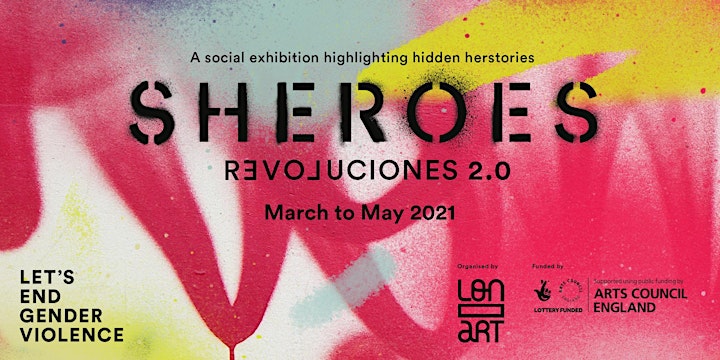 Sheroes - Revoluciones 2.0 also includes:
An online exhibition showcasing 15 women artists, who through their work have responded to the subject of Violence Against Women* and Girls.
 Two panel talks that, through the voices of women in academia, public figures, artists and activists, will provide a space for reflection on the following topics: "Violence Against Women and Girls and the State" and "What is next for feminism".
An art discussion that will revisit how women have been, and still are, portrayed in art history and the impact that it still has on today's visual culture.
Sign up to our newsletter here for info, updates and how to book your tickets!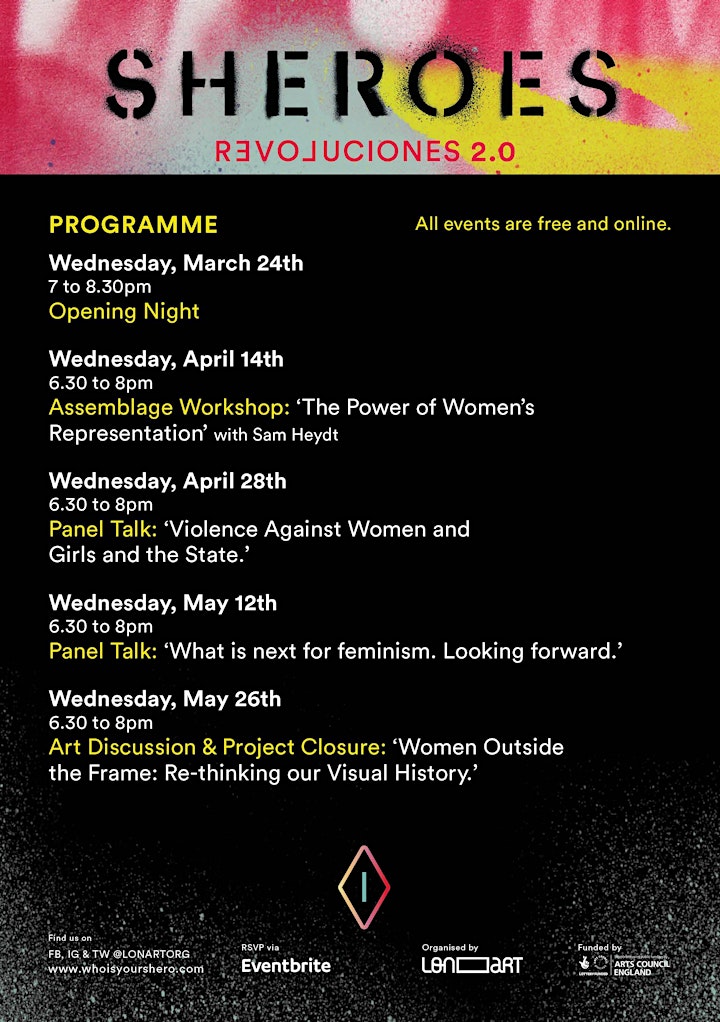 Sheroes -Revoluciones is an art project designed to draw attention to violence against women* and girls.
First launched in November 2019, with an exhibition that showcased 30 artists from all over the world, the project is inspired by the staggering statistics that show how women are potential and real victims of violence in our society (domestic abuse, rape/sexual assault, revenge porn, gender pay gap among others).
*Sheroes stands for diversity and therefore includes women, trans and gender non-conforming individuals, without them our mission wouldn't be complete.
Sheroes-Revoluciones 2.0 is funded by Arts Council England.
Tickets are FREE and any donations will go towards running future Sheroes events. 
Thank you!