The past years have seen a surge in global feminist uprising – but what next? Have we gone far enough?
About this event
A panel talk created to explore and analyse together the future of feminism and how it is taking shape in 2021.
The road of feminism is constantly evolving, adapting and responding to events that unfold in the political landscape. It is an umbrella for facing inequality and discrimination in society, which impacts individuals differently depending on how their identity leverages accessibility to resources, opportunity, justice, and even, safety.
Safety, and how this is compromised for women and girls, has become a huge topic in question following the tragic abduction and murder of Sarah Everard in March 2021. It has highlighted how women have been conditioned to accept feeling unsafe on a daily basis as part of our lives, taught that this is part of being a 'woman'. And, furthermore, when protesting against these injustices, how women are rebutted and silenced. But, enough is enough. Conversations on this narrative have pushed even further into assessing the politics of space. Questioning how cities, especially, could be better designed to increase the safety of women and girls and mitigate incidents where violence can be perpetrated against them.
Tackling violence against women and girls is one of feminist's largest struggles, however with fresh initiatives on the horizon geared towards prevention from creative and innovative means, momentum exists on looking forward at what is possible.
This panel talk will discuss some of these burning questions and new ideas, as we reflect on the scope of feminism today and what shape we think it will take in the future.
PANELISTS BIOS
Ammaarah Zayna, activist, writer, educator and campaigner with Our Streets Now.
Lucy Warin is a project designer and urban researcher working for Transition by Design cooperative in Oxford. Lucy's work focuses on engaging people, especially marginalised groups, in shaping the cities in which they live as an emancipatory practice of socio-spatial justice.
Megan Key is an award winning transgender activist and Diversity and Inclusion specialist in the public sector. Over the past 10 years she has supported several local and national LGBT+ charities and she is currently a Trustee of Gendered Intelligence and the London LGBQT+ Community Centre.
Mandu Reid is an activist, campaigner and leader of Women's Equality Party, currently running for Mayor of London.
-This is a free workshop and places are limited - make sure you book your ticket and if you are unable to attend let us know in advance, so that your ticket can be released to someone else -
A NOTE ON ACCESSIBILITY:
In order to make our events as accessible as possible please let us know if you require BSL interpretation or have any access needs by emailing info@lon-art.org.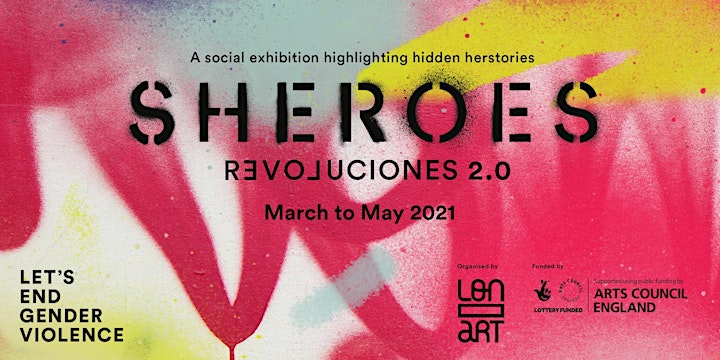 Sheroes - Revoluciones 2.0 also includes:
An online exhibition showcasing 15 women artists, who through their work have responded to with their work to the subject of Violence Against Women* and Girls.
An art discussion and closure event on May 26th that will revisit how women have been, and still are, portrayed in art history and the impact that it still has on today's visual culture.
Sign up to our newsletter here for info, updates and how to book your tickets!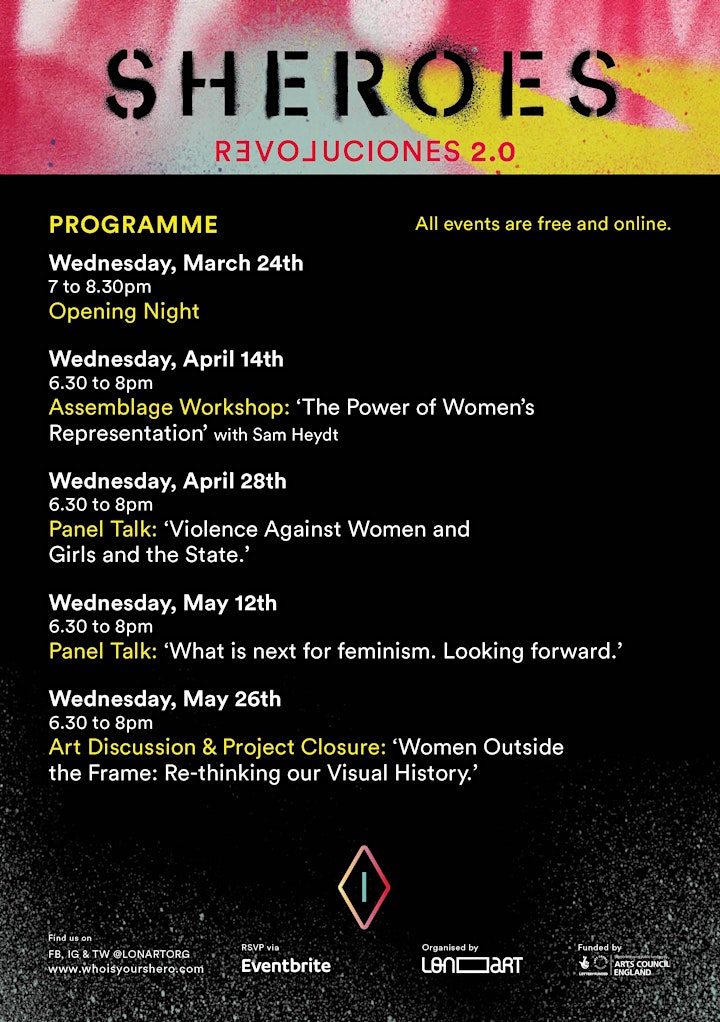 Sheroes -Revoluciones is an art project designed to draw attention to violence against women* and girls.
First launched in November 2019, with an exhibition that showcased 30 artists from all over the world, the project is inspired by the staggering statistics that show how women are potential and real victims of violence in our society (domestic abuse, rape/sexual assault, revenge porn, gender pay gap among others).
*Sheroes stands for diversity and therefore includes women, trans and gender non-conforming individuals, without them our mission wouldn't be complete.
Sheroes-Revoluciones 2.0 is funded by Arts Council England.
Tickets are FREE and any donations will go towards running future Sheroes events.
Thank you!
Organiser of "Sheroes-Revoluciones" Talk - "What is next for feminism? Looking forward"
Lon-art is an organisation that aims to open a window onto art, culture and languages through education workshops and community events. 
Our vision is to improve the accessibility of creativity, culture and learning for everybody through the arts. Our mission is to provide a platform for communities, artists and educators to collaborate, reflect and create.
Our aim is to be a place where the communities of the world, who are the citizens of East London and beyond, can come together to experience and make world class art and feel that it's a place where they belong. We are committed to delivering excellent art to increasing and increasingly diverse audiences