A free and open discussion and exchange with women artists and practitioners sharing experiences and challenges during COVID-19.
About this event
This panel talk will open up a space for women* artists to share the challenges they have been facing since the outbreak of Covid-19: from changes in their practise and financial hardship, access to materials and studio spaces to the impact of all this on their mental health and wellbeing.
Sheroes artists Paola Paredes, Laura Greenway, Abigail Hammond and Yara Ritcher will start the conversation by talking about their own experiences and their resulting artworks for Sheroes in Quarantine.
Paola Paredes, from Ecuador, will introduce us to the way the pandemic has been experienced for an artist outside the UK and how her new work has been shaped as a result of her fight against anxiety. Laura Greenway will explore the juxtaposition of gender, mental health and disability and her role as an artist; Activist and artist Abigail Hammond will talk about mental health and menopause in the Covid-19 times; lastly, Yara Ritcher will share her views on the intersection between motherhood, race and the pandemic.
The talk wants to be an opportunity for us all to get together in a safe space, share experiences and current challenges. We will start with a brief presentation of the guests speakers and their practice to then open up a wider discussion and reflections with other artists and attendees.
Mental health has often shaped women artist's practice, inspiring new ways to confront and depict life and the many challenges it poses on us. The current crisis is affecting women the hardest, exacerbating a long history of structural gender violence that artists are now responding to with new creative, activist and feminist approaches. Therefore, this panel talk has been designed as a platform for us all to feel part of a community where we can empower and support each other.
ARTISTS BIO
Abigail Hammond:
Hammond's work engages with her personal experience of the menopause, scientific theories and diagnoses, and draws on the voices of other women. She is an activist who seeks to break this taboo.
Paola Paredes:
Putting herself at the forefront of her imagery, her work represents a personal and intimate challenge to social prejudices, and invites renewed discourse on the interactions between sexuality, family and personal freedom in contemporary society.
Laura Greenway:
Her practice is based around her own experiences of mental health problems and disability, examining vulnerability and fragility, as well as focusing on repetition; making links between the ritualistic nature of illnesses such as Obsessive Compulsive Disorder, and repetition as a part of art.
Yara Richter:
Inspired by motherhood, her work explores power struggles between the natural and the "man-made" through an intersectional, eco-feminist lens. Her work intends to dismantle boundaries between art, academia and "the ordinary" by emphasising interactions between producer and observer.
** The Zoom link to join the event will be sent privately prior to the event. **
This is a free talk but registration is required to access the event details
A NOTE ON ACCESSIBILITY:
In order to make our events as accessible as possible please let us know if you require BSL interpretation or have any access needs by emailing info@lon-art.org.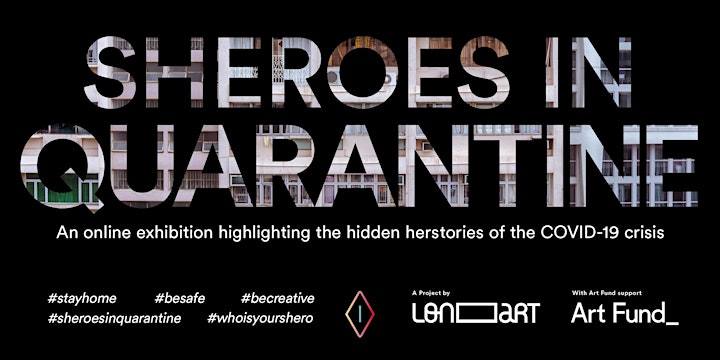 Sheroes in Quarantine is an online exhibition dedicated to highlighting women's* issues and roles during the Covid-19 crisis.
First launched in May 2020, Sheroes in Quarantine showcases 34 women artists and their respective herstories.
The project uncovers the impact that lockdown and isolation have had on artists' creativity and practice and the risks that the Covid-19 crisis has posed, and continues to do, on women's lives and their mental health.
For this edition, we wanted to talk and focus on three specific themes to give visibility to some of the women who have been affected the most by the pandemic:
Women & Mental Health, Women of Colour and Motherhood.
Join us behind closed doors to discover all the herstories by visiting the online exhibition here.
*Sheroes stands for diversity and therefore includes women, trans and gender non-conforming individuals, without them our mission wouldn't be complete.
Sheroes in Quarantine Part I was self-funded by Lon-art Creative and Sheroes in Quarantine Part II has been organised with Art Fund support. Any donations will go towards running future Sheroes events.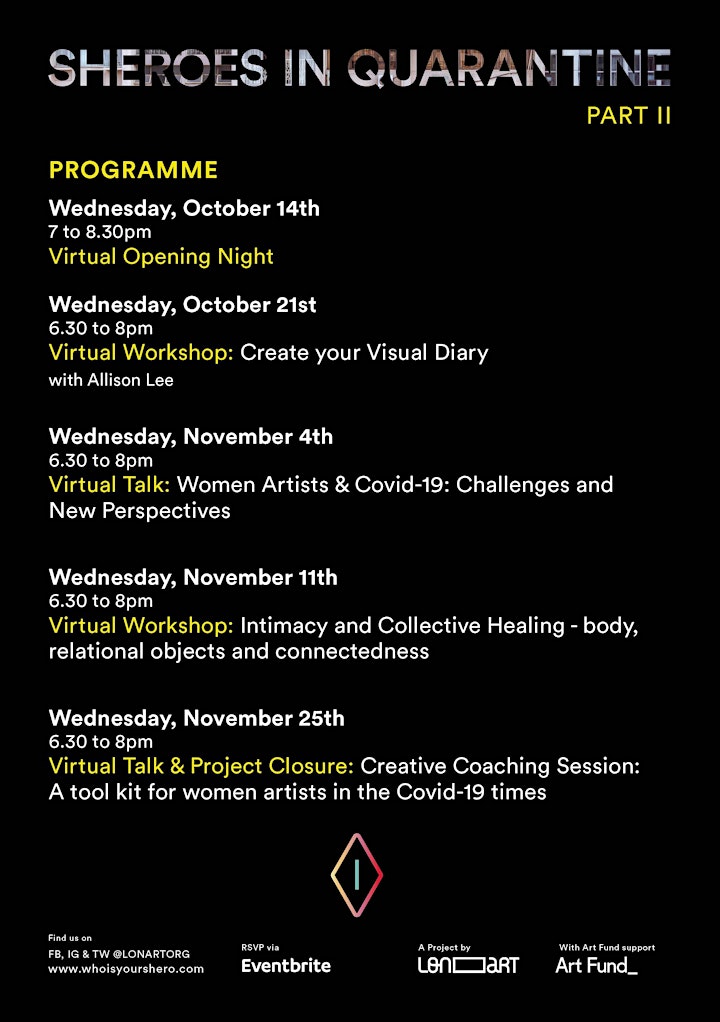 Organiser of Sheroes Talk - WOMEN ARTISTS AND COVID-19: challenges and new perspectives
Lon-art is an organisation that aims to open a window onto art, culture and languages through education workshops and community events. 
Our vision is to improve the accessibility of creativity, culture and learning for everybody through the arts. Our mission is to provide a platform for communities, artists and educators to collaborate, reflect and create.
Our aim is to be a place where the communities of the world, who are the citizens of East London and beyond, can come together to experience and make world class art and feel that it's a place where they belong. We are committed to delivering excellent art to increasing and increasingly diverse audiences