Location
Pub du vin
2 Ship Street
Brighton
BN1 1AD
United Kingdom
Description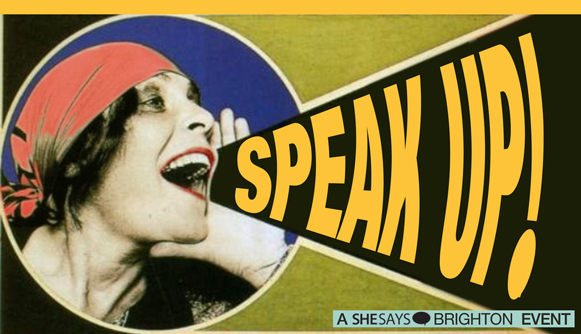 SheSays Brighton: "Speak up!" ...finding your voice
A Spring Forward event

Tuesday 24 March 2015 - 6.30pm
at the Pub Du Vin Ship Street, Brighton BN1 1AD

Welcome to a different format for our SheSays Brighton in March. We've invited four amazing MDs of Brighton digital companies to take part in a panel. They'll discuss topics including integrity, diversity, growth and community. We're expecting a lively discussion, with you the audience welcome to join in with gusto!
Our moderator is Natalie Lloyd, Partner at Say Digital and curator of TEDx Brighton. @natalie_l_lloyd
We're very excited to welcome our panelists:
Caroline Walmsley is Managing Director of Brightwave, the next generation provider of learning solutions, services and products. Ranked one of the top six companies in Europe by EdTech in 2014, Caroline oversees all operational, strategic and development management of the business. Caroline joined Brightwave in 2013 with a remit to realign the business and drive the commercial, creative and technical agenda forward. She works alongside a talented senior management team collectively overseeing 80 employees who collaborate with a host of FTSE 250 clients. @CaroWalmsley
Nicole Bradfield is Managing Director of Neo, a brand communications agency in Brighton. She places creative excellence and brilliant client relationships above everything else, believing this separates good work from great work. Nicole has extensive experience of this, having managed complex branding projects in the UK and Australia. Nicole leads the overall direction of Neo and provides strategic support on more complex client projects. @nicolebradfield
Clare Hopkins is Managing Director of Ideal Networks, an IT solutions provider whose mission, in a world driven by technology, is to deliver solutions that help organisations to achieve their absolute potential; in a way that delights and surpasses expectation every time. Claire oversees talent management, strategies to enhance operational performance, improve communications and drive exceptional customer service. @Lairy40
Melanie Hickmore Melanie Hickmore is Managing Director of Nice Media, a video consultancy who work with major learning providers and large organisations to make the best use of video across their learning and development programmes. She leads the team of creative professionals in producing video for learning and manages the strategic areas of service delivery and business development. Nice Media's award-winning video changes minds and behaviours, making a real and positive impact on people's lives. @MelanieHickmore
Thank you so much to Brightwave and Amex for their kind support.

We cannot wait to see you there!
Love Rifa and the SheSays Brighton team

SheSays Brighton is an open group offering FREE networking events with high quality speakers. We're part of 'SheSays' - a global organisation empowering women in the digital and creative industries. weareshesays.com
@SheSaysBrighton #shesaysbtn
Find us on Linkedin - SheSays Brighton chapter

A Spring Forward event - celebrating women throughout March!