Blue Monday - the most depressing day of the year - which makes it the perfect time for a cosy SheSays networking/check-in-with-each other
About this event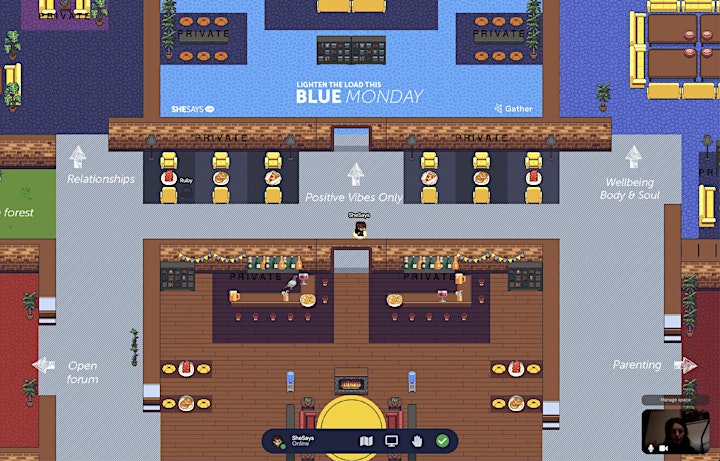 LINK TO ONLINE ROOM:
https://gather.town/app/hflSPbBF9ERMjXeJ/SheSays%20-%20Blue%20Monday
Online tools like Zoom are great for work, but aren't always the best for an intimate chat, so we've joined forces with Gather.Town to create our very own virtual room (with lots of places for a private chat) where your avatar can wander around and join different conversations - just like in real life. Move your avatar close to another person's to connect your video call to theirs. It's basically the pub but 2D. And with fewer people accidentally spilling their beer on you. What's not to like?
Mental health is more important than ever this year, so join us at 18.00 tomorrow, 18th Jan, and let's create a safe space to chat about the things actually affecting us this year. So whether you need some positive vibes, or you just want a judgement free place to have a moan, we got ya.
We've got rooms for chatting about:
Work
Home/Parenting
Finances
Wellness (body & soul)
Relationships
Networking
Positive Vibes Only (A #warmandfuzzy for those needing a lift)
The Whinge room (Everything is sh*t. Come and have a moan)
IS THIS JUST FOR WOMEN?
This year has brought new challenges. Isolation and separation is affecting us all. So we're opening the doors to our virtual world - if you know someone (of any gender) who could benefit from some supportive SheSays vibes bring them down.
Note: None of us are medically trained, so if you feel that you might need specialist help, you might wish to speak to a professional instead.
📞
Samaritans - 116 123
Mind - 0300 123 3393 or text 86463
Rethink - 0300 5000 927

Organiser of SheSays - Lighten the load this Blue Monday