Celebrate International Women's Day in style at #SheStartedItLIVE 2021 - Angelica Malin's flagship festival of female entrepreneurs
About this event
It's back and it's bigger than ever. Introducing #SheStartedIt LIVE 2021: an incredible International Women's Day summit you don't want to miss. In line with this year's IWD theme #ChooseToChallenge, we're challenging you to go further in your career, personal development & aspirations than ever before.
Editor-in-Chief Angelica Malin is excited to invite you to #SheStartedIt LIVE 2021 - a 2-day virtual festival of female entrepreneurs like none other. Taking place online on Friday 12th and Saturday 13th March 2021, #SheStartedIt LIVE is a celebration of amazing women who have started companies, movements, initiatives, businesses and everything in between.
This year's festival will be hosted within a private Facebook community, so you'll not only get to hear from incredible speakers, but also have the chance to network, connect & support other female founders.
Listen to some of the UK's most inspirational women, including female founders, CEOs, experts & self-help gurus, on subjects as diverse as work, money and self-confidence. This is THE ultimate festival for your career and life - and a great opportunity to network with other like-minded career women within a private online community!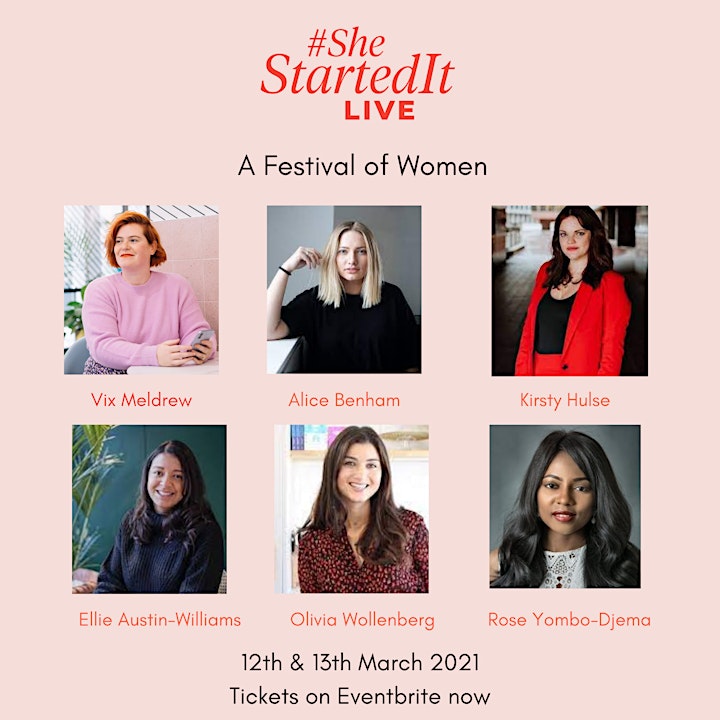 #SheStartedIt LIVE 2021: Schedule
Friday 12th March 2021
9.15am - Pilates-Barre class with Anna Johnson, Founder of Haus Pilates Co (45 mins)
10am - Business Hacks: How to Use Social Media to Supercharge Your Biz - panel with Vix Meldrew, Founder of Glow & Grow, Lucy Hitchcock, Founder of Partner in Wine & Sassy Digital, Sabrina Meyers, Sabrina Meyers, Founder of Hot Hospitality Exchange & Carrie Rose, Co-Founder of Rise at Seven
11am - PR Secrets: The 3 Steps to Getting Game-Changing Press Coverage - keynote by Amanda Fitzgerald, PR strategist & expert
12pm - How to Build Your Freelance Career - Rebecca Reid in conversation with author Fiona Thomas on her #1 bestselling book 'Out of Office'
12.30pm - Growth Hacks: How I Scaled a Million-Pound Business - panel with Pippa Murray, Founder of Pip & Nut, Maxine Laceby, Founder of Absolute Collagen, Emily Austen, Founder of Emerge LTD and Camilla Ainsworth, Founder of Mylk Plus
1.15pm - Lunchtime cookalong with Josie Buck, Founder of The Mindful Cook (30 mins)
2pm - Selling When You're Service-Based - keynote by Alice Benham, digital marketing coach
3pm - Founder Stories: How I Built My Business - panel with Marine Tanguy, Founder of MTArt Agency, Rose Yombo-Djema, Founder of Neema Food, Olivia Wollenberg, Founder of Livia's, and Gabriella Hersham, Co-Founder of Huckletree, moderated by Juliet Tripp
4pm - How to be Financially Well and Build Your Dream Life - 60-minute financial wellbeing workshop with The Financielle Playbook
Saturday 13th March 2021
9.15am - 45 minute Yoga + Meditation class with Kristina Rihanoff, professional ballroom dancer
10am - Secrets of Success: How to Create Your Dream Business - panel with Kathryn Bricken, Founder of Doughlicious, Lucy McAvoy, Co-Founder of SIS4ERS Distillery & Alexandra Pluthero, Founder of Wear My Freedom, moderated by Minreet Kaur
11am - How to Boost Your Confidence with Public Speaking - keynote by Kirsty Hulse, motivational speaker & Founder of Roar Training
12pm - Personal Finance 101: How to Manage Your Money - Q&A with personal finance experts Ellie Austin-Williams and Claer Barrett, Consumer Editor of the FT
12.30pm - How to Overcome Imposter Syndrome - keynote by Vicky Shilling, wellness industry coach
1pm - 30-minute Breathwork session with Tara Nash, yoga teacher & breathwork expert
2pm - How to Supercharge Your Business Growth - keynote by Daniella Genas, Founder of She's The Boss International
3pm – How to Look After Your Mental Health as a Founder – keynote by Jenny Okolo
3.30pm - Founder Stories: How I Built My Business - panel with Siobhan Miller, Founder of The Positive Birth Company, Carina White, Co-Founder of Black Mums Upfront & Halima Iqbal, CEO of Oraan, moderated by Phoebe Dodds, Founder of Buro 155
5pm - Goal Setting Workshop - 45-minute workshop to set goals for your business & career with Kim Sprague, business coach
5.30pm - 20-minute Stand-up Comedy from Alexandra Haddow + final remarks
Why attend #SheStartedIt LIVE 2021?
This virtual festival is for you if:
You want a fun, engaging day with a mixture of talks, keynote speeches & wellbeing workshops
You want to hear from the UK's most inspiring and successful female founders
You want to find a deeper sense of purpose & connection with your work
You're ready to up-level your career & dream a little bigger
You want to learn about the latest trends in social media, digital & business
You want to turn your side into a full-time gig
You want to get money-savvy and take control of your finances
You want to network & connect with like-minded female founders around the world
Please note: Line-up is subject to change. This event will be hosted via Facebook private group. We cannot offer refunds on tickets and all sales are final.
Organiser of #SheStartedIt LIVE 2021: Festival of Female Entrepreneurs for #IWD2021