Description
We are so excited to host #SheStarteditLive: our first ever day-long festival in celebration of the amazing women who have started companies, movements, initiatives, families, platforms, revolutions and everything in between. Join Angelica Malin on Saturday 14th of September 2019 as we hear from some of the most inspirational women in the world today, all of whom are experts in their respective fields, on subjects as diverse as entrepreneurship, personal finance, parenting and self-love.
Meet Your Host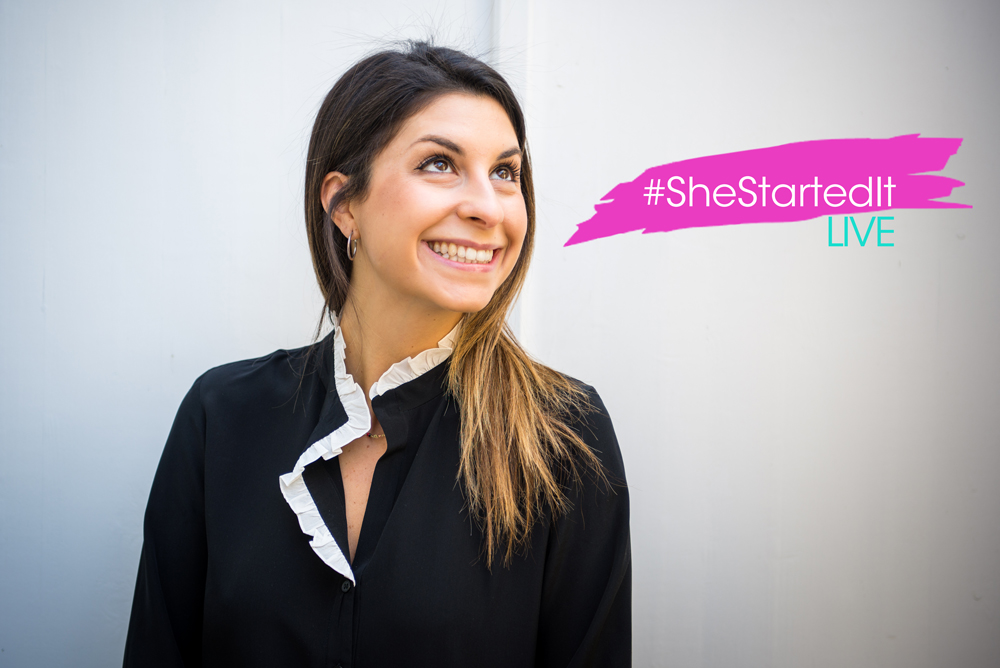 Angelica Malin is Editor-in-Chief of About Time Magazine and Founder of the About Time Academy. Angelica launched About Time Magazine in March 2014, having spotted a gap in the market for a well-curated lifestyle site, dedicated to discovering everything it's about time you tried in London and beyond.
Having launched her business straight out of university, Angelica has built up a monthly audience of over 85,000 readers worldwide, with 100,000 followers on social media. About Time has since grown to become one of the capital's most-loved lifestyle websites, with a team of 90 writers across the globe.
Angelica has been featured by Forbes, Real Business, Elle Magazine, WeAreTheCity and more, as an entrepreneur to watch. Angelica has moderated over 90 events in the last 2 years, everything from the secrets of great skin to launching your own food brand.
Why attend #SheStartedItLive?
#SheStartedItLIVE is for you if:
You feel stuck in your current work and want a deeper sense of purpose, motivation and satisfaction
You're ready to take your career to the next level and make great things happen
You're a goal-getter ready to seize all of life's opportunities
You're interested in starting your own business or bringing more entrepreneurialism into your work
You want to feel empowered, motivated and inspired by the UK's leading female business women
You're thinking of starting a family and want to know how to juggle careers and kids
You want to take control of your finances and bloom financially
You want to practice more self-kindess, self-love and boost your confidence
You want to join a community and

meet like-minded women who seek more fulfillment in their work

You want to go deeper into your work, life and purpose
Agenda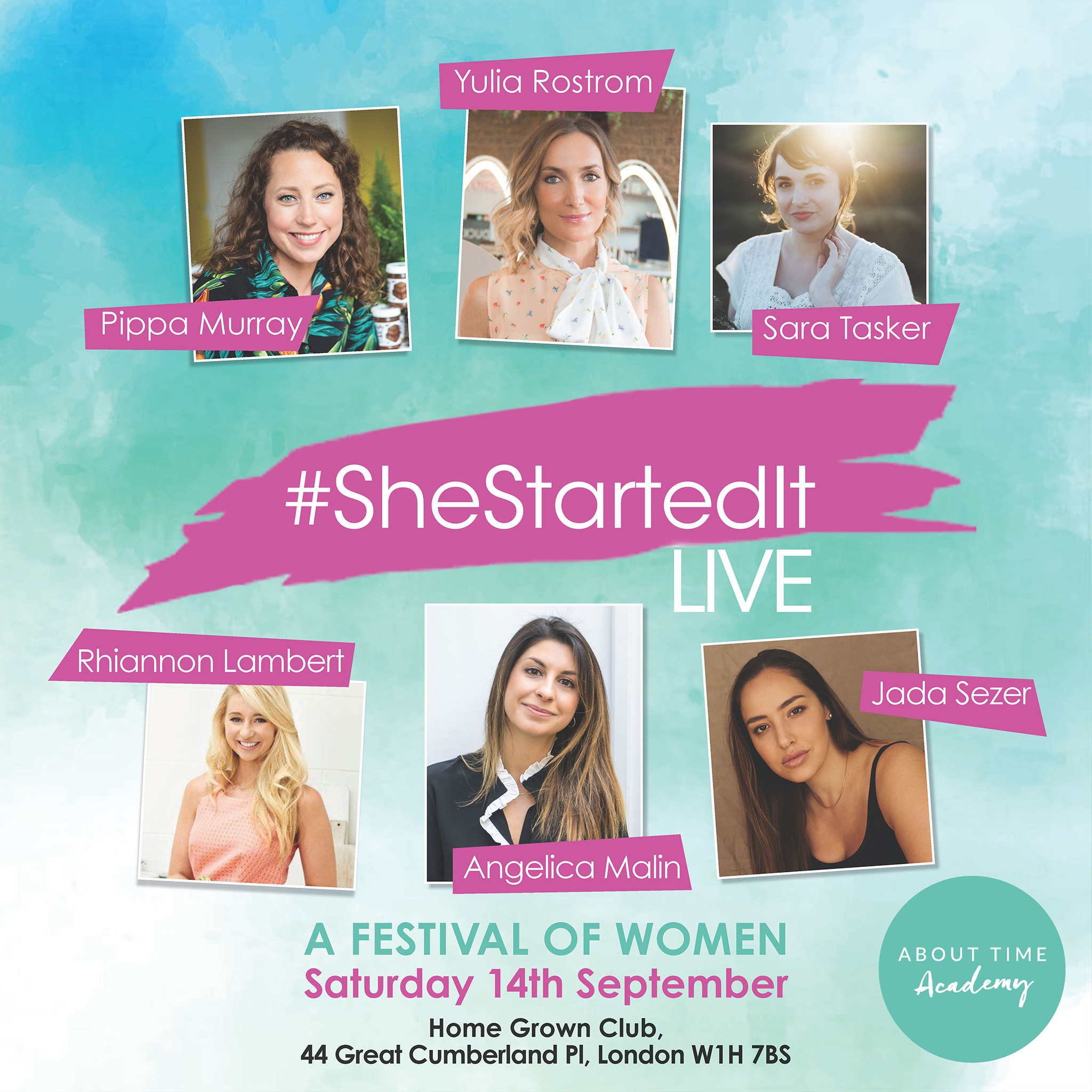 8.30-9.00am - Delicious Breakfast by Rude Health
9.00-9.05am - Opening Remarks by Angelica Malin, Founder of About Time
9.05-9.30am – The Breakfast Briefing with Maxine Mawhinney, Lauren Bravo, Sophia Cannon and Rebecca Reid
9.30-10.15am – Period Power: how to get a handle on your hormones with Maisie Hill and Lola Ross (Moody Month)
10.15-10.30am - Complimentary Drinks Break
10.30-11.15am – Mothers Meeting: how to bring your whole self to work, with Anna Whitehouse (Mother Pukka), Kathryn Tyler and Nikki Cochrane (Digital Mums), Shazia Mustafa (Third Door) and Rachel Carrell (Koru Kids)
11.15-12.00pm – Entrepreneur Forum: how to build business IRL, with Pippa Muray (Pip&Nut), Camilla Barnard (Rude Health), Olivia Wollenberg (Livia's), Alice Asquith (Asquith), Pip Jamieson (The Dots) and Yulia Rorstrom (Duck & Dry)
12.00-12.30pm – Upgrade Your Mindset, Boost Your Career: Keynote By Ruth Kudzi, business mentor and mindset coach
12.30-1.15pm - Complimentary Lunch
1.15-1.45pm – Self-kindness for the Real World: Masterclass with Shahroo Izadi, author and behavioural change expert
1.45-2.15pm – Nutrition 101: Debunking Health Myths with Rhiannon Lambert, Harley Street Nutritionist
2.15-3.00pm – Entrepreneur Forum: how to build a business online, with Sapphie Bates (The Coven), Lauren Armes (WellToDo), Hannah Grace Lodge (BarChick), Tobi Oredein (Black Ballad), Rosie Davies (London Fashion Agency) and Danielle Newman (F=)
3.00-3.15pm – Afternoon Tea Break
3.15pm-3.30pm – You're not broke, you're pre-rich: investment keynote by Emillie Bellet, author and personal finance expert
3.30-4.15pm – Personal Finance 101: how to get savvy about spending, saving and salaries, with Emillie Bellet (Vestpod), Iona Bain (Young Money), Felicity Hannah, Leah Milner and Tamara Gillan (WealthiHer Network)
4.15-5.00pm – Insta Famous: how to build a brand on social media, with Sara Tasker (Me and Orla), Katy Leeson (Social Chain) and Cassie Sneglar (The X Cartel)
5.00-5.15pm – Social Spritz Break
5.15-6.00pm – Project You: how to improve your self-confidence, body image and mental health, with Jada Sezer, Shahroo Izadi, Kimberley Wilson, Chloe Brotheridge and Natasha Devon
6.00-6.30pm – Transformation from Within: wise words and meditation with Nicky Clinch, transformational coach, spiritual mentor and entrepreneur
6.30-6.45pm – Closing Remarks by Angelica Malin