Multiple Dates
Shifting Consciousness Series: The Alchemy of Change with Glennie Kindred
Description
The real revolution will be the evolution of consciousness.
Two special evenings exploring rites of passage, divination, ritual, the relational nature of our universe, Earth wisdom, alchemy, celebrating the Earth's cycles and creating heartfelt ceremony with wisdom keepers Pat McCabe, Glennie Kindred and Colin Campbell.
DATES:
Monday 25th March, Glennie Kindred: The Alchemy of Change (TICKETS STILL AVAILBLE)
Monday 18th March, Pat McCabe & Colin Campbell: Ritual, Relationship & Conscious Revolution (SOLD OUT)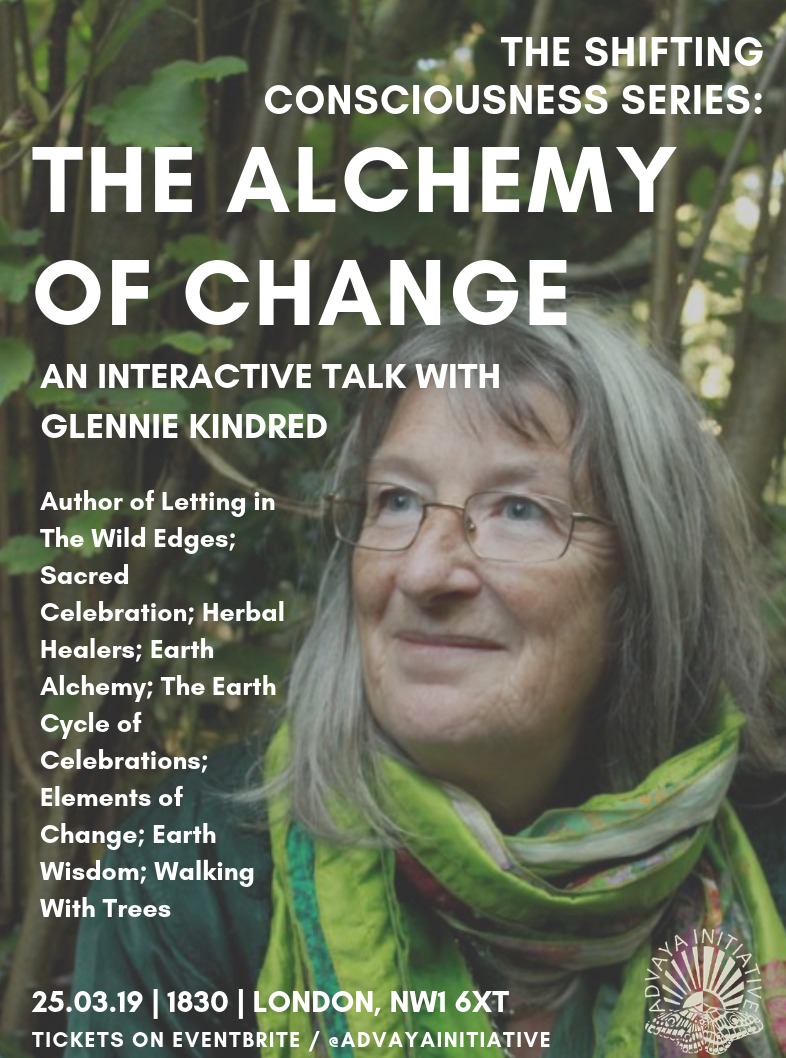 Glennie Kindred: The Alchemy of Change
This talk looks at our current beautiful shift into Holistic Consciousness, as we begin to embrace our sense of unity with all life, and how this is manifesting in both our personal lives and in our relationship with life around us; and our changing relationship with the Earth and ways we can explore new forms of communication and relationship between ourselves and the rest of life on Earth, once we drop our separation barriers. This Shift in Consciousness opens the way for receiving deep wisdom from the plants, the trees, the birds, animals and insects, and the rocks of our land, and taps into our sense of deep time and deep belonging. We are also able to peacefully enter into the Imaginal Realms and journey into our own inner world of deep wisdom, spirit guides and archetypes.
Each thought we have, everything we say, feel and do has resonance and is part of the whole and we are the creative alchemy of change and manifestation. The more we feel our interconnected selves, the more interconnections manifest!
We will explore ways to anchor this shift into our everyday lives, through simple, daily practice of loving kindness, affirmations, conscious intentions and personal rituals that help us to stand in our own truth with the interconnected dance with all life. Central will be our ability to consciously develop this shift in consciousness, and work with the natural and abundant flow of our life-force energy, to manifest the future and create the changes we wish to see happen, both personal, communal and global.
About Glennie
Glennie Kindred is the author of twelve books on Earth wisdom, creating ceremony, native plants and trees and celebrating the Earth's cycles. She is a much loved expert on natural lore and Earth traditions with a strong and committed following. She is renowned for her ability to enthuse people with joy, love and wonder for the Earth, to step beyond the everyday into the extraordinary, to tap into the Imaginal Realms within, and to create simple heart-felt ceremony. She is an Earth Restorer and Earth Protector and committed to the power we collectively have to bring about change, both for ourselves and for the Earth.
She has just released a new book 'Walking with Trees', a book about our inter-relationships with 13 native trees. Illustrated with the glennie's exquisite pencil drawings, her passion for trees is infectious, and she inspires us to look more closely, listen more intently and walk with trees more often. She shares her stories and encounters with trees and weaves together many ways to deepen our engagement with them: growing them, harvesting and using them for medicine and food, intuitive craftwork and meeting with them as part of our seasonal celebrations with Nature. She also encourages us to find our way into a more subtle relationship with the trees, as part of our journey to heal our fractured relationship with the Earth.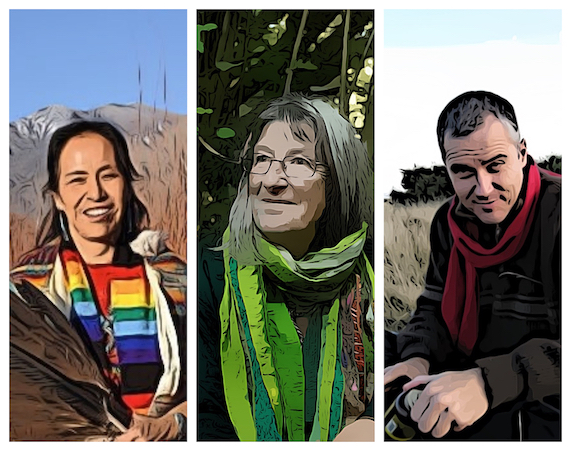 MONDAY 18 MARCH:



Colin Campbell - Rites of Passage: mapping our way through change and transition
Colin Campbell will explore the potential of pre-industrial rites of passage models as tools for mapping our collective way through radical change and transition. We will look at the question of 'radical action' as a primary stance in our activism amid times of crisis, and consider the significant role artists and creatives could play as luminaries in a return to a mythic basis for understanding our relationship with the rest of the living universe.


About Colin
Colin Campbell grew up in rural southeastern Botswana, the son of a renowned anthropologist and a creative healing mother. His grandmother was a famous healer, whom people voyaged to see from far afield. On formative childhood travels with his father he slept under stars, learned from traditional San people and ways of the desert, awoke beside lion paw prints, and regularly fished cobras out of his bedroom draw. At the age of eleven he was diagnosed as having the illness of calling, which ultimately led to his being trained and initiated as a traditional doctor and sangoma. Through the time of his upbringing he acquired a deep knowledge of Tswana culture and its traditional medicinal and spiritual practices.
Colin is currently a practitioner of traditional African medicine, based in Cape Town, South Africa and the U.K. He receives clients from all over the world, and facilitates international group processes relating to natural law, transformation, healing & personal power, sacred sites, and cross-cultural cosmology. His work bridges major world cities with ancestral homelands and forgotten wilderness, taking him from the Amazon Basin to Los Angeles, the sacred sites of Venda to the urban grit of Johannesburg, and remote Ethiopia to the City of London. Colin co-founded and co-runs a training school in Botswana for traditional doctors and sangomas with his brother Niall Campbell. He is also a lifelong artist and musician, his style once again bridging the traditional with the contemporary, the timeless with the timely, and the sounds of the sacred with the lyricism of electric rocking funk.


Pat McCabe: This Thriving Life - a Science of Right Relations


Pat McCabe (Weyakpa Najin Win, Woman Stands Shining) is a Diné (Navajo) mother, grandmother, activist, artist, writer, ceremonial leader, and international speaker. She is a voice for global peace, and her paintings are created as tools for individual, earth and global healing. She draws upon the Indigenous sciences of Thriving Life to reframe questions about sustainability and balance, and she is devoted to supporting the next generations, Women's Nation and Men's Nation, in being functional members of the "Hoop of Life" and upholding the honor of being human.
Her primary work at the moment is:
The reconciliation between the masculine and feminine, Men's Nation and Women's Nation

Remembering, recreating or creating anew a narrative for the Sacred Masculine

Addressing the Archetypal Wounding that occurred in our misunderstanding and abuse of technology in prayer, ceremony and science