When you get out into the forest a certain magic happens that can't be put into words. It's a feeling that must be experienced.
About this event
Autumn brings with it a slower, gentler energy. The leaves are falling and the nights grow longer as the darkness creeps in day by day, moment by moment. It's time for nature to rest and recover from all the activity of the spring and summer.
Autumn also marks a time for us to begin taking stock of all that's happened over the past six months and to start slowing down, too. Our bodies need the nourishment of some cosiness, good warm food and a little self-care and taking this time to move our bodies a little more slowly, yet deliberately, is the perfect way to ease into this period. As the autumn winds blow in change for all nature (that includes us) and temperatures cool, it's the perfect time to focus on our immunity and ways to nourish the body.
Shinrin-yoku, or Forest Bathing, is an excellent way to do this. Trees give off pheromones known as phytoncides and these have been scientifically researched and proven to regulate our blood pressure, improve our sleep, and lower our cortisol (stress) levels. These sessions are gentle introductions to Forest Bathing including sensory and meditative exercises. We take time to explore our woodland landscape, tuning in to our micro and macro awareness of nature and noticing how it communicates with us. The session is 2.5 hours and will take place at the Surrey Wildlife Trust's wildlife reserve Nower Wood.
We'll meet in the car park 10 minutes before to begin promptly at 9.30am, finishing at 12pm.
See here for details on the location
https://www.surreywildlifetrust.org/nature-reserves/nower-wood-educational-nature-reserve
We'll meet in the car park 10 minutes before to begin promptly at 9.30am, finishing at 12pm.  Please wear sensible, appropriate warm and comfortable clothing and footwear as it's already getting Autumnal as well as being in the woods, which is always cooler. Also bring snacks if you may want them and enough water to keep you hydrated during our time together and something to sit on. We'll walk no more than a mile or so. The terrain may be uneven.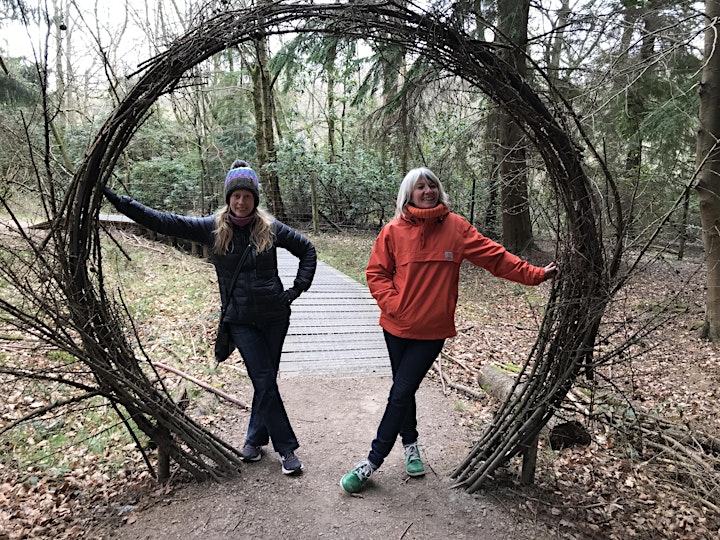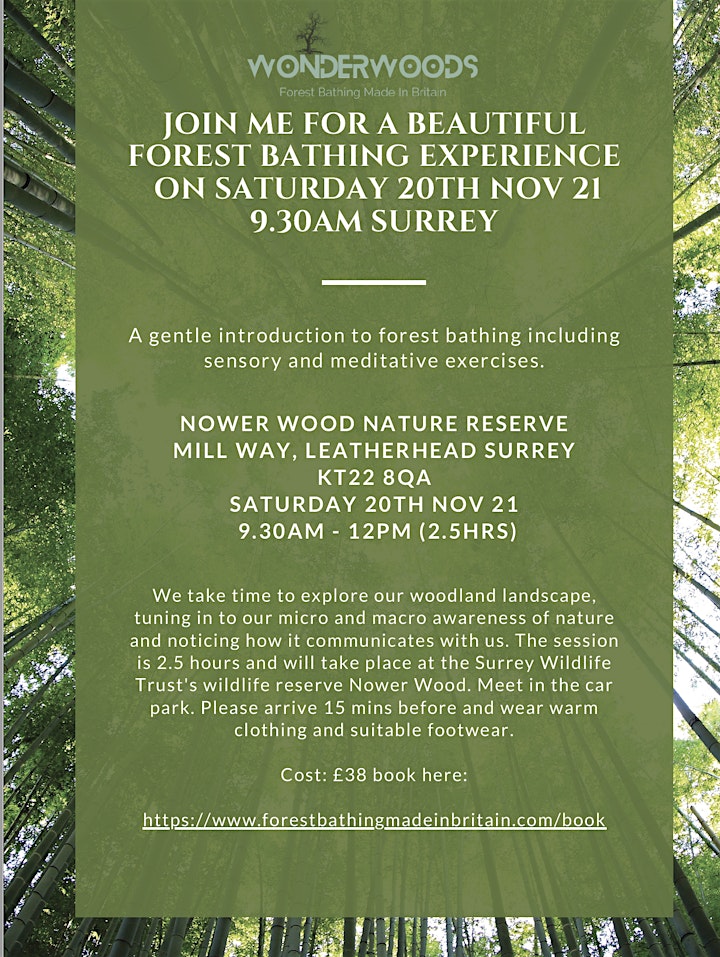 Organiser of Shinrin-yoku (Forest Bathing) in Nower Wood Nature Reserve
About LearnshedLive
Join The Evolution - Livestream Learning
So who are we?
LearnShedLive is a fresh new startup offering an exciting new way to learn via LIVE online workshops which are FREE to watch.This will be our first workshop, so we're really excited you found us.
Why's it any good?
Combining the freedom and convenience of learning online with the excitement of a live Internet TV show. It's interactive too, so you'll be able to ask questions and submit work in advance to be discussed during the live shows. So you'll really feel involved. And if you love what you see, there's the opportunity to buy any of our workshops to watch again and again. All downloads come with bonus material and each one helps us to fund our free education model. Alternatively, just watch the entire broadcast free of charge.
Are we all about photography?
No,not just photography, but what a great topic to begin with! We'll be offering in- depth workshops on all sorts of different subjects over the coming months. 
Would you like to be a Founding Member of LearnShedLive?
If you'd like to join us, membership is free and means you can watch any of the
our live shows.  If you RSVP here on Eventbrite for your interest, just so we know you'll be tuning in, and then as soon as our full site is up (which will be in the next 2 weeks) simply sign up with your name and email to become a fully fledged member. It's as easy as that.