About this Event
Free event
Questions? Contact us at USsevateam@shivananda.org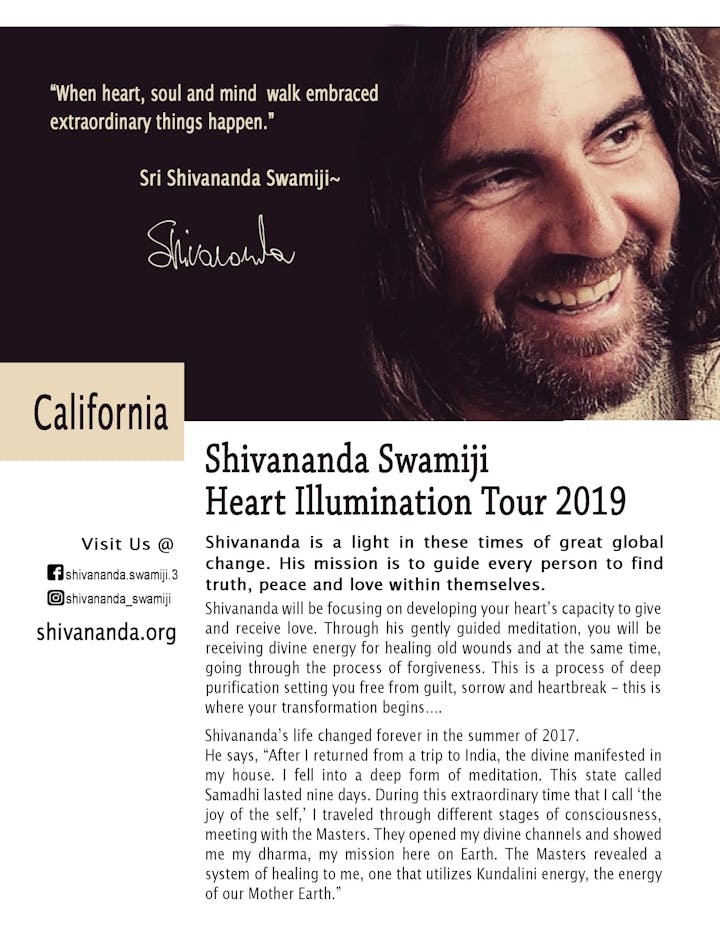 Street parking available. Bring water, pillow, yoga mat, comfortable clothing.
1:30 pm Arrivals
2:00 pm: We will begin our celebration gathering & transformational day with an informal satsang where Shivanada Swamiji will share some of the ways we can be part of the change we want to see and support this Aquarian age. This will include a Q&A and soft music.
2:30 pm -7:00 pm: FIRE (PUJA) CEREMONY
Fire Ceremony to Shiva (Shiva Puja). The Sanskrit word for "offering" is "puja" meaning "to please." A puja is a traditional ritual of healing and purification. More specifically, a fire puja is a ceremony which cleanses the environment and beings, grants blessings, and stimulates world peace. It generates immense merits of wisdom and merits of compassion.
The overall intention of the offering is to dissolve obstacles to enlightenment by eliminating imperfections left by harmful actions — specifically broken vows, precepts, pledges, and promises. It supports the prevention of all negative conditions.
The ceremony will end with Darshan where everyone will have an opportunity to receive healing energy from Shivananda.
This is the culmination of Swamiji's US tour which began in New York, San Francisco, Mount Shasta, Los Angeles, Encinitas and Carlsbad. So, we are gathering in the spirit or healing, transformation, unconditional love with a spirit of celebration as Shivananda will continue his world tour heading next to Italy, England and India.
Shivananda Swamiji will be focusing on developing the heart's capacity to give and receive love. Through his guided meditation, you will be receiving divine energy for healing old wounds and at the same time, going through the process of forgiveness. This is a process of deep purification setting you free from guilt, sorrow and heartbreak - this is where your transformation begins…